Next Story
A Look at the Value of Pesticides That Nations Imported in 2014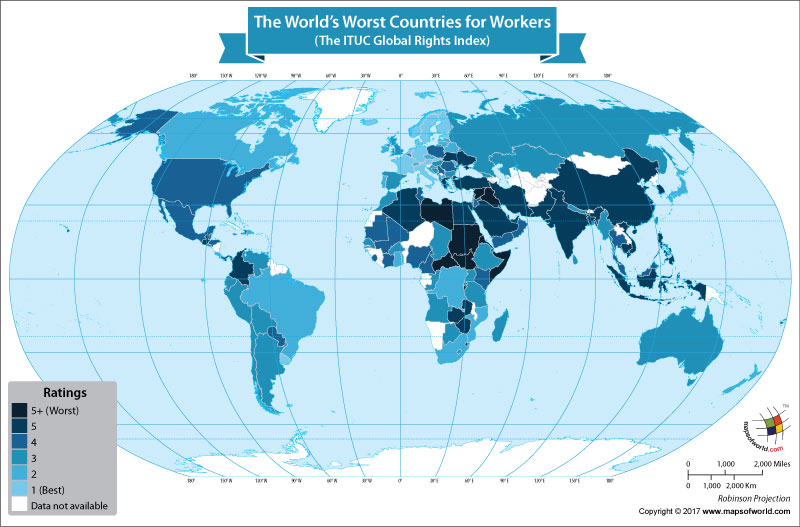 If you have a theme, we have a map.
Contact us for your custom mapping requirements
Workers are a significant part of the economy and play a vital role in the development of a nation. Despite their importance in the progress of a nation, worker's rights continue to be curtailed in many nations around the world. The International Trade Union Confederation is regularly releasing the Global Rights Index, which measures the relative position of each country in respecting the rights of the workers.
The 2016 ITUC Global Rights Index takes into account 141 nations and has depicted that in almost all of the regions of the world, the rights of the workers have weakened. The nations have been ranked on the basis of 97 internationally recognized indicators, which have been grouped into five categories. These are Fundamental civil liberties, the right to collective bargaining, the right to establish or join unions, the right to strike, and trade union activities. The countries have been ranked on a scale between 1 and 5. Countries which have a score of 1 are best for workers, while those with ranking of 5+ are the worst.
According to the 2016 ITUC Global Rights Index, Burundi, Central African Republic, Eritrea, Iraq, Libya, Palestine, South Sudan, Somalia, Sudan, and Syria, have been given a rating of 5+. There is no guarantee of rights of workers in these countries as they have witnessed a breakdown of the rule of law. Countries that have scored 5 are the worst for workers. There are legislation that list certain rights, but in these nations workers have no access to these rights. Workers here are exposed to unfair labor practices. Some of the nations that have a rating of 5 are India, Iran, China, Greece, Pakistan, Saudi Arabia, Turkey, Zimbabwe, and some other nations.
Countries that have reported a systematic violation of rights have been given a rating of 4. Some of these nations are the United States, Thailand, Romania, Poland, Nigeria, Malaysia, Kuwait, Mexico and other nations.
Countries, which have been given a rating of 3, have reported regular violation of rights. In these nations, organizations or governments are, on a regular basis, interfering in the collective labor rights. Some nations with the rating of three are Australia, United Kingdom, Sri Lanka, Argentina, Botswana, Hungary, Israel, Kazakhstan, Ethiopia and some other nations.
Countries with a rating of 2 have reported repeated violation of rights, which means certain rights have come under repeated attacks by governments or organizations. Certain countries in this category are Ireland, Japan, Portugal New Zealand, Barbados, Belgium, Brazil, South Africa, Ghana etc.
Countries with a rating of 1 are the best nations for workers. These countries have reported irregular violations of rights, which means that though there is no absence of violations against workers but they do not take place on a regular basis. Moreover, workers can defend their rights with the governments or organizations in these nations. Of the 141 countries mentioned in the list, just 13 nations have been given the rating of 1. Further, barring Uruguay, which is a South American nation, the rest of the countries in this category are located in Europe. These are Austria, Denmark, Estonia, Finland, France, Germany, Iceland, Italy, the Netherlands, Norway, Slovakia, and Sweden.
The table below will give a better picture of the condition of workers rights in each nation.
| THE 2016 RESULTS | |
| --- | --- |
| No guarantee of rights due to the breakdown of the rule of law | |
| Burundi | 5+ |
| Central African Republic | 5+ |
| Eritrea | 5+ |
| Iraq | 5+ |
| Libya | 5+ |
| Palestine | 5+ |
| South Sudan | 5+ |
| Somalia | 5+ |
| Sudan | 5+ |
| Syria | 5+ |
| No guarantee of rights | |
| Algeria | 5 |
| Bangladesh | 5 |
| Belarus | 5 |
| Cambodia | 5 |
| China | 5 |
| Colombia | 5 |
| Egypt | 5 |
| Greece | 5 |
| Guatemala | 5 |
| Hong Kong | 5 |
| India | 5 |
| Indonesia | 5 |
| Iran | 5 |
| Korea | 5 |
| Pakistan | 5 |
| Philippines | 5 |
| Qatar | 5 |
| Saudi Arabia | 5 |
| Swaziland | 5 |
| Turkey | 5 |
| United Arab Emirates | 5 |
| Ukraine | 5 |
| Vietnam | 5 |
| Zambia | 5 |
| Zimbabwe | 5 |
| Systematic violation of rights | |
| Bahrain | 4 |
| Benin | 4 |
| Cameroon | 4 |
| Cote D'Ivoire | 4 |
| Djibouti | 4 |
| Fiji | 4 |
| Haiti | 4 |
| Honduras | 4 |
| Jordan | 4 |
| Kenya | 4 |
| Kuwait | 4 |
| Lebanon | 4 |
| Malaysia | 4 |
| Mali | 4 |
| Mauritania | 4 |
| Mauritius | 4 |
| Mexico | 4 |
| Nigeria | 4 |
| Oman | 4 |
| Panama | 4 |
| Paraguay | 4 |
| Poland | 4 |
| Romania | 4 |
| Serbia | 4 |
| Sierra Leone | 4 |
| Thailand | 4 |
| Trinidad and Tobago | 4 |
| Tunisia | 4 |
| United States | 4 |
| Yemen | 4 |
| Regular violation of rights | |
| Albania | 3 |
| Angola | 3 |
| Argentina | 3 |
| Australia | 3 |
| Bahamas | 3 |
| Belize | 3 |
| Bolivia | 3 |
| Bosnia | 3 |
| Botswana | 3 |
| Bulgaria | 3 |
| Burkina | 3 |
| Chad | 3 |
| Chile | 3 |
| Croatia | 3 |
| Democratic Republic of Congo | 3 |
| Ecuador | 3 |
| El Salvador | 3 |
| Ethiopia | 3 |
| Georgia | 3 |
| Hungary | 3 |
| Israel | 3 |
| Jamaica | 3 |
| Kazakhstan | 3 |
| Lesotho | 3 |
| Madagascar | 3 |
| Montenegro | 3 |
| Morocco | 3 |
| Myanmar | 3 |
| Nepal | 3 |
| Peru | 3 |
| Russia | 3 |
| Rwanda | 3 |
| Senegal | 3 |
| Singapore | 3 |
| Spain | 3 |
| Sri Lanka | 3 |
| Taiwan | 3 |
| Tanzania | 3 |
| Uganda | 3 |
| United Kingdom | 3 |
| Venezuela | 3 |
| Repeated violation of rights | |
| Barbados | 2 |
| Belgium | 2 |
| Brazil | 2 |
| Canada | 2 |
| Congo | 2 |
| Costa Rica | 2 |
| Czech Republic | 2 |
| Dominican Republic | 2 |
| Ghana | 2 |
| Ireland | 2 |
| Japan | 2 |
| Latvia | 2 |
| Lithuania | 2 |
| Macedonia | 2 |
| Moldova | 2 |
| Mozambique | 2 |
| Namibi | 2 |
| New Zealand | 2 |
| Portugal | 2 |
| South Africa | 2 |
| Switzerland | 2 |
| Togo | 2 |
| Irregular violation of right | |
| Austria | 1 |
| Denmark | 1 |
| Estonia | 1 |
| Finland | 1 |
| France | 1 |
| Germany | 1 |
| Iceland | 1 |
| Italy | 1 |
| Netherlands | 1 |
| Norway | 1 |
| Slovakia | 1 |
| Sweden | 1 |
| Uruguay | 1 |
(Data sourced from The International Trade Union Confederation)
Recent Posts