Next Story
2016 Democracy Index: Norway is the Strongest Democracy in the World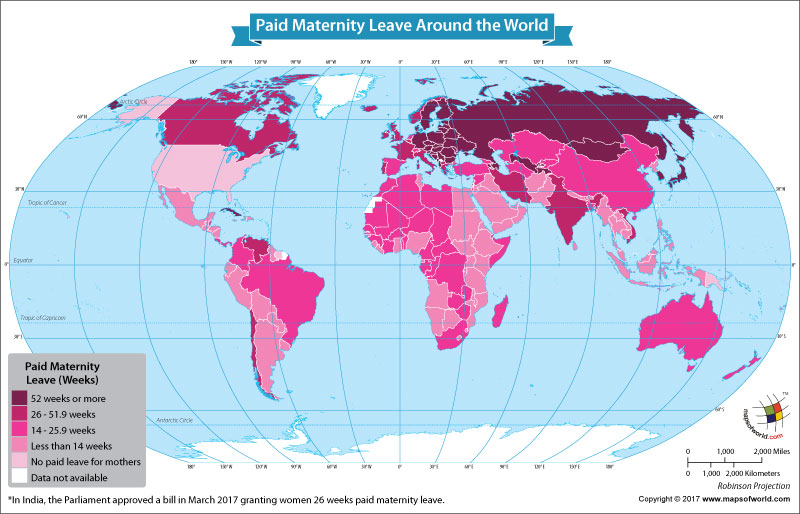 If you have a theme, we have a map.
Contact us for your custom mapping requirements
Paid maternity leave is a privilege that is granted to would-be-mothers or new mothers. Paid maternity leave entitles a mother to take leave from office for a stipulated time immediately before or after child birth and still get her monthly salary. Maternity leave is basically provided to enable a mother to fully recover from child birth. It is also aimed at strengthening the bond between a mother and her child. Though paid maternity leave is beneficial for expecting and new mothers, but the leaves granted are not uniform across the world. While some nations are quite generous and may grant more than a year of paid maternity leaves, there are some where no paid maternity leaves are provided.
The United States is one of the worst countries in the world when it comes to paid maternity leaves. According to the World Policy Analysis Center's 2014 data, the United States provides no paid maternity leave to employees. However, the United States is not alone. Other nations where there is no paid maternity leaves are Marshall Islands, Federates States of Micronesia, Nauru, Palau, Papua New Guinea, Suriname, and Tonga.
There are a large number of nations where mothers gets less than 14 weeks of paid leaves. Some of these nations are Afghanistan, Argentina, Bhutan, Cambodia, Egypt, Ethiopia, Mauritius, Peru, and others. Meanwhile, nations like Canada, France, Greece, Iran, Italy, the United Kingdom, Vietnam, India and some others are quite generous when it comes to giving paid leaves to expecting and new mothers. Here the paid maternity leaves range between 26 to 51.9 weeks. This means that mothers here can take between 6 months to a year off from office and still get paid.
However, if you thought that these were the most generous nations in terms of paid maternity leaves, then read further on. There are many nations which provide 52 weeks or more of paid maternity leave. This means that here mothers can get a year or more of paid leave. Some of the nations that fall in this category are Denmark, Sweden, Russia, Poland, Japan, South Korea, Mongolia, Austria and many other nations.
The table below provides information on the paid maternity leaves provided by each nation.
| Country | Maternity Paid leave |
| --- | --- |
| | |
| Marshall Islands | No paid leave for mothers |
| Federates States of Micronesia | No paid leave for mothers |
| Nauru | No paid leave for mothers |
| Palau | No paid leave for mothers |
| Papua New Guinea | No paid leave for mothers |
| Suriname | No paid leave for mothers |
| Tonga | No paid leave for mothers |
| United States of America | No paid leave for mothers |
| Afghanistan | Less than 14 weeks |
| Angola | Less than 14 weeks |
| Antigua and Barbuda | Less than 14 weeks |
| Argentina | Less than 14 weeks |
| Bahamas | Less than 14 weeks |
| Bahrain | Less than 14 weeks |
| Barbados | Less than 14 weeks |
| Bhutan | Less than 14 weeks |
| Bolivia | Less than 14 weeks |
| Botswana | Less than 14 weeks |
| Burundi | Less than 14 weeks |
| Cambodia | Less than 14 weeks |
| Cape Verde | Less than 14 weeks |
| Democratic People's Republic of Korea | Less than 14 weeks |
| Dominica | Less than 14 weeks |
| Dominican Republic | Less than 14 weeks |
| Ecuador | Less than 14 weeks |
| Egypt | Less than 14 weeks |
| El Salvador | Less than 14 weeks |
| Equatorial Guinea | Less than 14 weeks |
| Eritrea | Less than 14 weeks |
| Ethiopia | Less than 14 weeks |
| Fiji | Less than 14 weeks |
| Ghana | Less than 14 weeks |
| Grenada | Less than 14 weeks |
| Guatemala | Less than 14 weeks |
| Guinea-Bissau | Less than 14 weeks |
| Guyana | Less than 14 weeks |
| Haiti | Less than 14 weeks |
| Honduras | Less than 14 weeks |
| Indonesia | Less than 14 weeks |
| Iraq | Less than 14 weeks |
| Jamaica | Less than 14 weeks |
| Jordan | Less than 14 weeks |
| Kenya | Less than 14 weeks |
| Kiribati | Less than 14 weeks |
| Kuwait | Less than 14 weeks |
| Laos | Less than 14 weeks |
| Lebanon | Less than 14 weeks |
| Lesotho | Less than 14 weeks |
| Liberia | Less than 14 weeks |
| Malawi | Less than 14 weeks |
| Malaysia | Less than 14 weeks |
| Maldives | Less than 14 weeks |
| Mauritius | Less than 14 weeks |
| Mexico | Less than 14 weeks |
| Mozambique | Less than 14 weeks |
| Myanmar | Less than 14 weeks |
| Namibia | Less than 14 weeks |
| Nepal | Less than 14 weeks |
| Nicaragua | Less than 14 weeks |
| Nigeria | Less than 14 weeks |
| Oman | Less than 14 weeks |
| Pakistan | Less than 14 weeks |
| Paraguay | Less than 14 weeks |
| Peru | Less than 14 weeks |
| Qatar | Less than 14 weeks |
| Rwanda | Less than 14 weeks |
| Samoa | Less than 14 weeks |
| Sao Tome and Principe | Less than 14 weeks |
| Saudi Arabia | Less than 14 weeks |
| Sierra Leone | Less than 14 weeks |
| Solomon Islands | Less than 14 weeks |
| South Sudan | Less than 14 weeks |
| Sri Lanka | Less than 14 weeks |
| St. Kitts and Nevis | Less than 14 weeks |
| St. Lucia | Less than 14 weeks |
| St. Vincent and the Grenadines | Less than 14 weeks |
| Sudan | Less than 14 weeks |
| Swaziland | Less than 14 weeks |
| Tanzania | Less than 14 weeks |
| Thailand | Less than 14 weeks |
| The Philippines | Less than 14 weeks |
| Timor-Leste | Less than 14 weeks |
| Tunisia | Less than 14 weeks |
| Tuvalu | Less than 14 weeks |
| Uganda | Less than 14 weeks |
| United Arab Emirates | Less than 14 weeks |
| Uruguay | Less than 14 weeks |
| Vanuatu | Less than 14 weeks |
| Yemen | Less than 14 weeks |
| Algeria | 14 – 25.9 weeks |
| Andorra | 14 – 25.9 weeks |
| Australia | 14 – 25.9 weeks |
| Bangladesh | 14 – 25.9 weeks |
| Belize | 14 – 25.9 weeks |
| Benin | 14 – 25.9 weeks |
| Brazil | 14 – 25.9 weeks |
| Brunei | 14 – 25.9 weeks |
| Burkina Faso | 14 – 25.9 weeks |
| Cameroon | 14 – 25.9 weeks |
| Central African Republic | 14 – 25.9 weeks |
| Chad | 14 – 25.9 weeks |
| China | 14 – 25.9 weeks |
| Colombia | 14 – 25.9 weeks |
| Comoros | 14 – 25.9 weeks |
| Costa Rica | 14 – 25.9 weeks |
| Cote d'Ivoire | 14 – 25.9 weeks |
| Cyprus | 14 – 25.9 weeks |
| Democratic Republic of the Congo | 14 – 25.9 weeks |
| Djibouti | 14 – 25.9 weeks |
| Gabon | 14 – 25.9 weeks |
| Georgia | 14 – 25.9 weeks |
| Guinea | 14 – 25.9 weeks |
| Israel | 14 – 25.9 weeks |
| Kazakhstan | 14 – 25.9 weeks |
| Kyrgyzstan | 14 – 25.9 weeks |
| Libya | 14 – 25.9 weeks |
| Liechtenstein | 14 – 25.9 weeks |
| Madagascar | 14 – 25.9 weeks |
| Mali | 14 – 25.9 weeks |
| Malta | 14 – 25.9 weeks |
| Mauritania | 14 – 25.9 weeks |
| Monaco | 14 – 25.9 weeks |
| Morocco | 14 – 25.9 weeks |
| New Zealand | 14 – 25.9 weeks |
| Niger | 14 – 25.9 weeks |
| Panama | 14 – 25.9 weeks |
| Republic of the Congo | 14 – 25.9 weeks |
| Senegal | 14 – 25.9 weeks |
| Seychelles | 14 – 25.9 weeks |
| Singapore | 14 – 25.9 weeks |
| Somalia | 14 – 25.9 weeks |
| South Africa | 14 – 25.9 weeks |
| Spain | 14 – 25.9 weeks |
| Switzerland | 14 – 25.9 weeks |
| Syria | 14 – 25.9 weeks |
| The Netherlands | 14 – 25.9 weeks |
| Togo | 14 – 25.9 weeks |
| Trinidad and Tobago | 14 – 25.9 weeks |
| Turkey | 14 – 25.9 weeks |
| Turkmenistan | 14 – 25.9 weeks |
| Zambia | 14 – 25.9 weeks |
| Zimbabwe | 14 – 25.9 weeks |
| Belgium | 26 – 51.9 weeks |
| Canada | 26 – 51.9 weeks |
| Chile | 26 – 51.9 weeks |
| France | 26 – 51.9 weeks |
| Greece | 26 – 51.9 weeks |
| Iceland | 26 – 51.9 weeks |
| India | 26 – 51.9 weeks |
| Iran | 26 – 51.9 weeks |
| Ireland | 26 – 51.9 weeks |
| Italy | 26 – 51.9 weeks |
| Luxembourg | 26 – 51.9 weeks |
| Macedonia | 26 – 51.9 weeks |
| Norway | 26 – 51.9 weeks |
| Portugal | 26 – 51.9 weeks |
| The Gambia | 26 – 51.9 weeks |
| United Kingdom | 26 – 51.9 weeks |
| Venezuela | 26 – 51.9 weeks |
| Vietnam | 26 – 51.9 weeks |
| Albania | 52 weeks or more |
| Armenia | 52 weeks or more |
| Austria | 52 weeks or more |
| Azerbaijan | 52 weeks or more |
| Belarus | 52 weeks or more |
| Bosnia and Herzegovina | 52 weeks or more |
| Bulgaria | 52 weeks or more |
| Croatia | 52 weeks or more |
| Cuba | 52 weeks or more |
| Czech Republic | 52 weeks or more |
| Denmark | 52 weeks or more |
| Estonia | 52 weeks or more |
| Finland | 52 weeks or more |
| Germany | 52 weeks or more |
| Hungary | 52 weeks or more |
| Japan | 52 weeks or more |
| Latvia | 52 weeks or more |
| Lithuania | 52 weeks or more |
| Moldova | 52 weeks or more |
| Mongolia | 52 weeks or more |
| Montenegro | 52 weeks or more |
| Poland | 52 weeks or more |
| Republic of Korea | 52 weeks or more |
| Romania | 52 weeks or more |
| Russian Federation | 52 weeks or more |
| San Marino | 52 weeks or more |
| Serbia | 52 weeks or more |
| Slovakia | 52 weeks or more |
| Slovenia | 52 weeks or more |
| Sweden | 52 weeks or more |
| Tajikistan | 52 weeks or more |
| Ukraine | 52 weeks or more |
| Uzbekistan | 52 weeks or more |
(Data sourced from World Policy Analysis Center)
Recent Posts