The Most Water-Stressed Countries in the World
Next Story
A peek into the Social Globalization Scores of Each Nation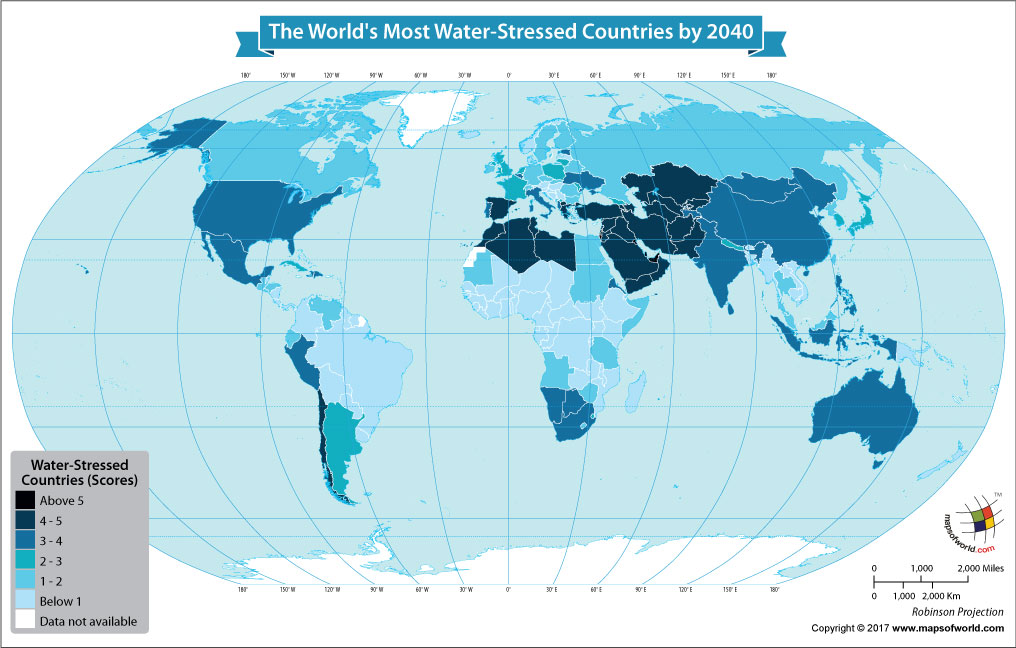 If you have a theme, we have a map.
Contact us for your custom mapping requirements
Water is the basic necessity of mankind. It is needed for every activity whether it is in agriculture, commercial purposes or domestic consumption. However, the population across the globe is increasing at a fast pace and the stress on water resources has already begun to show. In fact, in some nations water has almost become a luxury and it is estimated that the next few years will see a rise in the demand for water. Further, people are migrating to cities in search of better opportunities and this will further strain water resources. So, what will be the situation in 2040?
To assess the water situation in 167 nations by 2040, the World Resources Institute ranked and scored the future water-stress in these countries. WRI gave the nations a score between 0 and 5. While 5 was the greatest level of water risk, 0 was the least.
According to the data, the situation is dire in 33 countries. These countries, which have scores of 4 and 5, will face extremely high water-stress by 2040. Domestic users, businesses, as well as agricultural farms will face much more scarcity than what they are facing in the current times.
Of these 33 countries, the ones that will be the most water-stressed by 2040 and have scores of 5 out of 5 are Bahrain, Kuwait, Qatar, San Marino, Singapore, United Arab Emirates, Palestine, and Israel. The other high stress nations which have a score ranging between 4 and 5 are Saudi Arabia, Oman, Lebanon, Libya, Chile, Greece, Turkey, Morocco, Pakistan, Afghanistan, and some other nations.
Mexico, Italy, India, Australia, the United States of America, China, South Africa, Ukraine, the Philippines, etc are the nations scoring between 3 and 4. Here the water stress would be high by 2040 but not as alarming as that of the countries mentioned above. The United Kingdom, France, Japan, Nepal, Argentina, the Netherlands and a few other nations have scored between 2 and 3. These countries fall in the medium to high segment.
Still, there are a couple of nation where the situation will be relatively good by 2040. Countries such as Vietnam, Hungary, Brazil, Denmark, Nigeria, New Zealand, Bhutan, South Sudan, Austria, Norway, and many other nations have scores of less than one meaning that these would be the least water stressed by 2040.
The table below provides information on the nations which would be the most water-stressed by 2040.
| Most Water-stressed | Country | Score |
| --- | --- | --- |
| 1 | Bahrain | 5.00 |
| 2 | Kuwait | 5.00 |
| 3 | Qatar | 5.00 |
| 4 | San Marino | 5.00 |
| 5 | Singapore | 5.00 |
| 6 | United Arab Emirates | 5.00 |
| 7 | Palestine | 5.00 |
| 8 | Israel | 5.00 |
| 9 | Saudi Arabia | 4.99 |
| 10 | Oman | 4.97 |
| 11 | Lebanon | 4.97 |
| 12 | Kyrgyzstan | 4.93 |
| 13 | Iran | 4.91 |
| 14 | Jordan | 4.86 |
| 15 | Libya | 4.77 |
| 16 | Yemen | 4.74 |
| 17 | Macedonia | 4.70 |
| 18 | Azerbaijan | 4.69 |
| 19 | Morocco | 4.68 |
| 20 | Kazakhstan | 4.66 |
| 21 | Iraq | 4.66 |
| 22 | Armenia | 4.60 |
| 23 | Pakistan | 4.48 |
| 24 | Chile | 4.45 |
| 25 | Syria | 4.44 |
| 26 | Turkmenistan | 4.30 |
| 27 | Turkey | 4.27 |
| 28 | Greece | 4.23 |
| 29 | Uzbekistan | 4.19 |
| 30 | Algeria | 4.17 |
| 31 | Afghanistan | 4.12 |
| 32 | Spain | 4.07 |
| 33 | Tunisia | 4.06 |
| 34 | Mexico | 3.99 |
| 35 | Dominican Republic | 3.94 |
| 36 | Estonia | 3.91 |
| 37 | Mongolia | 3.85 |
| 38 | Belgium | 3.74 |
| 39 | Italy | 3.67 |
| 40 | India | 3.61 |
| 41 | Andorra | 3.57 |
| 42 | Monaco | 3.56 |
| 43 | Australia | 3.55 |
| 44 | Portugal | 3.55 |
| 45 | Tajikistan | 3.44 |
| 46 | Sri Lanka | 3.33 |
| 47 | United States of America | 3.32 |
| 48 | China | 3.30 |
| 49 | Albania | 3.28 |
| 50 | Haiti | 3.27 |
| 51 | Indonesia | 3.26 |
| 52 | Ukraine | 3.25 |
| 53 | South Africa | 3.19 |
| 54 | Namibia | 3.18 |
| 55 | Peru | 3.18 |
| 56 | Timor-Leste | 3.18 |
| 57 | Philippines | 3.01 |
| 58 | Botswana | 3.00 |
| 59 | Eritrea | 3.00 |
| 60 | Kosovo | 2.96 |
| 61 | Cuba | 2.90 |
| 62 | Moldova | 2.85 |
| 63 | Luxembourg | 2.76 |
| 64 | Georgia | 2.75 |
| 65 | Argentina | 2.69 |
| 66 | Netherlands | 2.67 |
| 67 | Swaziland | 2.63 |
| 68 | South Korea | 2.59 |
| 69 | United Kingdom | 2.38 |
| 70 | Lithuania | 2.30 |
| 71 | France | 2.28 |
| 72 | Japan | 2.24 |
| 73 | Nepal | 2.18 |
| 74 | Poland | 2.05 |
| 75 | Venezuela | 1.98 |
| 76 | Ecuador | 1.88 |
| 77 | Finland | 1.86 |
| 78 | Lesotho | 1.84 |
| 79 | Bulgaria | 1.84 |
| 80 | Thailand | 1.82 |
| 81 | Czech Republic | 1.81 |
| 82 | Russia | 1.79 |
| 83 | Malaysia | 1.78 |
| 84 | Ireland | 1.73 |
| 85 | Germany | 1.70 |
| 86 | Somalia | 1.66 |
| 87 | Sweden | 1.63 |
| 88 | Sudan | 1.56 |
| 89 | Egypt | 1.53 |
| 90 | North Korea | 1.50 |
| 91 | Romania | 1.50 |
| 92 | Belarus | 1.35 |
| 93 | Switzerland | 1.26 |
| 94 | Canada | 1.26 |
| 95 | Guatemala | 1.23 |
| 96 | Montenegro | 1.22 |
| 97 | Angola | 1.21 |
| 98 | Honduras | 1.17 |
| 99 | Taiwan | 1.14 |
| 100 | Slovakia | 1.08 |
| 101 | Mauritania | 1.05 |
| 102 | El Salvador | 1.03 |
| 103 | Zimbabwe | 1.02 |
| 104 | United Republic of Tanzania | 1.00 |
| 105 | Senegal | 0.98 |
| 106 | Costa Rica | 0.97 |
| 107 | Vietnam | 0.96 |
| 108 | Republic of Serbia | 0.93 |
| 109 | Latvia | 0.92 |
| 110 | Nigeria | 0.90 |
| 111 | Hungary | 0.89 |
| 112 | Madagascar | 0.88 |
| 113 | Brazil | 0.88 |
| 114 | Gambia | 0.85 |
| 115 | Bolivia | 0.79 |
| 116 | Slovenia | 0.78 |
| 117 | Mozambique | 0.72 |
| 118 | Denmark | 0.70 |
| 119 | Chad | 0.67 |
| 120 | Croatia | 0.66 |
| 121 | Ethiopia | 0.66 |
| 122 | Austria | 0.65 |
| 123 | Kenya | 0.64 |
| 124 | New Zealand | 0.61 |
| 125 | Guyana | 0.61 |
| 126 | Liechtenstein | 0.59 |
| 127 | Uruguay | 0.59 |
| 128 | Bosnia and Herzegovina | 0.58 |
| 129 | Ghana | 0.57 |
| 130 | Norway | 0.55 |
| 131 | Belize | 0.41 |
| 132 | Nicaragua | 0.40 |
| 133 | Papua New Guinea | 0.40 |
| 134 | Burkina Faso | 0.39 |
| 135 | Cambodia | 0.38 |
| 136 | Colombia | 0.37 |
| 137 | Ivory Coast | 0.34 |
| 138 | Mali | 0.32 |
| 139 | Bangladesh | 0.32 |
| 140 | Togo | 0.32 |
| 141 | Burundi | 0.30 |
| 142 | Djibouti | 0.28 |
| 143 | Niger | 0.28 |
| 144 | Suriname | 0.22 |
| 145 | Zambia | 0.20 |
| 146 | Myanmar | 0.17 |
| 147 | Democratic Republic of the Congo | 0.15 |
| 148 | Rwanda | 0.10 |
| 149 | Laos | 0.08 |
| 150 | Malawi | 0.08 |
| 151 | Liberia | 0.03 |
| 152 | Guinea | 0.02 |
| 153 | Sierra Leone | 0.02 |
| 154 | Uganda | 0.01 |
| 155 | Cameroon | 0.01 |
| 156 | Benin | 0.01 |
| 157 | Brunei | 0.01 |
| 158 | Paraguay | 0.00 |
| 159 | Panama | 0.00 |
| 160 | Guinea Bissau | 0.00 |
| 161 | Bhutan | 0.00 |
| 162 | Central African Republic | 0.00 |
| 163 | Equatorial Guinea | 0.00 |
| 164 | Gabon | 0.00 |
| 165 | Iceland | 0.00 |
| 166 | Republic of the Congo | 0.00 |
| 167 | South Sudan | 0.00 |
(Data sourced from World Resources Institute)
Recent Posts