What are the top 10 steel manufacturing countries of 2016?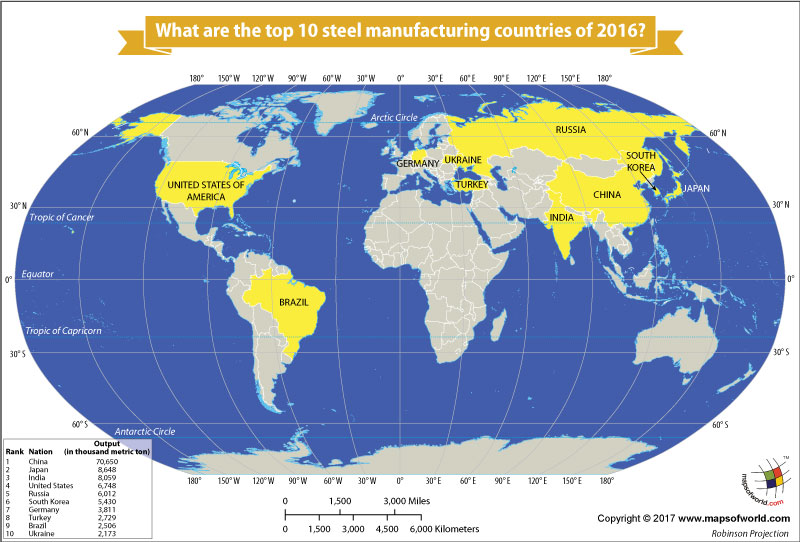 If you have a theme, we have a map.
Contact us for your custom mapping requirements
After facing a low in 2015, the steel industry saw a rise in the total output, as well as a rise in demand in the 2016. Considered one of the most commonly used material, the growth in steel industry has slowed, but the demand is ever increasing, thus making the industry fall into the 'mature markets,' category. Countries which have contributed in this growth are listed below, with a few of them contributing the majorly to growth.
Pioneers in steel production, the Chinese have been an unrivalled number one since the very beginning. Producing and consuming twice as much steel as the US, Europe, and Japan combined. Hesteel Group and Baosteel Group are China's two biggest steel processing companies, and have helped China contribute 50% of the global steel production.
After the massive sales tax hike, Japan witnessed a downfall in the production of steel, but it still took second position with a 22% of the market. The two companies which contributed to this growth are Nippon Steel & Sumitomo Metal. The famous Tokyo Tower is an example of the country's excellent and advanced construction technology as well as steel production.
In 2016, India was the third largest manufacturer of steel. India's growth can be accredited to its richness in iron ore and the many government initiatives such as the 'Make in India.' Belgium, Nepal and Bangladesh are the biggest buyers of steel from India.
The US has seen a fall in its steel production in 2016, due to the cheap production and excess exports from developing countries. Mexico and Canada being its biggest buyers, the United States today stand at number four as it exports steel to over 150 countries.
Despite many ups and downs in its steel industry, Russia has shown a global increase of 22% since 2011. Turkey, Taiwan and Mexico are Russia's biggest steel purchasing countries.
The Hyundai Steel Co. of South Korea is at number six. The Yi Sun-shin Bridge, the fourth longest bridge in the world is an example of South Korea's state-of-the-art technology and equipment, which boasts 26,000 tons of steel rods and 24,000 tons of steel products.
Considered as an automobile hub, Germany has long been known for its high-grade steel production. Even though it is at number seven in 2016, reports show a minuscule decrease in steel production from 2015, France, Poland and Netherlands are still the biggest consumers of German-made steel.
Political uprisings have been a cause of trouble for Turkey, thus slowing down all industries of the nation. A 2% decrease was reported from 2015 to 2016. Nevertheless, The UAE, Egypt, and the US are still the nation's biggest buyers of steel.
Economic crisis, steel manufacturing plants shutting down, layoffs and much more are the major contributors towards Brazil's decrease of crude steel outputs, and keeping it at the number nine position.
With a crippling downfall due to ongoing military conflicts, Ukraine has managed to be in a recovery mode, and thus still holds the number ten position in steel production in the world. Egypt, Turkey and Italy are still its biggest consumers of steel.
Recent Posts