Open Data: A Tool to Empower Everyone
Next Story
The Number of Soft Drink Brands Produced Per Country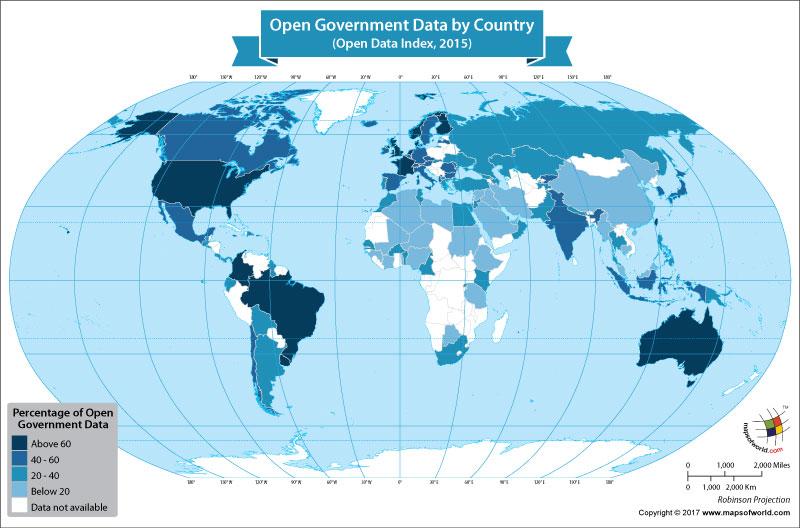 If you have a theme, we have a map.
Contact us for your custom mapping requirements
Open data, which means the free availability of data for people to use and republish as they like, is important for the enhancement of knowledge. Open government data is free from the restrictions of patents, copyright and other such measures. Though the concept of open data is not new, but it has gained prominence in recent years due to the rise of the internet and a lot of data is now available on it. Recent years have witnessed many open data government initiatives, some of which are Data.gov.uk and data.gov. There are a variety of open data. These include government budget, national statistics, administrative boundaries, national maps, weather forecast, election results, government spending among others. However, the availability of open data is not uniform around the world. While in some nations the percentage of open data may be huge, in others it may be minuscule.
Open Knowledge International, a global non-profit organization, has published the Open Data Index, 2015, provides information on the state of open government data publication around the world. According to the data, Taiwan has the largest percentage of open data available to the public. The percentage of open government data in Taiwan stood at 78, which means that just 22 percent of the data is not open. The United Kingdom came at the second spot and here 76 percent of the government data was assessed was open. In Denmark, which was at the third place, 70 percent of the data was open. Other countries where more than 60 percent of the data was open were Colombia, Finland, Australia, Uruguay, the United States, the Netherlands, Norway, France and Brazil.
Countries where between 40 to 60 percent of the data was open included India, Canada, Italy, Singapore, Germany, Switzerland, Japan, Indonesia, and some other nations. Meanwhile, there are some nations where the government data is not freely available. Some of the countries where less than 20 percent of the data was open included Botswana, Tanzania, China, Kuwait, UAE, Saudi Arabia, Ethiopia, Iraq, Malaysia, Nigeria and other countries. Myanmar was placed right at the bottom of the table and here a measly 3 percent of the data was open.
The table below provides information on the percentage of open data in each nation.
| Place | Score |
| --- | --- |
| Taiwan | 78.00% |
| United Kingdom | 76.00% |
| Denmark | 70.00% |
| Colombia | 68.00% |
| Finland | 67.00% |
| Australia | 67.00% |
| Uruguay | 66.00% |
| United States | 64.00% |
| Netherlands | 64.00% |
| Norway | 63.00% |
| France | 63.00% |
| Brazil | 61.00% |
| Romania | 58.00% |
| Mexico | 58.00% |
| Isle of Man | 57.00% |
| Bulgaria | 56.00% |
| Canada | 55.00% |
| Spain | 55.00% |
| India | 55.00% |
| Italy | 55.00% |
| Czech Republic | 52.00% |
| Moldova, Republic of | 51.00% |
| Korea, Republic of | 50.00% |
| Austria | 50.00% |
| Singapore | 50.00% |
| Germany | 49.00% |
| Iceland | 48.00% |
| Sweden | 48.00% |
| Switzerland | 47.00% |
| Chile | 47.00% |
| Ireland | 46.00% |
| Japan | 46.00% |
| Latvia | 46.00% |
| Kyrgyzstan | 44.00% |
| Belgium | 43.00% |
| Kosovo | 43.00% |
| Jamaica | 42.00% |
| Albania | 42.00% |
| Hong Kong | 42.00% |
| Luxembourg | 41.00% |
| Indonesia | 40.00% |
| Thailand | 39.00% |
| Greece | 39.00% |
| Israel | 38.00% |
| Rwanda | 38.00% |
| Puerto Rico | 38.00% |
| Turkey | 37.00% |
| Georgia | 37.00% |
| Jersey | 36.00% |
| Guernsey | 35.00% |
| Kazakhstan | 35.00% |
| Slovakia | 35.00% |
| Paraguay | 35.00% |
| South Africa | 34.00% |
| Argentina | 34.00% |
| Portugal | 34.00% |
| Ukraine | 34.00% |
| Senegal | 32.00% |
| Burkina Faso | 32.00% |
| Ecuador | 32.00% |
| Pakistan | 30.00% |
| Russian Federation | 30.00% |
| Cayman Islands | 30.00% |
| Benin | 30.00% |
| Nepal | 30.00% |
| Bermuda | 29.00% |
| Oman | 29.00% |
| Costa Rica | 29.00% |
| Macedonia, the … | 28.00% |
| Bolivia, … | 28.00% |
| Kenya | 27.00% |
| Saint Lucia | 27.00% |
| Dominica | 27.00% |
| Guatemala | 27.00% |
| El Salvador | 27.00% |
| Morocco | 26.00% |
| Dominican Republic | 26.00% |
| Philippines | 25.00% |
| Cameroon | 25.00% |
| Bahrain | 25.00% |
| Azerbaijan | 25.00% |
| Guyana | 23.00% |
| Trinidad and Tobago | 22.00% |
| Egypt | 22.00% |
| Tajikistan | 22.00% |
| Tunisia | 21.00% |
| Qatar | 21.00% |
| Jordan | 20.00% |
| Panama | 20.00% |
| Botswana | 19.00% |
| Tanzania | 19.00% |
| Mali | 19.00% |
| China | 18.00% |
| Timor-Leste | 18.00% |
| Kuwait | 18.00% |
| Togo | 17.00% |
| Montserrat | 17.00% |
| Côte d'Ivoire | 16.00% |
| Lebanon | 16.00% |
| United Arab Emirates | 16.00% |
| Guinea | 16.00% |
| Niger | 16.00% |
| Saudi Arabia | 15.00% |
| Grenada | 15.00% |
| St. Vincent & … | 14.00% |
| Aruba | 13.00% |
| Ethiopia | 13.00% |
| Cambodia | 12.00% |
| Barbados | 11.00% |
| Bahamas | 11.00% |
| Iraq | 11.00% |
| Malaysia | 10.00% |
| Nigeria | 9.00% |
| Sudan | 9.00% |
| Turks and Caicos … | 9.00% |
| Antigua and Barbuda | 8.00% |
| Algeria | 7.00% |
| Iran, Islamic … | 7.00% |
| Saint Kitts and … | 7.00% |
| Libya | 6.00% |
| Syria | 5.00% |
| Myanmar | 3.00% |
(Data sourced from Open Knowledge International)
Recent Posts