Nations and territories where Spanish is the official or national language
Next Story
Winners of the FIBA Basketball World Cup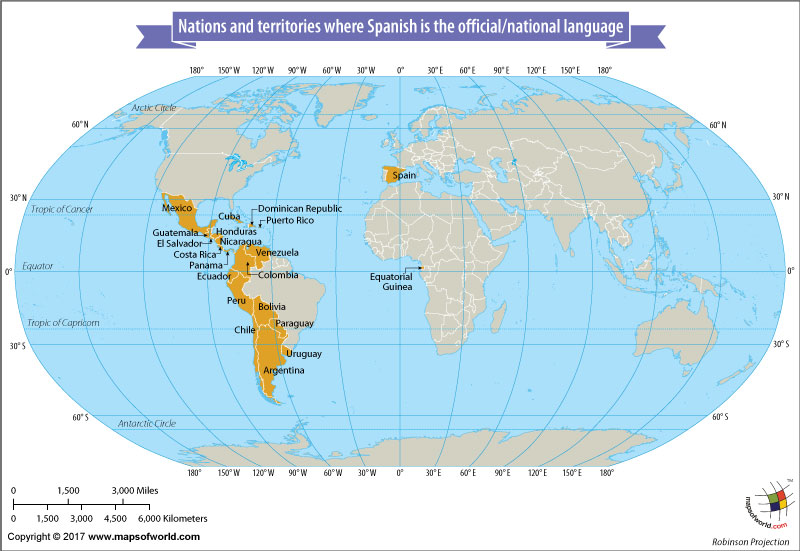 If you have a theme, we have a map.
Contact us for your custom mapping requirements
Spanish is a romance language and originated in Spain's Castile region. After Mandarin Chinese, Spanish is the second most spoken language in the world. There are hundreds of millions of native Spanish speakers and it is either the official or the national language in 20 nations. It is also the official language in one of the unincorporated territories of the United States. Spanish is the language of prominent international organizations such as the United Nations, where it is one of the six official languages. Apart from this, other organizations such as the Organization of American States, European Union, the Community of Latin American and Caribbean States, among others, also use Spanish as an official language. One of the most interesting aspects of the Spanish language is that it is among the very few languages in the world that use the exclamation mark or an inverted question.
The popularity of the language can be gauged by the number of Spanish speakers around the world. It has been estimated that there are approximately 437 million people for whom Spanish is a native language. It is the mother tongue of some eight percent of the population in the European Union.
Spanish is highly popular in the United States; it is the official language of Puerto Rico, an unincorporated territory of the US. The other official language in the territory is English, but Spanish is the dominant language. Meanwhile, in Spain, where the language originated, it is a duty of every citizen of the country to know Spanish.
Spanish is the National Language of Mexico. In fact, Mexico has the world's largest Spanish speaking population. According to the latest census, there are some 99.3 percent Spanish speakers in the country.
Equatorial Guinea is the only African nation where Spanish is the official language. Apart from Spanish, French and Portuguese are also the official languages of the African nation. Spanish is the language of administration and education in the country.
Other nations where Spanish is either the official or the national language include Colombia, Argentina, Peru, Venezuela, Chile, Ecuador, Guatemala, El Salvador, Cuba, Bolivia, Dominican Republic, Honduras, Paraguay, Nicaragua, Costa Rica, Panama, and Uruguay.
Recent Posts