Time to Provide People with Safe Vehicles to Stop Road Deaths
Next Story
Percentage of Urban Population with Access to Improved Water Sources on the Rise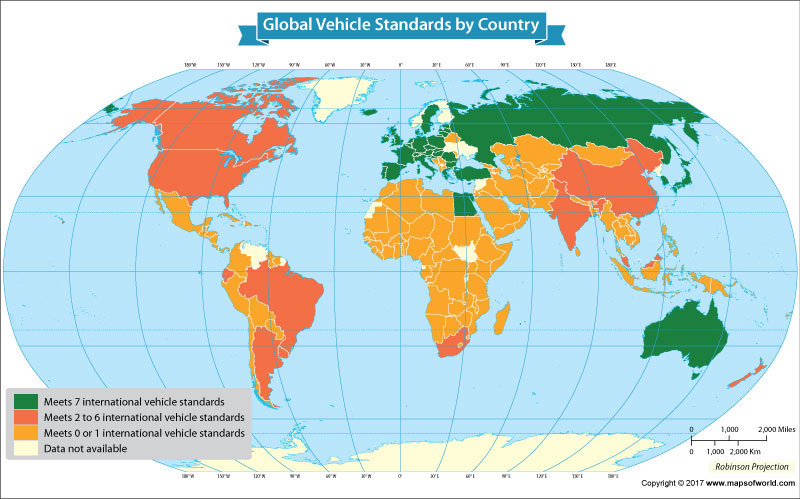 If you have a theme, we have a map.
Contact us for your custom mapping requirements
In many countries around the world, road traffic accidents are a leading cause of death. Not adhering to traffic rules, or indulging in overspeeding, or drunk driving are a few causes that lead to accidents and in some cases, deaths. However, unsafe vehicles are also among the biggest causes of road accidents. Every citizen has a right to safe vehicles and a United Nations resolution also backs consumers' rights in this regard.
There are seven parameters that measure the standards of a vehicle. These seven parameters are seat belts, seat belt anchorages, frontal impact, side impact, electronic stability control, child seats and pedestrian protection. Unfortunately, vehicles of many nations around the world are not meeting these standards, thereby resulting in higher number of road deaths. It is basically the low- and middle-income countries where there is an urgent need for safer vehicles.
According to a data by the World Health Organization (WHO), in 2015, there were only 40 countries in the world that were able to meet all these standards in their vehicles and these were all overwhelmingly high-income countries. Majority of these 40 countries were located in Europe. There were just six nations out of Europe that met all these standards. These nations were Australia; Egypt in Africa; Japan and South Korea in Asia; Russia and Turkey, which are spread over both Europe and Asia.
There were just 12 countries that met 2 to 6 international vehicle standards. Nations like Canada, the United States, New Zealand, Malaysia and Israel had met 6 parameters. Brazil and Ecuador met 5 parameters, while China and South Africa met 4 parameters.  Both Argentina and Uruguay met 3 parameters and India could meet only 2.
However, the worrying situation was that more than 100 nations were either adhering to just one of these parameters, or none.
There were just two countries that were meeting at least one of the parameters and these were Mexico and Thailand. The rest of the nations were not adhering to even one parameter.
Majority of the African nations fell in this '0' category. Some other nations where the situation was quite alarming were Afghanistan, Algeria, Bahrain, Bangladesh, Chile, Colombia, Georgia, Indonesia and many others.
Till the time every nation around the world does not adhere to these seven parameters and pledge to provide its citizens with safer vehicles, thousands will continue to die in road  accidents.
| Country | Vehicle standards |
| --- | --- |
| Andorra | 7 |
| Australia | 7 |
| Austria | 7 |
| Belgium | 7 |
| Bulgaria | 7 |
| Croatia | 7 |
| Cyprus | 7 |
| Czech Republic | 7 |
| Denmark | 7 |
| Egypt | 7 |
| Estonia | 7 |
| Finland | 7 |
| France | 7 |
| Germany | 7 |
| Greece | 7 |
| Hungary | 7 |
| Iceland | 7 |
| Ireland | 7 |
| Italy | 7 |
| Japan | 7 |
| Latvia | 7 |
| Lithuania | 7 |
| Luxembourg | 7 |
| Malta | 7 |
| Monaco | 7 |
| Netherlands | 7 |
| Norway | 7 |
| Poland | 7 |
| Portugal | 7 |
| Republic of Korea | 7 |
| Romania | 7 |
| Russian Federation | 7 |
| San Marino | 7 |
| Slovakia | 7 |
| Slovenia | 7 |
| Spain | 7 |
| Sweden | 7 |
| Switzerland | 7 |
| Turkey | 7 |
| United Kingdom | 7 |
| Canada | 6 |
| Israel | 6 |
| Malaysia | 6 |
| New Zealand | 6 |
| United States of America | 6 |
| Brazil | 5 |
| Ecuador | 5 |
| China | 4 |
| South Africa | 4 |
| Argentina | 3 |
| Uruguay | 3 |
| India | 2 |
| Mexico | 1 |
| Thailand | 1 |
| Afghanistan | 0 |
| Albania | 0 |
| Algeria | 0 |
| Angola | 0 |
| Antigua and Barbuda | 0 |
| Armenia | 0 |
| Azerbaijan | 0 |
| Bahamas | 0 |
| Bahrain | 0 |
| Bangladesh | 0 |
| Barbados | 0 |
| Belarus | 0 |
| Belize | 0 |
| Benin | 0 |
| Bhutan | 0 |
| Bolivia (Plurinational State of) | 0 |
| Bosnia and Herzegovina | 0 |
| Botswana | 0 |
| Burkina Faso | 0 |
| Cabo Verde | 0 |
| Cambodia | 0 |
| Cameroon | 0 |
| Central African Republic | 0 |
| Chad | 0 |
| Chile | 0 |
| Colombia | 0 |
| Congo | 0 |
| Cook Islands | 0 |
| Costa Rica | 0 |
| Côte d'Ivoire | 0 |
| Cuba | 0 |
| Democratic Republic of the Congo | 0 |
| Djibouti | 0 |
| Dominica | 0 |
| Dominican Republic | 0 |
| El Salvador | 0 |
| Eritrea | 0 |
| Ethiopia | 0 |
| Fiji | 0 |
| Gabon | 0 |
| Gambia | 0 |
| Georgia | 0 |
| Ghana | 0 |
| Guatemala | 0 |
| Guinea | 0 |
| Guinea-Bissau | 0 |
| Guyana | 0 |
| Honduras | 0 |
| Indonesia | 0 |
| Iran (Islamic Republic of) | 0 |
| Iraq | 0 |
| Jamaica | 0 |
| Jordan | 0 |
| Kazakhstan | 0 |
| Kenya | 0 |
| Kiribati | 0 |
| Kuwait | 0 |
| Kyrgyzstan | 0 |
| Lao People's Democratic Republic | 0 |
| Lebanon | 0 |
| Lesotho | 0 |
| Liberia | 0 |
| Libya | 0 |
| Madagascar | 0 |
| Malawi | 0 |
| Maldives | 0 |
| Mali | 0 |
| Marshall Islands | 0 |
| Mauritania | 0 |
| Mauritius | 0 |
| Micronesia (Federated States of) | 0 |
| Mongolia | 0 |
| Montenegro | 0 |
| Morocco | 0 |
| Mozambique | 0 |
| Myanmar | 0 |
| Namibia | 0 |
| Nepal | 0 |
| Nicaragua | 0 |
| Niger | 0 |
| Nigeria | 0 |
| Oman | 0 |
| Pakistan | 0 |
| Palau | 0 |
| Panama | 0 |
| Papua New Guinea | 0 |
| Paraguay | 0 |
| Peru | 0 |
| Philippines | 0 |
| Qatar | 0 |
| Republic of Moldova | 0 |
| Rwanda | 0 |
| Saint Lucia | 0 |
| Saint Vincent and the Grenadines | 0 |
| Samoa | 0 |
| Sao Tome and Principe | 0 |
| Saudi Arabia | 0 |
| Senegal | 0 |
| Serbia | 0 |
| Seychelles | 0 |
| Sierra Leone | 0 |
| Singapore | 0 |
| Solomon Islands | 0 |
| Somalia | 0 |
| Sri Lanka | 0 |
| Sudan | 0 |
| Suriname | 0 |
| Swaziland | 0 |
| Tajikistan | 0 |
| Macedonia | 0 |
| Timor-Leste | 0 |
| Togo | 0 |
| Tonga | 0 |
| Trinidad and Tobago | 0 |
| Tunisia | 0 |
| Turkmenistan | 0 |
| Uganda | 0 |
| United Arab Emirates | 0 |
| United Republic of Tanzania | 0 |
| Uzbekistan | 0 |
| Vanuatu | 0 |
| Vietnam | 0 |
| West Bank and Gaza Strip | 0 |
| Yemen | 0 |
| Zambia | 0 |
| Zimbabwe | 0 |
(Data sourced from World Health Organization)
Recent Posts