Next Story
What are the State and Local Sales Tax Rates in Each US State?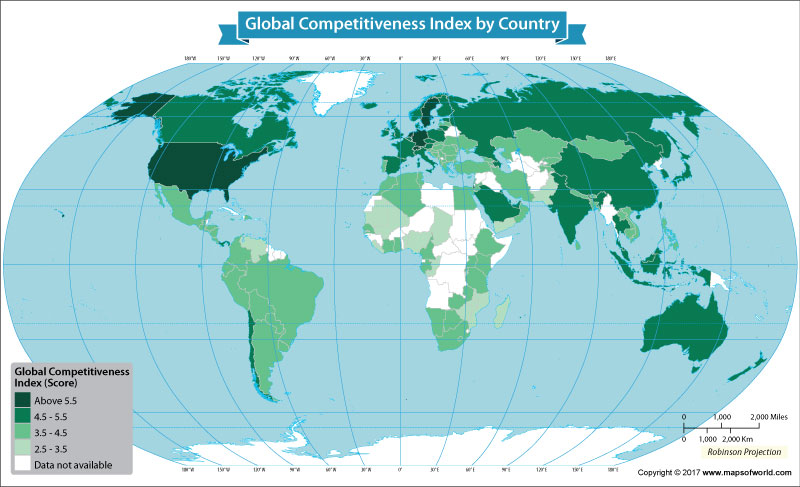 If you have a theme, we have a map.
Contact us for your custom mapping requirements
The Global Competitiveness Index assesses the ability of the nations that are mentioned in the list to provide high levels of prosperity to their citizens. The index, which has been released as a part of the World Economic Forum's (WEF) Global Competitiveness Report for 2016-17, lists 138 countries on the basis of their competitiveness.
The Global Competitiveness Index is calculated by aggregating indicators across the report's 12 pillars. These 12 points cover both social as well as business indicators. These are: The level of institutions, appropriate infrastructure, a stable macroeconomic framework, good health and primary education, higher education and training, efficient goods markets, efficient labor markets, developed financial markets, the ability to harness the benefits of existing technologies,  domestic and international market size, sophisticated production processes, and innovation.
Switzerland is the most competitive country in the world. The Global Competitiveness Index for 2016-17 has placed Switzerland at the top of the list with a score of 5.81. On the back of an efficient work force, innovation, and high-quality business landscape, Switzerland was able to win for the eighth time in a row.
Singapore and the United States were the second and third most competitive countries with scores of 5.72 and 5.70.
The Netherlands, Germany and Sweden were the other competitive nations with scores of more than 5.5. Both the Netherlands and Germany had a score of 5.57 each, Sweden had a score of 5.53.
Some of the nations which were quite competitive and had scores between 4.5 and 5.5 were United Arab Emirates, Belgium, Qatar, Austria, Luxembourg, France, Iceland, Malaysia, Spain and many others.
Incidentally, India jumped 16 spots in the 2016-17 list. The nation was placed at the 39th rank with a score of 4.52. In the 2015-16, India occupied the 55th rank. It was also the second most competitive BRICS nation. China was ahead of it at the 28th rank, with a score of 4.95. The other BRICS nations of Russia, South Africa and Brazil occupied the 43rd, 47th and 81st ranks, respectively, with scores of 4.51, 4.47 and 4.06.
Countries that had scores of less than 3.5 on the Global Competitiveness Index were Pakistan, Mali, Zimbabwe, Nigeria, Madagascar, Venezuela, Liberia, Chad and some others.
Meanwhile, Yemen was ranked as the least competitive nation occupying the 138th spot with a score of 2.74.
| Rank | Economy | Score |
| --- | --- | --- |
| 1 | Switzerland | 5.81 |
| 2 | Singapore | 5.72 |
| 3 | United States | 5.70 |
| 4 | Netherlands | 5.57 |
| 5 | Germany | 5.57 |
| 6 | Sweden | 5.53 |
| 7 | United Kingdom | 5.49 |
| 8 | Japan | 5.48 |
| 9 | Hong Kong SAR | 5.48 |
| 10 | Finland | 5.44 |
| 11 | Norway | 5.44 |
| 12 | Denmark | 5.35 |
| 13 | New Zealand | 5.31 |
| 14 | Taiwan, China | 5.28 |
| 15 | Canada | 5.27 |
| 16 | United Arab Emirates | 5.26 |
| 17 | Belgium | 5.25 |
| 18 | Qatar | 5.23 |
| 19 | Austria | 5.22 |
| 20 | Luxembourg | 5.20 |
| 21 | France | 5.20 |
| 22 | Australia | 5.19 |
| 23 | Ireland | 5.18 |
| 24 | Israel | 5.18 |
| 25 | Malaysia | 5.16 |
| 26 | Korea, Rep. | 5.03 |
| 27 | Iceland | 4.96 |
| 28 | China | 4.95 |
| 29 | Saudi Arabia | 4.84 |
| 30 | Estonia | 4.78 |
| 31 | Czech Republic | 4.72 |
| 32 | Spain | 4.68 |
| 33 | Chile | 4.64 |
| 34 | Thailand | 4.64 |
| 35 | Lithuania | 4.60 |
| 36 | Poland | 4.56 |
| 37 | Azerbaijan | 4.55 |
| 38 | Kuwait | 4.53 |
| 39 | India | 4.52 |
| 40 | Malta | 4.52 |
| 41 | Indonesia | 4.52 |
| 42 | Panama | 4.51 |
| 43 | Russian Federation | 4.51 |
| 44 | Italy | 4.50 |
| 45 | Mauritius | 4.49 |
| 46 | Portugal | 4.48 |
| 47 | South Africa | 4.47 |
| 48 | Bahrain | 4.47 |
| 49 | Latvia | 4.45 |
| 50 | Bulgaria | 4.44 |
| 51 | Mexico | 4.41 |
| 52 | Rwanda | 4.41 |
| 53 | Kazakhstan | 4.41 |
| 54 | Costa Rica | 4.41 |
| 55 | Turkey | 4.39 |
| 56 | Slovenia | 4.39 |
| 57 | Philippines | 4.36 |
| 58 | Brunei Darussalam | 4.35 |
| 59 | Georgia | 4.32 |
| 60 | Vietnam | 4.31 |
| 61 | Colombia | 4.30 |
| 62 | Romania | 4.30 |
| 63 | Jordan | 4.29 |
| 64 | Botswana | 4.29 |
| 65 | Slovak Republic | 4.28 |
| 66 | Oman | 4.28 |
| 67 | Peru | 4.23 |
| 68 | Macedonia, FYR | 4.23 |
| 69 | Hungary | 4.20 |
| 70 | Morocco | 4.20 |
| 71 | Sri Lanka | 4.19 |
| 72 | Barbados | 4.19 |
| 73 | Uruguay | 4.17 |
| 74 | Croatia | 4.15 |
| 75 | Jamaica | 4.13 |
| 76 | Iran, Islamic Rep. | 4.12 |
| 77 | Tajikistan | 4.12 |
| 78 | Guatemala | 4.08 |
| 79 | Armenia | 4.07 |
| 80 | Albania | 4.06 |
| 81 | Brazil | 4.06 |
| 82 | Montenegro | 4.05 |
| 83 | Cyprus | 4.04 |
| 84 | Namibia | 4.02 |
| 85 | Ukraine | 4.00 |
| 86 | Greece | 4.00 |
| 87 | Algeria | 3.98 |
| 88 | Honduras | 3.98 |
| 89 | Cambodia | 3.98 |
| 90 | Serbia | 3.97 |
| 91 | Ecuador | 3.96 |
| 92 | Dominican Republic | 3.94 |
| 93 | Lao PDR | 3.93 |
| 94 | Trinidad and Tobago | 3.93 |
| 95 | Tunisia | 3.92 |
| 96 | Kenya | 3.90 |
| 97 | Bhutan | 3.87 |
| 98 | Nepal | 3.87 |
| 99 | Côte d'Ivoire | 3.86 |
| 100 | Moldova | 3.86 |
| 101 | Lebanon | 3.84 |
| 102 | Mongolia | 3.84 |
| 103 | Nicaragua | 3.81 |
| 104 | Argentina | 3.81 |
| 105 | El Salvador | 3.81 |
| 106 | Bangladesh | 3.80 |
| 107 | Bosnia & Herzegovina | 3.80 |
| 108 | Gabon | 3.79 |
| 109 | Ethiopia | 3.77 |
| 110 | Cape Verde | 3.76 |
| 111 | Kyrgyz Republic | 3.75 |
| 112 | Senegal | 3.74 |
| 113 | Uganda | 3.69 |
| 114 | Ghana | 3.68 |
| 115 | Egypt | 3.67 |
| 116 | Tanzania | 3.67 |
| 117 | Paraguay | 3.65 |
| 118 | Zambia | 3.60 |
| 119 | Cameroon | 3.58 |
| 120 | Lesotho | 3.57 |
| 121 | Bolivia | 3.54 |
| 122 | Pakistan | 3.49 |
| 123 | Gambia, The | 3.47 |
| 124 | Benin | 3.47 |
| 125 | Mali | 3.46 |
| 126 | Zimbabwe | 3.41 |
| 127 | Nigeria | 3.39 |
| 128 | Madagascar | 3.33 |
| 129 | Congo, Democratic Rep. | 3.29 |
| 130 | Venezuela | 3.27 |
| 131 | Liberia | 3.21 |
| 132 | Sierra Leone | 3.16 |
| 133 | Mozambique | 3.13 |
| 134 | Malawi | 3.08 |
| 135 | Burundi | 3.06 |
| 136 | Chad | 2.95 |
| 137 | Mauritania | 2.94 |
| 138 | Yemen | 2.74 |
(Data sourced from World Economic Forum)
Recent Posts