A Glimpse at the World's Most Liveable Cities
Next Story
Winners of the 100 Meters Race at the Olympics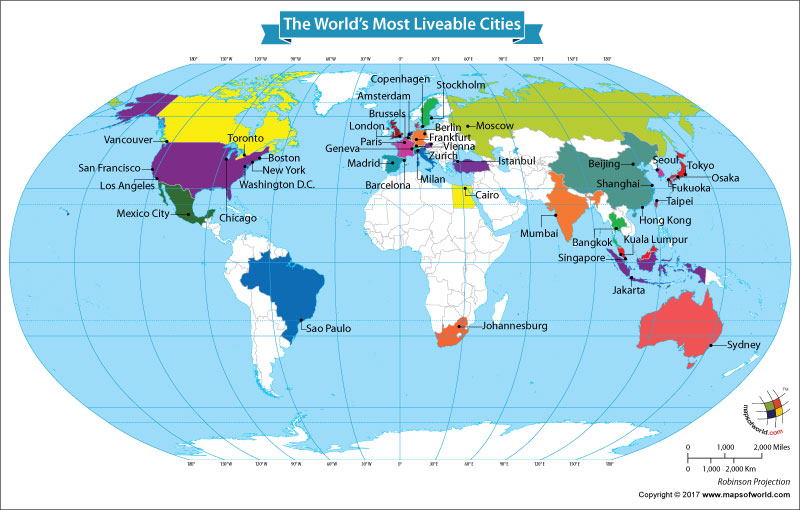 If you have a theme, we have a map.
Contact us for your custom mapping requirements
There are several factors that make a city worth living in. Just a few of these are safety and security, cost of living, infrastructure, level of educational institutes, and healthcare. The 2016 Global Power City Index, which has been published by the Mori Memorial Foundation's Institute for Urban Strategies, evaluated major cities and selected 42 cities from around the world on the basis of their comprehensive power to attract business enterprises, as well as creative people from all over the world. The index evaluated the cities on the basis of the six main functions such as cultural interactions, environment, accessibility, research and development, and livability, and also five global actors such as researchers, managers, visitors, residents, and artists.
The Livability functions has taken five factors into account which make a city worth living in. These are working environment, cost of living, security and safety, well being, and ease of living. The French capital of Paris has topped the 2016 Global Power City Index's Livability Function with a score of 336.6. Paris is rated highly as there are a large number of medical doctors per population. In fact, along with Paris, all the other top five cities on the list are located in European nations. The other four are Berlin, at the number two spot with a rank of 331.9; Vienna, at the third rank with a score of 330.3, Barcelona at the fourth spot and Frankfurt at the fifth with scores of 327.7 and 325.6 respectively.
Tokyo, the capital of Japan, which was placed at the 15 spot in the last index, has bagged the 6th spot in 2016 due to gains in average house rent, total working hours, and price level. There are two other Japanese cities that have made it among the top ten most liveable cities. These are Osaka at the eighth spot and Fukuoka at the ninth spot. The other two cities among the top ten are the Canadian city of Toronto, which is ranked seventh; and the Swedish capital of Stockholm, at the tenth spot.
The list of 42 most liveable cities around the world also includes New York, London, Mumbai, the financial capital of India, Shanghai, Moscow, San Francisco, Beijing, Istanbul, Boston, Kuala Lumpur, and many other cities.
The biggest city of South Africa, Johannesburg, was placed at the 42nd rank and had a score of 175.6.
For a better understanding of how cities are ranked on the livability function and their scores, refer to the table below.
| City | Livability score, 2016 |
| --- | --- |
| Paris | 336.6 |
| Berlin | 331.9 |
| Vienna | 330.3 |
| Barcelona | 327.7 |
| Frankfurt | 325.6 |
| Tokyo | 320.6 |
| Toronto | 319.2 |
| Osaka | 318 |
| Fukuoka | 317.2 |
| Stockholm | 316.9 |
| Amsterdam | 312.4 |
| Copenhagen | 307 |
| Vancouver | 304.9 |
| Madrid | 302.7 |
| Milan | 298.3 |
| Geneva | 297 |
| Seoul | 294.8 |
| Brussels | 293.8 |
| Zurich | 292.7 |
| Kuala Lumpur | 285.9 |
| Taipei | 277.9 |
| London | 274.4 |
| New York | 271.7 |
| Bangkok | 265.6 |
| Shanghai | 262.3 |
| Mumbai | 262.2 |
| Moscow | 260.5 |
| San Francisco | 257.8 |
| Chicago | 257.5 |
| Sydney | 253.9 |
| Beijing | 252 |
| Istanbul | 252 |
| Boston | 247.9 |
| Los Angeles | 247.9 |
| Sao Paulo | 244.2 |
| Hong Kong | 240.8 |
| Washington D.C | 239.9 |
| Jakarta | 230.6 |
| Mexico City | 227.6 |
| Singapore | 224.6 |
| Cairo | 215.8 |
| Johannesburg | 175.6 |
(Data sourced from Mori Memorial Foundation's Institute for Urban Strategies)
Recent Posts