Countries Yielding the Most Cereal Crops Per Hectare
Next Story
Time to Rid the World of Anemia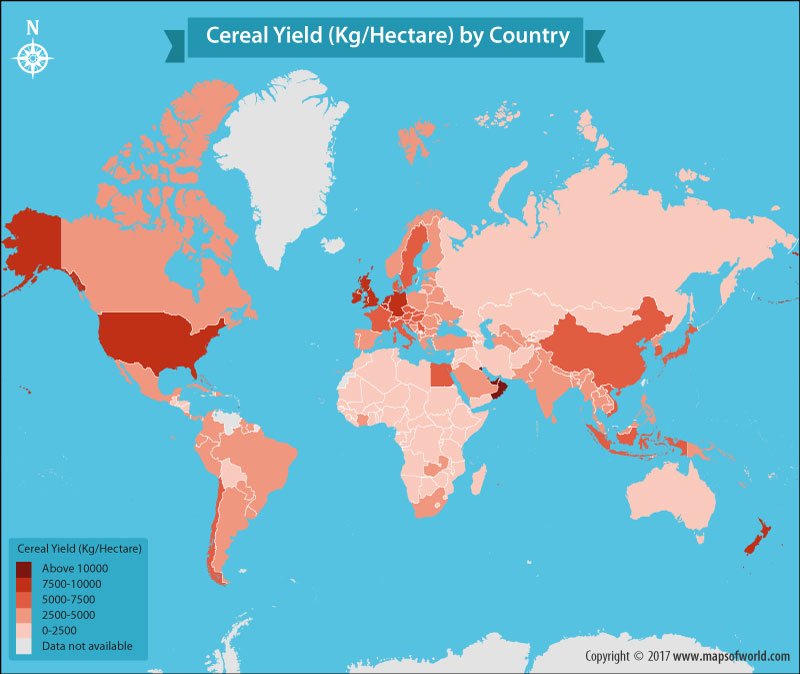 If you have a theme, we have a map.
Contact us for your custom mapping requirements
Cereals include wheat, millet, rice, buckwheat, maize, oats, rye, sorghum, barley and mixed grains. The cereal yield, when measured as kilograms (kg) per hectare of the harvested land, includes the aforementioned components. Production data on cereals is linked to crops harvested for dry grain only.
According to the 2014 World Bank data, the island nation of St. Vincent and Grenadines had the largest cereal yield of 24,486 kg per hectare. Coming at the second spot was Kuwait, where the figure was 21,845, followed by United Arab Emirates and Oman reporting figures of 16,461 and 11,538 kg per hectare.
In the year 2014, the cereal yield in the United States stood at 7,637 kg per hectare, while its northern neighbor Canada reported a figure of 3,670 kg per hectare. The average crop yield in South Asia in the year 2014 stood at 3,066 kg per hectare in 2014. Of the South Asian countries, Bangladesh reported the highest figure which amounted to 4,406 kg per hectare, while the lowest was in Maldives at 2,405.
The European Union, on an average, reported a cereal yield of 5,449 kg per hectare. Among the European nations, Belgium reported the highest figure of 9,539 kg per hectare, while Moldova was the lowest among European countries in the list at 3,164 kg per hectare. Meanwhile, the Sub-Saharan region ranked the lowest among regions at 1,476 kg per hectare, while the African nation of Cabo Verde was the lowest placed among all the countries at 36 kg per hectare.
The table below gives a clear idea of the cereal yield (kg per hectare) per country.
| Country | Cereal Yield (Kg per Hectare) |
| --- | --- |
| St. Vincent and the Grenadines | 24,486 |
| Kuwait | 21,845 |
| United Arab Emirates | 16,461 |
| Oman | 11,538 |
| Belgium | 9,539 |
| Netherlands | 9,074 |
| Ireland | 8,474 |
| New Zealand | 8,054 |
| Germany | 8,050 |
| United Kingdom | 7,707 |
| United States | 7,637 |
| Austria | 7,246 |
| Egypt, Arab Rep. | 7,162 |
| Bahamas, The | 7,100 |
| North America | 6,867 |
| Switzerland | 6,727 |
| Korea, Rep. | 6,619 |
| Denmark | 6,605 |
| Qatar | 6,548 |
| Slovenia | 6,490 |
| Czech Republic | 6,220 |
| Chile | 6,128 |
| Japan | 6,080 |
| Slovak Republic | 6,039 |
| Croatia | 6,039 |
| Serbia | 5,966 |
| Luxembourg | 5,936 |
| Hungary | 5,897 |
| China | 5,886 |
| France | 5,829 |
| Italy | 5,709 |
| Sweden | 5,650 |
| Vietnam | 5,577 |
| Malta | 5,194 |
| Indonesia | 5,096 |
| Papua New Guinea | 4,971 |
| East Asia & Pacific | 4,947 |
| Albania | 4,893 |
| Bulgaria | 4,861 |
| Uzbekistan | 4,801 |
| Greece | 4,746 |
| Brazil | 4,641 |
| Argentina | 4,555 |
| Lao PDR | 4,508 |
| Israel | 4,448 |
| Portugal | 4,438 |
| Suriname | 4,433 |
| Bangladesh | 4,406 |
| Ukraine | 4,401 |
| South Africa | 4,320 |
| Norway | 4,312 |
| Korea, Dem. People's Rep. | 4,308 |
| Poland | 4,268 |
| Guyana | 4,206 |
| Solomon Islands | 4,104 |
| Venezuela, RB | 4,074 |
| Romania | 4,069 |
| Dominican Republic | 4,007 |
| Peru | 4,007 |
| Bosnia and Herzegovina | 3,977 |
| Lithuania | 3,975 |
| Uruguay | 3,951 |
| Saudi Arabia | 3,943 |
| Malaysia | 3,906 |
| Macedonia, FYR | 3,900 |
| Sri Lanka | 3,801 |
| Mauritius | 3,765 |
| Costa Rica | 3,727 |
| Belarus | 3,721 |
| Myanmar | 3,707 |
| Finland | 3,690 |
| Estonia | 3,670 |
| Canada | 3,670 |
| Philippines | 3,637 |
| Ecuador | 3,627 |
| Mexico | 3,582 |
| Latvia | 3,486 |
| Montenegro | 3,452 |
| Lebanon | 3,384 |
| Colombia | 3,291 |
| Paraguay | 3,277 |
| Cote d'Ivoire | 3,254 |
| Spain | 3,253 |
| New Caledonia | 3,230 |
| Belize | 3,216 |
| Moldova | 3,164 |
| Tajikistan | 3,153 |
| Bhutan | 3,131 |
| Thailand | 3,103 |
| Cambodia | 3,029 |
| Armenia | 3,026 |
| India | 2,981 |
| Timor-Leste | 2,923 |
| Panama | 2,897 |
| Turkey | 2,831 |
| Cuba | 2,787 |
| Turkmenistan | 2,783 |
| Zambia | 2,755 |
| Nepal | 2,748 |
| Pakistan | 2,747 |
| Barbados | 2,700 |
| Guam | 2,500 |
| El Salvador | 2,486 |
| Russian Federation | 2,443 |
| Fiji | 2,443 |
| Madagascar | 2,437 |
| Maldives | 2,405 |
| Azerbaijan | 2,344 |
| Ethiopia | 2,325 |
| Kyrgyz Republic | 2,276 |
| Malawi | 2,188 |
| Iraq | 2,187 |
| Australia | 2,137 |
| Guatemala | 2,118 |
| Afghanistan | 2,021 |
| Uganda | 2,019 |
| Georgia | 2,008 |
| Antigua and Barbuda | 2,000 |
| Djibouti | 2,000 |
| Iran, Islamic Rep. | 1,963 |
| Nicaragua | 1,945 |
| Bolivia | 1,938 |
| Rwanda | 1,920 |
| Puerto Rico | 1,879 |
| Tunisia | 1,833 |
| Sierra Leone | 1,721 |
| Ghana | 1,703 |
| Gabon | 1,688 |
| West Bank and Gaza | 1,675 |
| Tanzania | 1,660 |
| Honduras | 1,658 |
| Central African Republic | 1,649 |
| Mongolia | 1,647 |
| Dominica | 1,636 |
| Kenya | 1,628 |
| Cameroon | 1,623 |
| Nigeria | 1,594 |
| Mali | 1,551 |
| Guinea | 1,543 |
| Benin | 1,460 |
| Jordan | 1,455 |
| Morocco | 1,454 |
| Comoros | 1,447 |
| Algeria | 1,378 |
| Micronesia, Fed. Sts. | 1,368 |
| Trinidad and Tobago | 1,346 |
| Burundi | 1,330 |
| Guinea-Bissau | 1,262 |
| South Sudan | 1,254 |
| Burkina Faso | 1,226 |
| Mauritania | 1,206 |
| Kazakhstan | 1,173 |
| Togo | 1,146 |
| Haiti | 1,144 |
| Jamaica | 1,139 |
| Senegal | 1,110 |
| Liberia | 1,077 |
| Syrian Arab Republic | 1,063 |
| Yemen, Rep. | 963 |
| Grenada | 952 |
| Chad | 941 |
| Swaziland | 938 |
| Congo, Rep. | 910 |
| Angola | 889 |
| Brunei Darussalam | 858 |
| Libya | 829 |
| Zimbabwe | 789 |
| Congo, Dem. Rep. | 763 |
| Lesotho | 755 |
| Gambia, The | 745 |
| Somalia | 730 |
| Mozambique | 703 |
| Sudan | 683 |
| Vanuatu | 662 |
| Eritrea | 626 |
| Sao Tome and Principe | 471 |
| Niger | 436 |
| Namibia | 421 |
| Botswana | 398 |
| Cyprus | 280 |
| Cabo Verde | 36 |
(Data sourced from World Bank)
You may Interested to know
Countries by Agriculture Import
Countries by Agriculture Export
Recent Posts