Get a glimpse into some of the world's best Christmas markets
Next Story
Medal Tally by Country at the Rio 2016 Olympics - US Dominates, China Finishes Second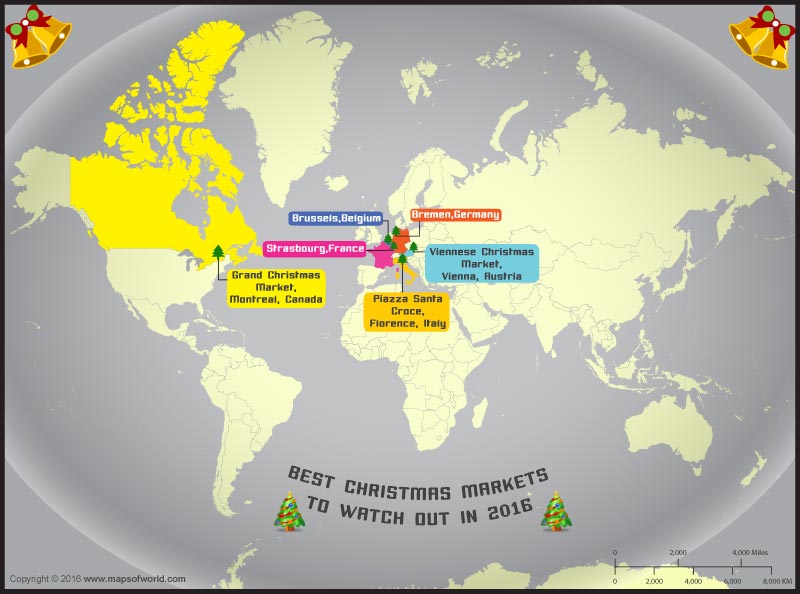 If you have a theme, we have a map.
Contact us for your custom mapping requirements
Christmas is such a wonderful festival. It is all about celebrating the birth of Lord Jesus, gorging on delicious cakes, taking time out of your taxing schedule to relax with family and friends, and, of course, indulging in lots and lots of shopping. So, where are you planning to shop this Christmas season? In case you have not yet decided yet, just read on and get to know some of the best Christmas shopping destinations in the world where you can shop till you drop.
Bremen, Germany
Christmas would be really fun if you are in Bremen. The German city is one of the most popular Christmas market destinations. There is a whole lot of shopping that one can indulge in here, and jugglers and street entertainers would surely add more excitement to your outing. Traditional sausages, Matjes fillet sandwiches, wines and other scrumptious stuff is bound to tempt you.
Strasbourg, France
If you are planning to visit the oldest Christmas market in Europe, then you should head to the lovely French city of Strasbourg. The first edition of the Christmas market took place more than 250 years ago, or to be more precise, in the year 1750. There is a lot you can do at the market but don't forget to gorge on the city's local speciality – bredele biscuits. Also try out the local Alsatian wine.
Grand Christmas Market, Montreal, Canada
Montreal's Grand Christmas Market is as good as its European counterparts. Indulge in a lot of activities such as taking part in a workshop for Santa Elves, or watch the stuff being displayed by talented artisans. You can also gorge on scrumptious dishes available at the food trucks.
Piazza Santa Croce, Florence, Italy
Florence in Italy is the best place to be in and around Christmas. Do visit the wooden stalls where you would find amazing stuff ranging from woollens, to toys and ornaments. You can also shop for mouth-watering sweets and decorations.
Viennese Christmas Market, Vienna, Austria
If you are really looking for some fun this Christmas, then head straight to the Viennese Christmas Market where you definitely will have a gala time. Get a taste of scrumptious sausages or get high on booze, indulge in some skating or enthral your kids with reindeer rides, this Christmas market has something for everyone.
Brussels, Belgium
The Belgian city of Brussels surely has to be on your list. Gorge on the Belgian beer or waffles. The market also offers interesting activities such as ice skating, Ferris wheel and light shows. Adding fun to the festivity is the Christmas tree.
Recent Posts