2016 Democracy Index: Norway is the Strongest Democracy in the World
Next Story
Percentage of Electricity Generated from Oil Across the World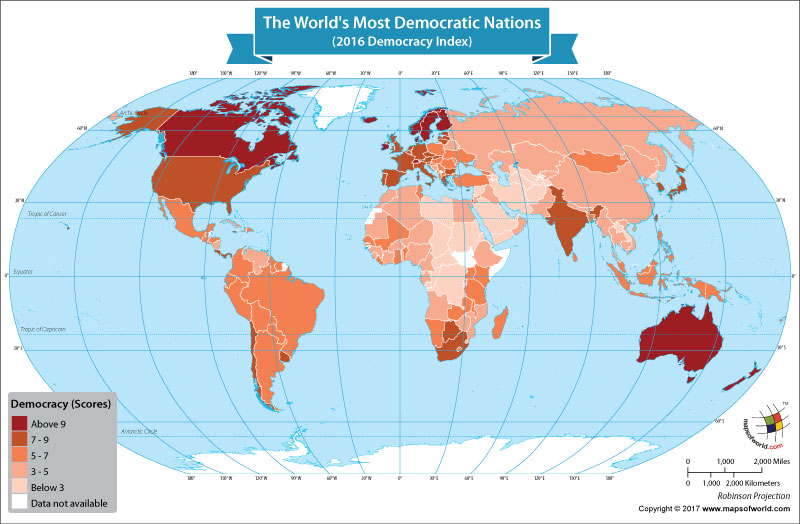 If you have a theme, we have a map.
Contact us for your custom mapping requirements
The United Kingdom-based Economic Intelligence Unit has been releasing the Democracy Index since 2006 to assess the state of democracy in the nations around the world. The 2016 Democracy Index, which has taken into account 167 countries, states that almost half of the world population (49.3 percent to be more precise) is residing in some form of democracy. However, just 4.5 percent of the population across the world is living in a full democracy. Unfortunately, the number of full democracies, which stood at 20 in 2015, is now 19. This is because the 2016 Democracy Index has lowered the position of the United States from a full democracy to a flawed one. The index has scored nations between 1 to 10 points where 10 is the best, while 1 is the worst.
According to the 2016 Democracy Index, Norway is the strongest democracy in the world with a score of 9.93 out of 10. Coming at the second and the third spot are Iceland and Sweden, which have scores of 9.5 and 9.39 respectively. Other nations that have scores of 9 and above are New Zealand, Denmark, Canada, Ireland, Switzerland, Finland, and Australia.
Countries which have scored between 7 and 9 are the United Kingdom, The United States, India, Chile, Belgium, South Africa, France etc. Meanwhile countries such as Colombia, Bangladesh Indonesia, Argentina, Hungary, Lesotho, Sri Lanka, to name a few stand midway with scores ranging between 5 and 7.
Countries that have scored poorly on the 2016 Democracy Index and have a score of less than 3 are Gambia, Bahrain, Afghanistan, Sudan, Libya, Iran, Saudi Arabia, Uzbekistan, among others. North Korea has been rated as the least Democratic country in the world. The nation has been placed at the bottom of the table and has a score of just 1.08 out of 10.
The table below provides information on the 2016 Democracy Index score of each nation.
Country
Score
Norway
9.93
Iceland
9.5
Sweden
9.39
New Zealand
9.26
Denmark
9.2
Canada
9.15
Ireland
9.15
Switzerland
9.09
Finland
9.03
Australia
9.01
Luxembourg
8.81
Netherlands
8.8
Germany
8.63
Austria
8.41
Malta
8.39
United Kingdom
8.36
Spain
8.3
Mauritius
8.28
Uruguay
8.17
Japan
7.99
United States of America
7.98
Italy
7.98
Cabo Verde
7.94
France
7.92
South Korea
7.92
Costa Rica
7.88
Botswana
7.87
Portugal
7.86
Israel
7.85
Estonia
7.85
Czech Republic
7.82
India
7.81
Taiwan
7.79
Chile
7.78
Belgium
7.77
Cyprus
7.65
Slovenia
7.51
Lithuania
7.47
South Africa
7.41
Jamaica
7.39
Latvia
7.31
Slovakia
7.29
Timor-Leste
7.24
Greece
7.23
Panama
7.13
Trinidad and Tobago
7.1
Bulgaria
7.01
Indonesia
6.97
Argentina
6.96
Philippines
6.94
Brazil
6.9
Poland
6.83
Suriname
6.77
Croatia
6.75
Ghana
6.75
Hungary
6.72
Dominican Republic
6.67
Colombia
6.67
Peru
6.65
El Salvador
6.64
Romania
6.62
Mongolia
6.62
Lesotho
6.59
Serbia
6.57
Malaysia
6.54
Sri Lanka
6.48
Mexico
6.47
Hong Kong
6.42
Tunisia
6.4
Singapore
6.38
Namibia
6.31
Paraguay
6.27
Guyana
6.25
Senegal
6.21
Papua New Guinea
6.03
Moldova
6.01
Zambia
5.99
Georgia
5.93
Honduras
5.92
Guatemala
5.92
Albania
5.91
Ecuador
5.81
Tanzania
5.76
Bangladesh
5.73
Montenegro
5.72
Ukraine
5.7
Mali
5.7
Benin
5.67
Fiji
5.64
Bolivia
5.63
Malawi
5.55
Kenya
5.33
Liberia
5.31
Uganda
5.26
Macedonia
5.23
Madagascar
5.07
Turkey
5.04
Kyrgyz Republic
4.93
Bhutan
4.93
Thailand
4.92
Bosnia and

Herzegovina

4.87
Lebanon
4.86
Nepal
4.86
Nicaragua
4.81
Morocco
4.77
Burkina Faso
4.7
Venezuela
4.68
Sierra Leone
4.55
Nigeria
4.5
Palestine
4.49
Pakistan
4.33
Cambodia
4.27
Myanmar
4.2
Iraq
4.08
Mozambique
4.02
Haiti
4.02
Mauritania
3.96
Jordan
3.96
Niger
3.96
Armenia
3.88
Kuwait
3.85
Côte d'Ivoire
3.81
Gabon
3.74
Comoros
3.71
Ethiopia
3.6
Algeria
3.56
Belarus
3.54
Cameroon
3.46
Cuba
3.46
Angola
3.4
Vietnam
3.38
Togo
3.32
Egypt
3.31
Russia
3.24
Qatar
3.18
Guinea
3.14
China
3.14
Rwanda
3.07
Kazakhstan
3.06
Zimbabwe
3.05
Oman
3.04
Swaziland
3.03
Congo (Brazzaville)
2.91
Gambia
2.91
Djibouti
2.83
Bahrain
2.79
United Arab Emirates
2.75
Azerbaijan
2.65
Afghanistan
2.55
Burundi
2.4
Sudan
2.37
Eritrea
2.37
Laos
2.37
Iran
2.34
Libya
2.25
Yemen
2.07
Guinea-Bissau
1.98
Uzbekistan
1.95
Democratic Republic of Congo
1.93
Saudi Arabia
1.93
Tajikistan
1.89
Turkmenistan
1.83
Equatorial Guinea
1.7
Central African Republic
1.61
Chad
1.5
Syria
1.43
North Korea
1.08
(Data sourced from Economic Intelligence Unit)
Recent Posts