Countries That Use the Dollar as Their Currency
Next Story
Top Ten Winners of the Karate World Championships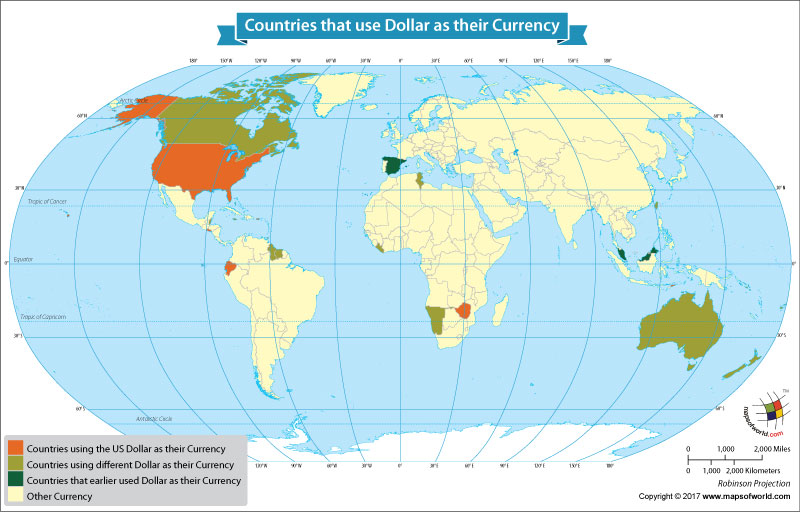 If you have a theme, we have a map.
Contact us for your custom mapping requirements
The dollar is one of the most popular and widely used currencies around the world. The United States dollar is the most traded currency around the world, and is being used by a number of nations as their prime currency. But, there are several nations which use different dollars, from the United States dollar, as their currency.
The US dollar is the most powerful currency around the globe and is accepted for most international transactions. In fact, the US dollar also plays a pivotal role in the foreign exchange rate market for currencies of other nations. The US dollar acts as a benchmark for nations that peg their currencies to the USD's value. There are currently seven countries other than the United States that have the US dollar as their prime currency. These other seven nations are; Timor-Leste, El Salvador, Federated States of Micronesia, Ecuador, Palau, Marshall Islands, and Zimbabwe.
Zimbabwe had its own dollar until 2009. But the nation effectively abandoned it 2009, and in 2015 the Zimbabwean dollar was demonetized. Apart from the US dollar, other currencies regularly used in Zimbabwe are the Euro, Australian dollar, Chinese Renminbi, Japanese yen, Pound sterling, south African rand, Botswana pula, and the Indian rupee.
There are many nations which have other dollars as their currency. These dollars are either in the name of their country or region. The currency in Australia and its territories is the Australian dollar, while in Canada it is the Canadian dollar. Similarly, nations like Dominica, Fiji, Jamaica, Liberia, New Zealand and its territories, Guyana and a few other nations and territories use the 'dollar' as their currency. Interestingly, Hong Kong, which is a Special Administrative Region of the People's Republic of China, uses the Hong Kong dollar, while China uses Renminbi as its currency.
Meanwhile, Malaysia and Spain are two nations that previously used dollars as their currency. Prior to 1993, the official national currency of Malaysia was the Malaysian dollar. However, in 1993, Malaysia adopted the Ringgit as its currency.
The table below provides information on the countries which use dollar as their currency.
| Countries/Territories | Currency |
| --- | --- |
| Belize | Belize dollar |
| Timor-Leste | United States dollar |
| Ecuador | United States dollar |
| El Salvador | United States dollar |
| Marshall Islands | United States dollar |
| Federated States of Micronesia | United States dollar |
| Palau | United States dollar |
| United States and its territories | United States dollar |
| Zimbabwe | United States dollar |
| Antigua and Barbuda | East Caribbean dollar |
| Australia and its territories | Australian dollar |
| Bahamas | Bahamian dollar |
| Barbados | Barbadian dollar |
| Bermuda | Bermuda dollar |
| Brunei | Brunei dollar (Alongside the Singapore dollar) |
| Canada | Canadian dollar |
| Cayman Islands | Cayman Islands dollar |
| Dominica | East Caribbean dollar |
| Fiji | Fijian dollar |
| Grenada | East Caribbean dollar |
| Guyana | Guyanese dollar |
| Hong Kong | Hong Kong dollar |
| Jamaica | Jamaican dollar |
| Kiribati | Kiribati dollar along with the Australian dollar |
| Liberia | Liberian dollar |
| Namibia | Namibian dollar along with the South African rand |
| Nauru | Australian dollar |
| New Zealand and its territories | New Zealand dollar |
| Saint Kitts and Nevis | East Caribbean dollar |
| Saint Lucia | East Caribbean dollar |
| Saint Vincent and the Grenadines | East Caribbean dollar |
| Singapore | Singapore dollar |
| Solomon Islands | Solomon Islands dollar |
| Suriname | Surinamese dollar |
| Taiwan | New Taiwan dollar |
| Trinidad and Tobago | Trinidad and Tobago dollar |
| Tuvalu | Tuvaluan dollar along with the Australian dollar |
| Malaysia | Previously Used the Dollar |
| Spain | Previously Used the Dollar |
Recent Posts