A Comparison of the Population Employed in Agriculture in Each Nation
Next Story
Mapping the Social Progress Index of Each Country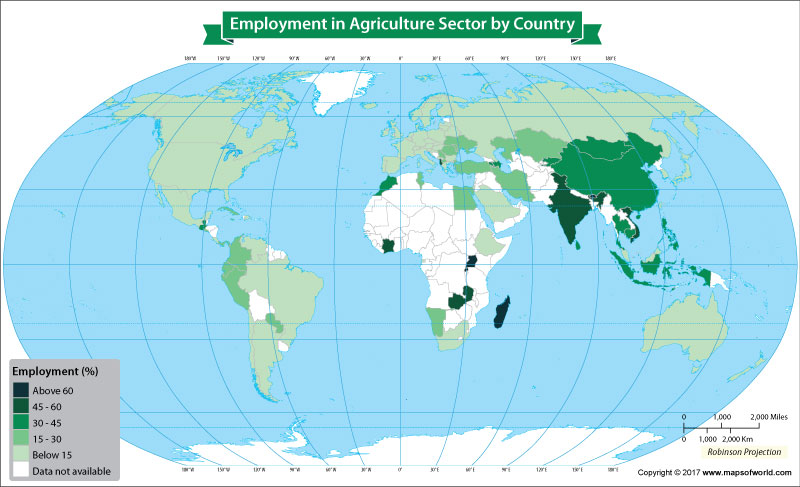 If you have a theme, we have a map.
Contact us for your custom mapping requirements
Agriculture is one of the most significant sectors of the economy and has played a pivotal role in the rise of the sedentary human civilization. Today, one-third of the work force around the world is employed in the agricultural sector. However, over the years, the percentage of workers in the agricultural sector has witnessed a steep decline in the developed countries. It has been estimated that less than five percentage of the population in rich nations is employed in the agricultural sector. Nevertheless, it still is a major source of employment for a significant part of the population in many nations around the world.
Agriculture is the backbone of the economy in the African nation of Rwanda. It is a significant contributor to the national Gross Domestic Product and also a major employer. According to a data by the International Labor Organization, 75.3 percent of the population was engaged in agriculture in the year 2012. The second largest employment in agriculture was registered in Madagascar where it stood at 68.9 percent. Uganda and Bhutan stood at the third and fourth rank with 66.1 and 62.2 percent of the population employed in the agriculture sector.
Nations such as Zambia, Côte d'Ivoire, Albania, Vietnam, and India saw between 45 and 60 percent of their populations working in the agriculture sector. Agriculture provided employment to between 30 and 45 percent of the people in countries like China, Cambodia, the Philippines, Sri Lanka, Armenia, and a few others.
Meanwhile, majority of the nations in the list witnessed less than 15 percent of their population engaged in the agriculture sector. These nations included Greece, Malaysia, Russia, New Zealand, United States, the United Kingdom, Germany, Canada, Australia, France, Italy, Japan, Saudi Arabia, South Africa, and many others.
To get an idea of the percent of population employed in the agriculture sector in each nation, refer to the table.
| Country | Employment in Agriculture (%) |
| --- | --- |
| Rwanda | 75.3 |
| Madagascar | 68.9 |
| Uganda | 66.1 |
| Bhutan | 62.2 |
| Zambia | 55.8 |
| Côte d'Ivoire | 48.3 |
| Albania | 47.4 |
| Vietnam | 47.4 |
| India | 47 |
| Thailand | 42.1 |
| Morocco | 39.2 |
| Azerbaijan | 37.7 |
| Armenia | 37.3 |
| Indonesia | 35.3 |
| Mongolia | 35 |
| China | 33.6 |
| Cambodia | 33.3 |
| Guatemala | 32.3 |
| Philippines | 32.2 |
| Sri Lanka | 31 |
| Kyrgyzstan | 30.1 |
| Romania | 29.7 |
| Gambia | 29.6 |
| Ecuador | 28 |
| Namibia | 27.4 |
| Paraguay | 27.2 |
| Egypt | 27.1 |
| Moldova, Republic of | 26.5 |
| Kazakhstan | 25.5 |
| Peru | 24.7 |
| Turkey | 23.6 |
| El Salvador | 21 |
| Serbia | 21 |
| Ukraine | 19.8 |
| Cuba | 19.3 |
| Iran, Islamic Republic of | 18.9 |
| Jamaica | 18.2 |
| Colombia | 17.5 |
| Macedonia, the former Yugoslav Republic of | 17.3 |
| Tunisia | 17 |
| Panama | 16.7 |
| Dominican Republic | 14.3 |
| Mexico | 13.6 |
| Greece | 13 |
| Falkland Islands (Malvinas) | 12.9 |
| Malaysia | 12.6 |
| Poland | 12.6 |
| Croatia | 12.2 |
| Brazil | 11.5 |
| Occupied Palestinian Territory | 11.5 |
| Portugal | 10.8 |
| Costa Rica | 10.3 |
| Belarus | 10 |
| Chile | 10 |
| Lithuania | 8.8 |
| Latvia | 8.4 |
| Slovenia | 8.4 |
| Ethiopia | 8.2 |
| Venezuela, Bolivarian Republic of | 7.7 |
| Mauritius | 7.5 |
| Russian Federation | 7.3 |
| Samoa | 7 |
| New Zealand | 6.8 |
| Bulgaria | 6.4 |
| Korea, Republic of | 6.2 |
| Montenegro | 5.7 |
| Iceland | 5.5 |
| Hungary | 5.1 |
| Taiwan, China | 5 |
| South Africa | 4.8 |
| Austria | 4.7 |
| Ireland | 4.7 |
| Saudi Arabia | 4.7 |
| Kosovo | 4.6 |
| Estonia | 4.5 |
| Réunion | 4.3 |
| Spain | 4.2 |
| Finland | 4.1 |
| Japan | 3.8 |
| Italy | 3.7 |
| Trinidad and Tobago | 3.7 |
| Switzerland | 3.5 |
| Slovakia | 3.2 |
| Czech Republic | 3.1 |
| Argentina | 3 |
| Cyprus | 2.9 |
| France | 2.9 |
| Australia | 2.8 |
| Barbados | 2.8 |
| Denmark | 2.6 |
| Netherlands | 2.5 |
| Norway | 2.2 |
| Sweden | 2.1 |
| Canada | 1.8 |
| Germany | 1.6 |
| Israel | 1.5 |
| United States | 1.5 |
| Qatar | 1.4 |
| Luxembourg | 1.3 |
| Belgium | 1.2 |
| Bermuda | 1.2 |
| United Kingdom | 1.2 |
| Malta | 1.1 |
| Seychelles | 0.9 |
| Cayman Islands | 0.7 |
| Macau, China | 0.2 |
(Data sourced from the International Labour Organisation)
Recent Posts