2016 Global Peace Index: Iceland is the Most Peaceful Country in the World
Next Story
Mapping the Largest Importers of Beauty Products Around the World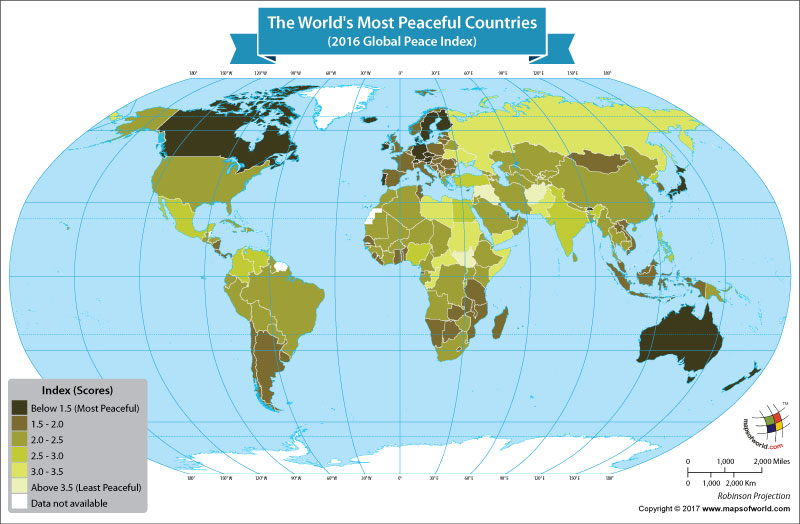 If you have a theme, we have a map.
Contact us for your custom mapping requirements
In today's strife-torn world, peace has become elusive. Today, acts of terrorism, and sectarian violence have ravaged many nations around the world leading to the loss of precious lives and economic damages. The Middle East is marred by conflict resulting in the refugee crisis, which has witnessed millions of migrants crossing into Europe.
To assess the relative position of the peacefulness of nations around the world, the Institute for Economics and Peace, releases the Global Peace Index on an annual basis. The 2016 Global Peace Index gives an alarming picture of the world. As per the index, the world has become less peaceful in the last year. The report also highlights the fact that the gap between the most peaceful countries and those at the other end of the spectrum have widened. However, on a positive note, the report also states that the situation in many countries has improved.
According to the 2016 Global Peace Index, Iceland is the most peaceful country in the world. The European nation is devoid of political upheaval, war and conflict. The nation has a score of 1.192. Along with Iceland, Denmark and Austria are the other two European nations that have ranked high on the 2016 Global Peace Index. Denmark, which is at the second spot, has a score of 1.246, while Austria, at the third position scores 1.278. Other peaceful nations, which have scored between 1 and 1.5 are New Zealand, Portugal, Japan, Canada, Australia, Germany, and some others.
Countries, which have scored between 1.5 and 2 are the Netherlands, Spain, Botswana, Estonia, Indonesia, the United Kingdom, Mongolia, South Korea, Vietnam and some others. The countries that have ranked at the bottom of the table and have scores of more than 3.5 are the least peaceful. These nations are marred by conflicts, civil war and terrorism related incidents. The four countries in this category are Afghanistan, Iraq, South Sudan, and Syria. Among these, Syria is placed right at the bottom of the list and has a score of 3.806. Since 2011, Syria is embroiled in a civil war and today is one of the most violent countries in the world.
Refer to the table below to get information on how nations score on the 2016 Global Peace Index.
| Most Peaceful | Country | Score |
| --- | --- | --- |
| 1 | Iceland | 1.192 |
| 2 | Denmark | 1.246 |
| 3 | Austria | 1.278 |
| 4 | New Zealand | 1.287 |
| 5 | Portugal | 1.356 |
| 6 | Czech Republic | 1.36 |
| 7 | Switzerland | 1.37 |
| 8 | Canada | 1.388 |
| 9 | Japan | 1.395 |
| 10 | Slovenia | 1.408 |
| 11 | Finland | 1.429 |
| 12 | Ireland | 1.433 |
| 13 | Bhutan | 1.445 |
| 14 | Sweden | 1.461 |
| 15 | Australia | 1.465 |
| 16 | Germany | 1.486 |
| 17 | Norway | 1.5 |
| 18 | Belgium | 1.528 |
| 19 | Hungary | 1.534 |
| 20 | Singapore | 1.535 |
| 21 | Netherlands | 1.541 |
| 22 | Poland | 1.557 |
| 23 | Mauritius | 1.559 |
| 24 | Slovakia | 1.603 |
| 25 | Spain | 1.604 |
| 26 | Croatia | 1.633 |
| 27 | Chile | 1.635 |
| 28 | Botswana | 1.639 |
| 29 | Bulgaria | 1.646 |
| 30 | Malaysia | 1.648 |
| 31 | Romania | 1.649 |
| 32 | Latvia | 1.68 |
| 33 | Costa Rica | 1.699 |
| 34 | Qatar | 1.716 |
| 35 | Uruguay | 1.726 |
| 36 | Estonia | 1.732 |
| 37 | Lithuania | 1.735 |
| 38 | Madagascar | 1.763 |
| 39 | Italy | 1.774 |
| 40 | Zambia | 1.783 |
| 41 | Taiwan | 1.787 |
| 42 | Indonesia | 1.799 |
| 43 | Sierra Leone | 1.805 |
| 44 | Ghana | 1.809 |
| 45 | Malawi | 1.817 |
| 46 | France | 1.829 |
| 47 | United Kingdom | 1.83 |
| 48 | Serbia | 1.834 |
| 49 | Panama | 1.837 |
| 50 | Mongolia | 1.838 |
| 51 | Kuwait | 1.842 |
| 52 | Laos | 1.852 |
| 53 | South Korea | 1.858 |
| 54 | Albania | 1.867 |
| 55 | Namibia | 1.873 |
| 56 | Timor-Leste | 1.879 |
| 57 | Montenegro | 1.884 |
| 58 | Tanzania | 1.899 |
| 59 | Vietnam | 1.906 |
| 60 | Bosnia and Herzegovina | 1.915 |
| 61 | United Arab Emirates | 1.931 |
| 62 | Equatorial Guinea | 1.94 |
| 63 | Lesotho | 1.941 |
| 64 | Tunisia | 1.949 |
| 65 | Moldova | 1.953 |
| 66 | Togo | 1.954 |
| 67 | Argentina | 1.957 |
| 68 | Mozambique | 1.963 |
| 69 | Nicaragua | 1.975 |
| 70 | Senegal | 1.978 |
| 71 | Cyprus | 1.994 |
| 72 | Benin | 1.998 |
| 72 | Liberia | 1.998 |
| 74 | Oman | 2.016 |
| 75 | Kazakhstan | 2.019 |
| 76 | Ecuador | 2.02 |
| 77 | Kosovo | 2.022 |
| 78 | Nepal | 2.026 |
| 79 | Gabon | 2.033 |
| 80 | Paraguay | 2.037 |
| 81 | Bolivia | 2.038 |
| 82 | Greece | 2.044 |
| 83 | Bangladesh | 2.045 |
| 84 | Trinidad and Tobago | 2.056 |
| 85 | Cuba | 2.057 |
| 85 | Georgia | 2.057 |
| 85 | Peru | 2.057 |
| 88 | Burkina Faso | 2.063 |
| 89 | Haiti | 2.066 |
| 90 | Swaziland | 2.074 |
| 91 | Morocco | 2.086 |
| 92 | The Gambia | 2.091 |
| 92 | Jamaica | 2.091 |
| 94 | Macedonia | 2.092 |
| 95 | Guyana | 2.105 |
| 96 | Jordan | 2.127 |
| 97 | Sri Lanka | 2.133 |
| 98 | Angola | 2.14 |
| 99 | Dominican Republic | 2.143 |
| 99 | Papua New Guinea | 2.143 |
| 101 | Guinea | 2.148 |
| 101 | Uganda | 2.148 |
| 103 | United States of America | 2.154 |
| 104 | Cambodia | 2.161 |
| 105 | Brazil | 2.176 |
| 106 | Belarus | 2.202 |
| 106 | Turkmenistan | 2.202 |
| 108 | Algeria | 2.213 |
| 109 | Uzbekistan | 2.216 |
| 110 | Armenia | 2.218 |
| 111 | Honduras | 2.237 |
| 111 | El Salvador | 2.237 |
| 113 | Niger | 2.239 |
| 114 | Republic of the Congo | 2.249 |
| 115 | Myanmar | 2.256 |
| 116 | Guinea-Bissau | 2.264 |
| 117 | Guatemala | 2.27 |
| 118 | Cote d' Ivoire | 2.279 |
| 119 | Ethiopia | 2.284 |
| 120 | China | 2.288 |
| 121 | Djibouti | 2.292 |
| 122 | Tajikistan | 2.293 |
| 123 | Mauritania | 2.295 |
| 124 | Kyrgyz Republic | 2.297 |
| 125 | Thailand | 2.312 |
| 126 | South Africa | 2.316 |
| 127 | Zimbabwe | 2.322 |
| 128 | Rwanda | 2.323 |
| 129 | Saudi Arabia | 2.338 |
| 130 | Cameroon | 2.356 |
| 131 | Kenya | 2.379 |
| 132 | Bahrain | 2.398 |
| 133 | Iran | 2.411 |
| 134 | Azerbaijan | 2.45 |
| 135 | Eritrea | 2.46 |
| 136 | Chad | 2.464 |
| 137 | Mali | 2.489 |
| 138 | Burundi | 2.5 |
| 139 | Philippines | 2.511 |
| 140 | Mexico | 2.557 |
| 141 | India | 2.566 |
| 142 | Egypt | 2.574 |
| 143 | Venezuela | 2.651 |
| 144 | Israel | 2.656 |
| 145 | Turkey | 2.71 |
| 146 | Lebanon | 2.752 |
| 147 | Colombia | 2.764 |
| 148 | Palestine | 2.832 |
| 149 | Nigeria | 2.877 |
| 150 | North Korea | 2.944 |
| 151 | Russia | 3.079 |
| 152 | Democratic Republic of the Congo | 3.112 |
| 153 | Pakistan | 3.145 |
| 154 | Libya | 3.2 |
| 155 | Sudan | 3.269 |
| 156 | Ukraine | 3.287 |
| 157 | Central African Republic | 3.354 |
| 158 | Yemen | 3.399 |
| 159 | Somalia | 3.414 |
| 160 | Afghanistan | 3.538 |
| 161 | Iraq | 3.57 |
| 162 | South Sudan | 3.593 |
| 163 | Syria | 3.806 |
(Data sourced from The Institute for Economics and Peace)
Recent Posts