Kidney Diseases Death Rate By Country, On A World Map
Next Story
The Number of Stadiums per Country: The United States and Brazil At The Top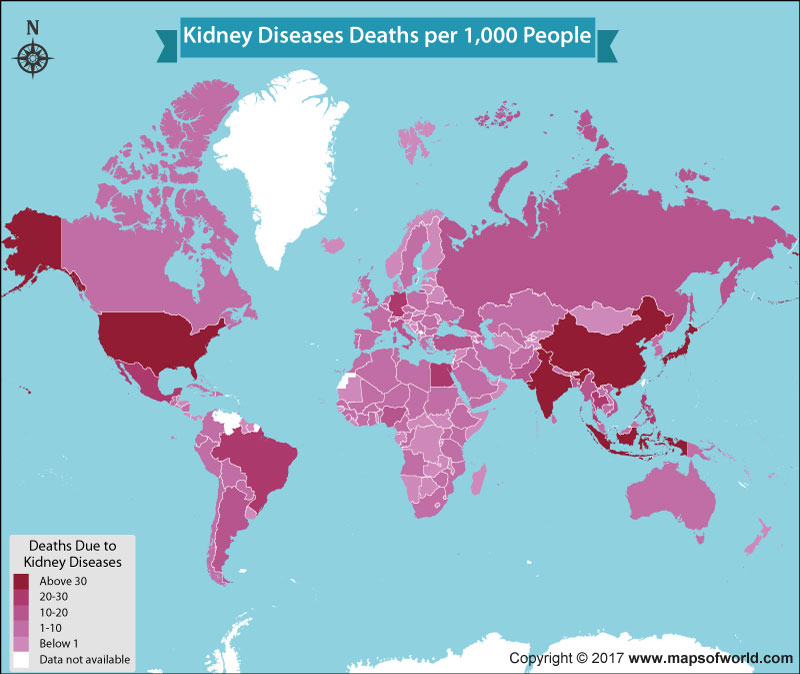 If you have a theme, we have a map.
Contact us for your custom mapping requirements
Kidney diseases are a worldwide health crisis and it has been estimated that every year millions of people die around the world due to kidney-related ailments.
As important organs of the human body, kidneys help extract waste from the blood, form urine and also help in the smooth flow of many other functions of our body. Kidney diseases can affect the human body to the point of being life threatening. Many countries around the world are making concerted efforts to combat kidney diseases by improving their medical and healthcare facilities. Despite that, kidney problems are increasing at an alarming rate.
In 2015, the Asian nations of India and China fared the worst when it came to the number of deaths due to this degenerative health condition per thousand people. According to the World Health Organization (WHO) data, India had the highest number of kidney diseases deaths. The data put the figure at an astounding 257.9 per 1,000 people. China had the second highest number of deaths due to kidney diseases. Here, the number stood at 187.4 per 1,000 people. Though not as bad as the two Asian nations, the United States was also grappling with the problem of kidney diseases deaths in 2015. The nation had 59.8 deaths (per 1,000 people) due to kidney diseases, while Indonesia, which occupied the fourth place, had an estimated 43 deaths (per 1,000 people) due to kidney diseases.
Nations such as Egypt, Germany, Mexico, Philippines, Brazil, Thailand and Japan reported deaths between 20 and 40 (per 1,000 people) due to kidney-related diseases. But, on the positive side, there were many nations in the world where a negligible number of people died due to kidney diseases.
It is a noteworthy fact that countries such as Maldives, Vanuatu, Iceland, Grenada, Comoros, Belize, and many others, reported a zero figure in 2015.
(Data sourced from WHO)
Recent Posts