Global Immunization – Worldwide Measles Incidence and Prevention
Next Story
Top NBA Teams in the Past 25 Years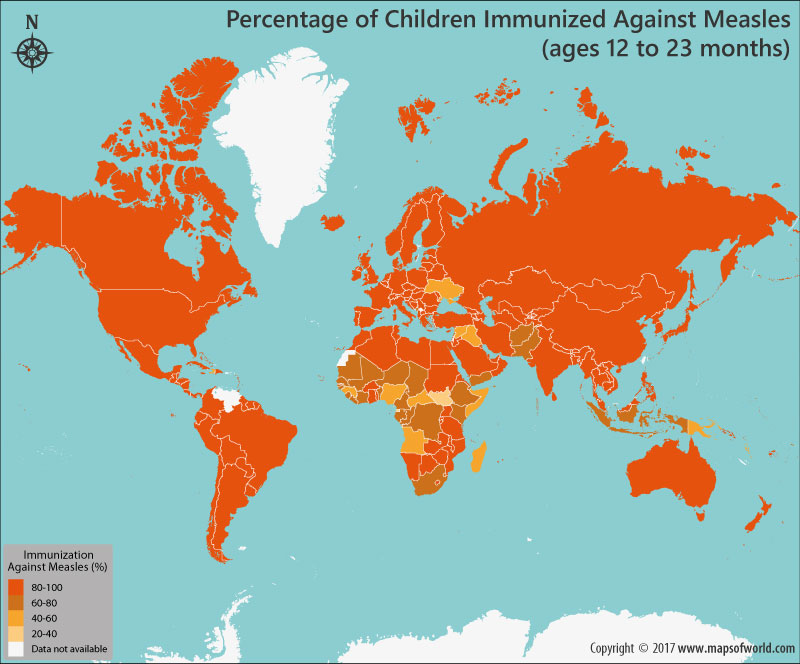 If you have a theme, we have a map.
Contact us for your custom mapping requirements
Measles can be a deadly disease if not treated on time. Very young children are susceptible to the disease which is contagious and is caused by virus. Some of the symptoms of the disease are red eyes, runny nose, sore throat, cough and fever. A few days after the showing of the symptoms, the victim suffers from rashes which cover the entire body. The disease usually spreads through coughing and sneezing and if preventive measures are not taken on time, it can be quite deadly.
It has been estimated that the disease affects some 20 million people every year, and most of the victims reside in the continents of Africa and Asia. However, the disease is preventable if children are provided vaccinations.
According to a World Bank data, a majority of countries have taken adequate safeguards to prevent measles in children and more than 90 percent of them in the ages of 12 to 23 months have been immunized. While in many nations of Europe more than 90 percent of the children between 12 and 23 months were immunized against measles in 2015, San Marino still had a lot of work left to do. It reported immunization of just 53 percent of children. The figures in US, Canada, New Zealand and Australia stood at 92 percent, 90 percent, 93 percent, and 91 percent respectively.
The South Asian nations of Sri Lanka, Bhutan and Maldives had done exceedingly well in this regard and reported figures of 99 percent, 97 percent, and 99 percent of the children between 12 to 23 months immunized against measles. India, Nepal and Bangladesh may not have been able to meet the 90 percent target, but they were not too far behind at 87 percent, 85 percent, and 88 percent. The only country that was lagging behind was Pakistan with just 61 percent of the children in this age group immunized against the disease.
Among other regions, the Sub-Saharan Africa reported just 73 percent of its children between the ages of 12 to 23 months immunized, the figure in Middle East and North Africa stood at 86 percent. In the African region, countries like Tanzania, Tunisia, Gambia, Rwanda, Botswana, Algeria and Egypt (to name a few) reported a figure of 90 percent and above, others such as South Sudan, Equatorial Guinea, Somalia, and Central African Republic reported dismal figures of 20 percent, 27 percent, 46 percent and 49 percent respectively.
(Data sourced from World Bank)
Recent Posts