Countries With the Largest Number of People Living With AIDS
Next Story
Countries With the Highest Percentage of Gold in Forex Reserves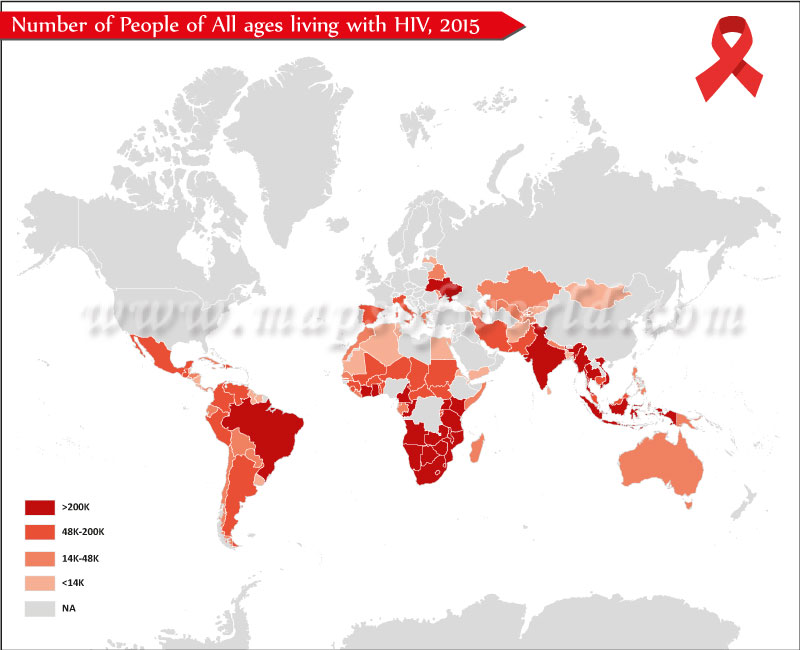 If you have a theme, we have a map.
Contact us for your custom mapping requirements
AIDS is one of the most terrifying and deadly diseases prevalent in the world today. Every year, millions of people from around the world fall prey to AIDS while governments have spent an enormous sum to combat the deadly disease. As of 2015, an estimated 36.7 million people around the world were living with HIV, most of them in Africa.
At present, South Africa has the largest proportion of people living with AIDS in the world. As per estimates, a whopping 7,000,000 people in the country have the disease. Other African nations with a high number of AIDS infected people are: Zimbabwe with some 1,400,000, Mozambique with some 1,500,000, Zambia with 1,20,000, United Republic of Tanzania with 1,400,000, Kenya with 1,500,000, and Uganda with 1,500,000 are a few nations whose populations living with the deadly disease number more than a million.
In Malawi a large number of people have the disease, but number slightly less than a million. Here, around 980,000 people have the disease. Other badly affected African countries are Botswana, Angola, Democratic Republic of Congo, Cameroon, Ghana and Côte d'Ivoire where the number of people living with AIDS is above the 200,000 but less than the million mark.
India ranks high among the Asian nations with people living with the disease. An emerging economy, the nation is struggling to combat the deadly disease. Currently, the nation has some 2,100,000 people living with the disease. The other Asian countries above the 200,000 mark are Myanmar, Thailand, Vietnam and Indonesia.
Brazil is another nation that comprises a fast growing economy but is trying to combat the disease. The South American nation has an estimated 8,30,000 people living with AIDS while Mexico has 200,000 people with the same disease. In Ukraine, which lies in Europe, an estimated 2,20,000 people are living with AIDS. The countries not as badly affected — where people living with the disease range from 14,000 to 48,000 — include Australia, Kazakhstan, Uzbekistan, Nepal, Papua New Guinea, The Philippines, Belarus, Greece, and some South American nations such as Chile, Bolivia and Paraguay.
South American nations of Guyana, Nicaragua, Uruguay, and Suriname; the African nations of Algeria and Egypt; Afghanistan, Mongolia and a few others are relatively well off with the number of persons living with the disease less than 14,000.
Source: (UNAIDS)
Recent Posts