Countries That have Won the Academy Award for Best Foreign Language Film
Next Story
Countries With the Highest Percentage of Smartphone Owners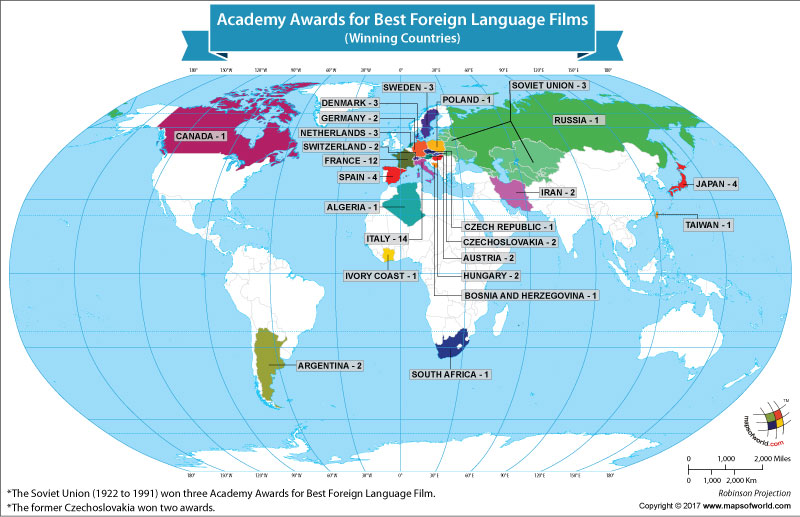 If you have a theme, we have a map.
Contact us for your custom mapping requirements
The Academy Award for Best Foreign Language Film is a prestigious award and is presented every year by the Academy of Motion Picture of Arts and Sciences. It is presented to a full-length motion picture that is produced outside of the United States. These motion pictures have mainly non-English dialogue. The first Academy Award was held in 1929; however, at that time there was no separate category for foreign language films. But, Special/Honorary Awards were given to foreign language films between the years 1947 and 1955 that were released in the US. The Academy Award for Best Foreign Language Film came into existence at the 1956 (29th) Academy Awards. Since then the award has been given annually. Unlike the other Academy Awards, the Best Foreign Language Film Award is not given to a particular person but to the entire nation.
Italy has won the most Academy Awards for the Best Foreign Language Film. Incidentally, Italy has also won the first Best Foreign Language Film Award. Till date, Italy has won 14 awards. France is the second most successful country, winning 12 awards. Both Italy and France have won 26 of the 69 awards that have been given till date. Spain and Japan are the next two most successful nations and have bagged four awards each.
The European nations of Sweden, Denmark, and the Netherlands have won three awards each. The Soviet Union, which existed from 1922 to 1991, also won three awards. Germany, Hungary, Argentina, Switzerland, Austria, Iran and Czechoslovakia, which dissolved in 1993, have won two awards each.
Countries that have won just one Academy Award for Best Foreign Language Film are Poland, Canada, Russia, Algeria, Taiwan, Czech Republic, South Africa, Bosnia and Herzegovina, and Ivory Coast.
The table below provides information on the number of Best Foreign Language Film awards won by each nation.
| Submitting country | Number of winning films |
| --- | --- |
| Italy | 14 |
| France* | 12 |
| Spain | 4 |
| Japan | 4 |
| Sweden | 3 |
| Denmark | 3 |
| Soviet Union** | 3 |
| Netherlands | 3 |
| Germany | 2 |
| Hungary | 2 |
| Argentina | 2 |
| Czechoslovakia*** | 2 |
| Switzerland | 2 |
| Austria | 2 |
| Iran | 2 |
| Poland | 1 |
| Canada | 1 |
| Russia | 1 |
| Algeria | 1 |
| Taiwan | 1 |
| Czech Republic | 1 |
| South Africa | 1 |
| Bosnia and Herzegovina | 1 |
| Ivory Coast | 1 |
Recent Posts