School Life Expectancy: What the World Can Learn From Belgium?
Next Story
Mental Health: The Number of Beds in General Hospitals per 100,000 People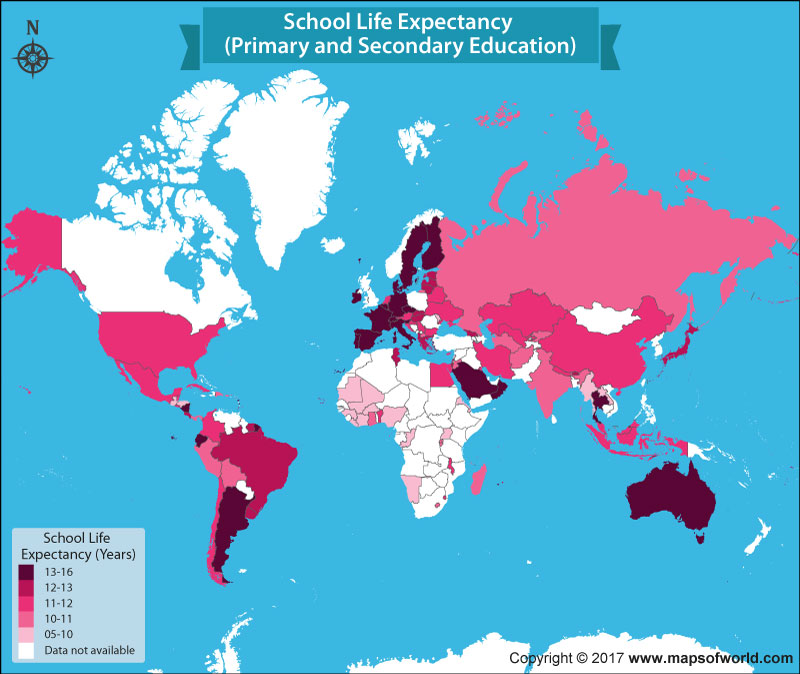 If you have a theme, we have a map.
Contact us for your custom mapping requirements
Education is an important parameter in the overall progress of the nation. A robust educational infrastructure which produces a well-read and informative populace is an indication that the nation is on the path of progress. But nations that have not been able to comprehend the importance of education due to factors such as poverty, political and economic instability, or violence, have been generally lagging behind.
There are a number of factors that are essential to building a strong education system in a country. Some of these are: Infrastructure, such as school building and other amenities; well-qualified teachers, and government spending on education, to name a few. But equally important is the school life expectancy (SLE).
Defined in simple terms, SLE is the number of years that a person of a school entrance age can expect to spend within the specified level (primary and secondary) of education. In nations, which have a high level of school life expectancy, there is a greater probability for students to spend more years in education and also higher overall retention within the educational system.
According to the UNESCO figures of the 2014, the European nation of Belgium, Norfolk Island, Australia, and the United Kingdom had a school life expectancy (primary and secondary education) of a little over 15 years. This means that the number of years of schooling that a child can expect to receive in these European nations is over 15 years.
In fact, a majority of the European nations had 12 and above according to the data. In the United States, where the quality of education is fairly high, the school life expectancy at the primary and secondary level was 11.81, whereas in India, which is known for its competitive school environment, it was 10.59.
The African nations such as Eritrea, Nigeria, Djibouti, Mali and Burkina Faso witnessed a school life expectancy of less than 8 years, which is fairly low as compared to developed nations.
(Data sourced from UNESCO)
| Countries | School Life Expectancy (Years), 2014 | |
| --- | --- | --- |
| Belgium | 15.8 | |
| Norfolk Island | 15.74 | |
| Australia | 15.29 | |
| United Kingdom of Great Britain and Northern Ireland | 15.15 | |
| Denmark | 14.89 | |
| Sweden | 14.71 | |
| Finland | 14.46 | |
| Ireland | 14.44 | |
| Nicaragua | 14.17 | |
| Netherlands Antilles | 14.16 | |
| Spain | 13.76 | |
| Oman | 13.72 | |
| Thailand | 13.61 | |
| Slovenia | 13.52 | |
| Palestine | 13.5 | |
| Portugal | 13.4 | |
| Brunei Darussalam | 13.38 | |
| Italy | 13.25 | |
| Liechtenstein | 13.21 | |
| Germany | 13.2 | |
| Czech Republic | 13.18 | |
| Switzerland | 13.17 | |
| Saudi Arabia | 13.14 | |
| Ecuador | 13.13 | |
| Argentina | 13.06 | |
| France | 13.04 | |
| Mauritius | 12.97 | |
| Luxembourg | 12.95 | |
| Timor-Leste | 12.93 | |
| Georgia | 12.92 | |
| Tunisia | 12.91 | |
| Suriname | 12.76 | |
| Brazil | 12.68 | |
| Latvia | 12.65 | |
| Tonga | 12.65 | |
| Saint Vincent and the Grenadines | 12.57 | |
| Samoa | 12.54 | |
| Lithuania | 12.54 | |
| Costa Rica | 12.49 | |
| Hungary | 12.44 | |
| Estonia | 12.41 | |
| Cook Islands | 12.41 | |
| Israel | 12.4 | |
| Cabo Verde | 12.25 | |
| Albania | 12.24 | |
| Grenada | 12.24 | |
| Slovakia | 12.22 | |
| Greece | 12.2 | |
| Bhutan | 12.18 | |
| Japan | 12.18 | |
| Uruguay | 12.18 | |
| Chile | 11.99 | |
| Seychelles | 11.93 | |
| Croatia | 11.93 | |
| Antigua and Barbuda | 11.91 | |
| Cyprus | 11.87 | |
| Austria | 11.85 | |
| Cuba | 11.85 | |
| Malta | 11.83 | |
| United States of America | 11.81 | |
| British Virgin Islands | 11.8 | |
| China | 11.76 | |
| Bulgaria | 11.75 | |
| Mexico | 11.75 | |
| Kazakhstan | 11.74 | |
| Uzbekistan | 11.7 | |
| Iran (Islamic Republic of) | 11.7 | |
| Serbia | 11.63 | |
| Sao Tome and Principe | 11.62 | |
| Kuwait | 11.62 | |
| Malaysia | 11.61 | |
| Colombia | 11.6 | |
| El Salvador | 11.57 | |
| Tuvalu | 11.55 | |
| Belize | 11.52 | |
| Malawi | 11.51 | |
| Netherlands | 11.43 | |
| Egypt | 11.41 | |
| Belarus | 11.4 | |
| Nepal | 11.31 | |
| Indonesia | 11.31 | |
| Benin | 11.3 | |
| Swaziland | 11.27 | |
| China, Macao Special Administrative Region | 11.19 | |
| Ukraine | 11.12 | |
| Barbados | 11.09 | |
| Russian Federation | 10.98 | |
| Bolivia (Plurinational State of) | 10.95 | |
| Peru | 10.89 | |
| Cameroon | 10.88 | |
| The former Yugoslav Republic of Macedonia | 10.81 | |
| Dominican Republic | 10.79 | |
| Jordan | 10.79 | |
| Venezuela (Bolivarian Republic of) | 10.66 | |
| Burundi | 10.65 | |
| Comoros | 10.64 | |
| Kyrgyzstan | 10.63 | |
| Ghana | 10.59 | |
| India | 10.59 | |
| Rwanda | 10.55 | |
| Saint Kitts and Nevis | 10.45 | |
| Turkmenistan | 10.4 | |
| Panama | 10.36 | |
| Bermuda | 10.33 | |
| Madagascar | 10.23 | |
| Puerto Rico | 10.2 | |
| Afghanistan | 10.1 | |
| Lesotho | 10.09 | |
| Honduras | 9.96 | |
| Lao People's Democratic Republic | 9.83 | |
| Republic of Moldova | 9.77 | |
| Guatemala | 9.5 | |
| Lebanon | 9.32 | |
| Uganda | 9.3 | |
| Myanmar | 9.27 | |
| Liberia | 9.22 | |
| Democratic Republic of the Congo | 9.03 | |
| Côte d'Ivoire | 8.32 | |
| Guinea | 8.25 | |
| Mauritania | 8.22 | |
| Namibia | 8.07 | |
| Palau | 7.59 | |
| Burkina Faso | 7.55 | |
| Mali | 7.17 | |
| Djibouti | 6.66 | |
| Nigeria | 5.58 | |
| Eritrea | 5.2 | |
Click here to view
Recent Posts