Merchandise Trade in Terms of Percent of GDP in Various Countries
Next Story
How Many Of World's Top 20 Museums Have You Been To?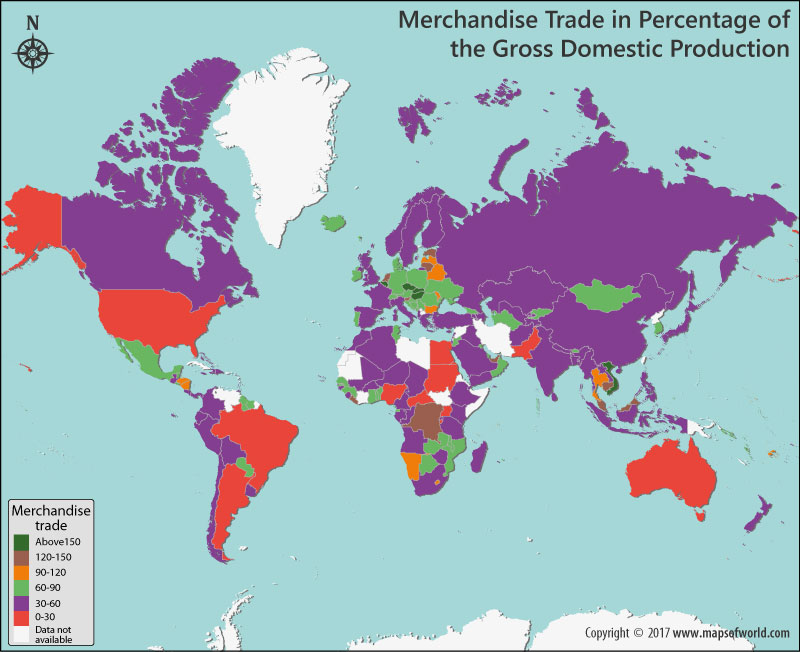 If you have a theme, we have a map.
Contact us for your custom mapping requirements
Merchandise trade can be defined as the cumulative value of the exports, as well as the imports, between a country and another. When the relative size of the Gross Domestic Product (GDP) is taken into account, the merchandise trade as the percentage of GDP reflects the trading strength of one economy with that of the world economy.
According to a World Bank data, in the year 2015, Hong Kong was the top most country with the highest merchandise trade percentage of GDP. According to the data, the figure in Hong Kong stood at 346. Coming at the second spot was the tiny nation of Singapore, which is an international commerce, finance and transport hub and reported a figure of 221.1 percent of the GDP. Nations which reported figures of 150 and upward were Slovakia, Belgium, Vietnam, Czech Republic and Hungary.
However, the leading economies of the world such as the United States, China and Germany reported figures of 21.1, 35.9 and 70.7 respectively. In fact, the United States, along with other countries like Sudan, Argentina, Nigeria and Brazil were just a few nations at the bottom level of the list. These countries reported figures in the range of 22 percent to 11 percent.
When broken down in regions, Central Europe and the Baltics reported the highest figure with the merchandise trade at 110.6 percent of the GDP. The European Union had a figure of 65 percent, while South Asia and North America reported figures of just 31.4 percent and 23.8 percent.
To get a clear picture of the merchandise trade in terms of GDP, refer to the table given below.
| Country Name | 2015 (Merchandise Trade % of GDP) |
| --- | --- |
| Hong Kong SAR, China | 346.02 |
| Singapore | 221.10 |
| Slovak Republic | 170.85 |
| Belgium | 169.95 |
| Vietnam | 169.53 |
| Czech Republic | 161.29 |
| Hungary | 157.07 |
| Cambodia | 146.04 |
| Congo, Rep. | 144.94 |
| Slovenia | 144.14 |
| Netherlands | 143.02 |
| United Arab Emirates | 133.68 |
| Lithuania | 130.80 |
| Malaysia | 126.85 |
| Estonia | 122.07 |
| Liberia | 121.61 |
| Lesotho | 119.79 |
| Bulgaria | 109.54 |
| Marshall Islands | 105.89 |
| Thailand | 105.53 |
| Belarus | 104.36 |
| Namibia | 100.14 |
| Seychelles | 98.78 |
| Latvia | 97.64 |
| Nicaragua | 93.99 |
| Fiji | 93.55 |
| Honduras | 92.99 |
| Moldova | 90.64 |
| Equatorial Guinea | 89.33 |
| Kyrgyz Republic | 87.43 |
| Bosnia and Herzegovina | 87.08 |
| Botswana | 86.79 |
| Belize | 86.72 |
| Malta | 85.65 |
| Bhutan | 85.28 |
| Serbia | 84.84 |
| Mozambique | 84.34 |
| Guyana | 83.70 |
| Micronesia, Fed. Sts. | 82.55 |
| Togo | 82.04 |
| Poland | 81.93 |
| Ukraine | 81.86 |
| Austria | 81.59 |
| Switzerland | 80.76 |
| Tunisia | 79.73 |
| Swaziland | 75.97 |
| Kuwait | 75.96 |
| Jordan | 75.06 |
| Romania | 73.31 |
| Zambia | 72.86 |
| Solomon Islands | 72.61 |
| Other small states | 72.52 |
| Mongolia | 72.11 |
| Suriname | 72.03 |
| Georgia | 71.09 |
| Brunei Darussalam | 71.03 |
| Germany | 70.75 |
| Oman | 70.66 |
| Luxembourg | 70.47 |
| Korea, Rep. | 69.91 |
| Small states | 69.82 |
| Qatar | 69.42 |
| Paraguay | 68.84 |
| Mexico | 68.72 |
| Euro area | 68.58 |
| Croatia | 68.46 |
| Kiribati | 68.07 |
| Palau | 67.85 |
| Ireland | 67.60 |
| Malawi | 67.25 |
| Bahrain | 67.15 |
| Mauritius | 62.05 |
| El Salvador | 61.51 |
| Maldives | 61.42 |
| Portugal | 61.32 |
| Denmark | 61.27 |
| Benin | 61.03 |
| Ghana | 60.84 |
| Turkmenistan | 60.80 |
| Vanuatu | 60.58 |
| Iceland | 60.49 |
| Guinea | 60.33 |
| Senegal | 60.30 |
| Montenegro | 60.25 |
| Timor-Leste | 60.00 |
| South Africa | 59.22 |
| Djibouti | 59.17 |
| Morocco | 59.05 |
| Trinidad and Tobago | 58.49 |
| Saudi Arabia | 57.89 |
| Panama | 57.68 |
| Gabon | 56.84 |
| Iraq | 56.27 |
| Sweden | 55.99 |
| Madagascar | 55.76 |
| Gambia, The | 55.21 |
| Albania | 54.81 |
| Tajikistan | 54.75 |
| Canada | 54.49 |
| Angola | 54.42 |
| Bolivia | 54.13 |
| Algeria | 53.52 |
| St. Lucia | 52.96 |
| Chile | 52.49 |
| Sierra Leone | 52.28 |
| Sao Tome and Principe | 51.87 |
| Finland | 51.53 |
| IDA blend | 50.87 |
| Samoa | 50.81 |
| Tonga | 50.79 |
| St. Vincent and the Grenadines | 50.16 |
| Lao PDR | 50.12 |
| Haiti | 50.08 |
| Dominica | 49.69 |
| Spain | 49.30 |
| Turkey | 48.91 |
| Barbados | 47.90 |
| Italy | 47.65 |
| Lebanon | 47.62 |
| IDA total | 47.52 |
| Norway | 46.98 |
| Chad | 46.84 |
| Zimbabwe | 46.57 |
| Costa Rica | 46.41 |
| Guinea-Bissau | 46.11 |
| Azerbaijan | 45.05 |
| Armenia | 45.03 |
| Burkina Faso | 44.76 |
| World | 44.75 |
| Mali | 44.72 |
| France | 44.59 |
| Guatemala | 44.50 |
| Jamaica | 44.24 |
| Antigua and Barbuda | 44.07 |
| Philippines | 43.96 |
| Israel | 42.91 |
| Niger | 42.56 |
| Kazakhstan | 41.17 |
| New Zealand | 40.82 |
| Uzbekistan | 40.46 |
| Russian Federation | 40.15 |
| Rwanda | 39.88 |
| Ecuador | 39.78 |
| Greece | 39.54 |
| Dominican Republic | 39.13 |
| Grenada | 39.12 |
| Cabo Verde | 38.72 |
| Peru | 38.08 |
| United Kingdom | 38.01 |
| Cyprus | 37.81 |
| Bahamas, The | 37.27 |
| Ethiopia | 37.19 |
| Yemen, Rep. | 36.84 |
| Bangladesh | 36.83 |
| Cameroon | 36.67 |
| St. Kitts and Nevis | 36.51 |
| China | 35.95 |
| Sri Lanka | 35.86 |
| Myanmar | 34.94 |
| Kenya | 34.70 |
| Tuvalu | 34.58 |
| Congo, Dem. Rep. | 34.05 |
| Indonesia | 33.99 |
| Nepal | 33.50 |
| Tanzania | 33.33 |
| Uruguay | 32.12 |
| India | 31.46 |
| Afghanistan | 31.25 |
| Japan | 30.88 |
| Colombia | 30.73 |
| Australia | 29.64 |
| Uganda | 29.15 |
| Burundi | 27.95 |
| Macao SAR, China | 25.86 |
| Egypt, Arab Rep. | 25.42 |
| Pakistan | 24.50 |
| United States | 21.14 |
| Brazil | 20.84 |
| Nigeria | 20.04 |
| Argentina | 19.98 |
| Sudan | 11.91 |
Recent Posts