Mapping the Largest Importers of Beauty Products Around the World
Next Story
The First International Visits Made by the US Presidents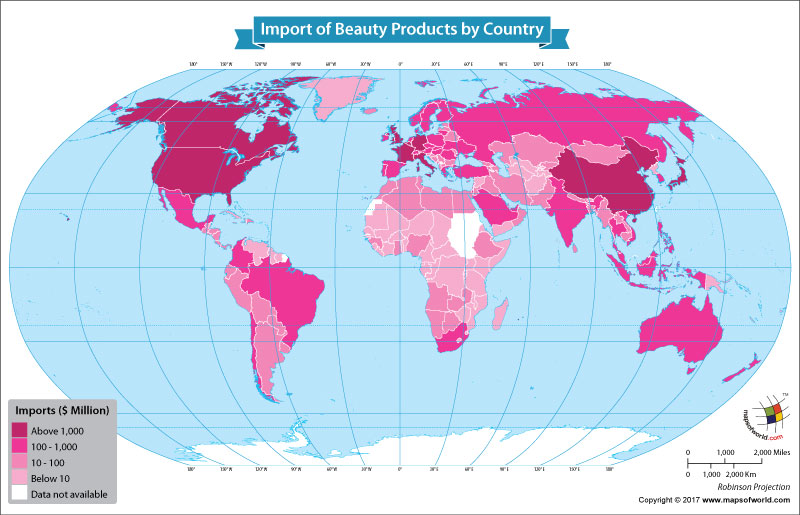 If you have a theme, we have a map.
Contact us for your custom mapping requirements
The beauty products industry is one of the leading industries in the world and is significantly contributing to the revenues of the nations. Changing lifestyles and increasing incomes of the consumers have strengthened the beauty products industry. Some of the commodities that comprise beauty products are lip make-up preparations, eye make-up preparations, manicure or pedicure preparations, make-up or skin care powders among others. Beauty products is big business with export and import of these products valuing billions of dollars.
According to Trade Map, the United States was the largest importer of beauty products in 2016. According to the data, the nation imported $4,602 million of beauty products in the year 2016. China is another nation where beauty products are largely used. The second largest importer of beauty products, China witnessed an import of products worth $3,999 million in 2016. Hong Kong, a Special Administrative Region of China, was the third largest importer of beauty products during the year. The region imported beauty products to the tune of $3,500 million. The other nations which witnessed an import of beauty products worth $1,000 million and above were the United Kingdom, Germany, Singapore, France, Canada, Japan, Belgium and Italy.
Countries which imported beauty products in the range of $100 to 1,000 million in 2016 were South Korea, Spain, Russia, Australia, United Arab Emirates, Saudi Arabia, Sweden, Turkey, New Zealand, and many other nations.
Meanwhile, a large number of countries saw less than $10 million worth of beauty products imports in 2016 or no imports at all. Some of the nations and regions that comprised this category were Venezuela, Zimbabwe, Maldives, Swaziland, Turkmenistan, Fiji, Syria, Afghanistan and many other countries.
The table below provides information on the value of beauty products imported by each nation in the year 2016.
| Importers | Value in US Dollar million |
| --- | --- |
| United States of America | 4,602 |
| China | 3,999 |
| Hong Kong, China | 3,500 |
| United Kingdom | 2,327 |
| Germany | 2,209 |
| Singapore | 1,713 |
| France | 1,492 |
| Canada | 1,441 |
| Japan | 1,158 |
| Belgium | 1,131 |
| Italy | 1,050 |
| Korea, Republic of | 950 |
| Taipei, Chinese | 933 |
| Spain | 921 |
| Russian Federation | 913 |
| Netherlands | 812 |
| Thailand | 730 |
| Poland | 722 |
| Australia | 699 |
| United Arab Emirates | 690 |
| Saudi Arabia | 606 |
| Mexico | 516 |
| Austria | 423 |
| Switzerland | 407 |
| Ireland | 399 |
| Sweden | 351 |
| Czech Republic | 347 |
| Macao, China | 329 |
| Malaysia | 310 |
| Norway | 277 |
| Turkey | 266 |
| Portugal | 233 |
| Denmark | 232 |
| Kuwait | 202 |
| Greece | 193 |
| South Africa | 179 |
| Indonesia | 175 |
| Hungary | 167 |
| Vietnam | 164 |
| Ukraine | 161 |
| New Zealand | 159 |
| Chile | 155 |
| Romania | 150 |
| Brazil | 143 |
| Lithuania | 129 |
| Philippines | 117 |
| Slovakia | 117 |
| Israel | 113 |
| Finland | 105 |
| India | 104 |
| Colombia | 103 |
| Argentina | 96 |
| Croatia | 94 |
| Myanmar | 92 |
| Bulgaria | 88 |
| Panama | 87 |
| Peru | 86 |
| Morocco | 85 |
| Kazakhstan | 81 |
| Iran | 81 |
| Ecuador | 68 |
| Lebanon | 65 |
| Luxembourg | 63 |
| Slovenia | 63 |
| Oman | 62 |
| Guatemala | 61 |
| Algeria | 58 |
| Costa Rica | 55 |
| Cyprus | 53 |
| Nigeria | 52 |
| Belarus | 51 |
| Latvia | 51 |
| Tunisia | 50 |
| Iraq | 47 |
| Serbia | 47 |
| Pakistan | 46 |
| Jordan | 45 |
| Estonia | 45 |
| El Salvador | 44 |
| Cambodia | 41 |
| Bosnia and Herzegovina | 38 |
| Dominican Republic | 35 |
| Qatar | 35 |
| Bolivia | 33 |
| Egypt | 33 |
| Namibia | 32 |
| Mongolia | 28 |
| Mauritius | 28 |
| Nepal | 27 |
| Honduras | 26 |
| Kyrgyzstan | 26 |
| Georgia | 26 |
| Andorra | 24 |
| Botswana | 23 |
| Bangladesh | 21 |
| Azerbaijan | 20 |
| Iceland | 20 |
| Lao People's Democratic Republic | 19 |
| Paraguay | 17 |
| Moldova | 16 |
| Uruguay | 16 |
| Libya | 16 |
| Nicaragua | 15 |
| Trinidad and Tobago | 15 |
| Guinea | 15 |
| Angola | 15 |
| Zambia | 14 |
| Montenegro | 14 |
| Macedonia | 14 |
| Bahrain | 14 |
| Sri Lanka | 14 |
| Ghana | 13 |
| Malta | 13 |
| Albania | 13 |
| United States Minor Outlying Islands | 12 |
| Armenia | 12 |
| Ship stores and bunkers | 12 |
| Ethiopia | 10 |
| Venezuela | 9 |
| Uzbekistan | 9 |
| Kenya | 9 |
| Zimbabwe | 9 |
| Côte d'Ivoire | 9 |
| Mali | 9 |
| Free Zones | 8 |
| Tanzania | 8 |
| Congo, Democratic Republic of the | 8 |
| Maldives | 8 |
| Rwanda | 7 |
| New Caledonia | 7 |
| Brunei Darussalam | 7 |
| Yemen | 7 |
| Barbados | 7 |
| Senegal | 6 |
| Papua New Guinea | 6 |
| Swaziland | 6 |
| Jamaica | 6 |
| Gabon | 6 |
| Gibraltar | 6 |
| Turkmenistan | 6 |
| Lesotho | 5 |
| Haiti | 5 |
| French Polynesia | 5 |
| Fiji | 5 |
| Bermuda | 4 |
| Aruba | 4 |
| Djibouti | 4 |
| Syrian Arab Republic | 4 |
| Korea, Democratic People's Republic of | 4 |
| Congo | 4 |
| Benin | 4 |
| Uganda | 4 |
| Afghanistan | 3 |
| Bahamas | 3 |
| Saint Lucia | 3 |
| Tonga | 3 |
| Cuba | 3 |
| Burkina Faso | 3 |
| Suriname | 3 |
| Guyana | 3 |
| Burundi | 2 |
| Cameroon | 2 |
| Madagascar | 2 |
| Tajikistan | 2 |
| Mozambique | 2 |
| Malawi | 2 |
| Antigua and Barbuda | 2 |
| Palestine, State of | 2 |
| Cayman Islands | 1 |
| Seychelles | 1 |
| Mauritania | 1 |
| Sierra Leone | 1 |
| Timor-Leste | 1 |
| Liberia | 1 |
| Bhutan | 1 |
| Faroe Islands | 1 |
| British Virgin Islands | 1 |
| Equatorial Guinea | 1 |
| Cabo Verde | 1 |
| Belize | 1 |
| Greenland | 1 |
| Anguilla | 1 |
| Saint Vincent and the Grenadines | 1 |
| Togo | 1 |
| Chad | 1 |
| Guinea-Bissau | 1 |
| Niger | 1 |
| Somalia | 0 |
| Turks and Caicos Islands | 0 |
| Vanuatu | 0 |
| Northern Mariana Islands | 0 |
| Cook Islands | 0 |
| Dominica | 0 |
| Solomon Islands | 0 |
| Grenada | 0 |
| St. Pierre and Miquelon | 0 |
| Samoa | 0 |
| Saint Kitts and Nevis | 0 |
| Wallis and Futuna Islands | 0 |
| Gambia | 0 |
| Palau | 0 |
| Norfolk Island | 0 |
| Sao Tome and Principe | 0 |
| Tuvalu | 0 |
| French South Antarctic Territories | 0 |
| Comoros | 0 |
| British Indian Ocean Territory | 0 |
| American Samoa | 0 |
| Nauru | 0 |
| Marshall Islands | 0 |
| Falkland Islands (Malvinas) | 0 |
| Tokelau | 0 |
| Saint Helena | 0 |
| Netherlands Antilles | 0 |
| Kiribati | 0 |
| Niue | 0 |
| Christmas Island | 0 |
| Montserrat | 0 |
| Micronesia, Federated States of | 0 |
| Eritrea | 0 |
| Central African Republic | 0 |
(Data sourced from Trade Map)
Recent Posts