A Look at the Value of Pesticides That Nations Imported in 2014
Next Story
Hopman Cup Champions from 2000 to 2017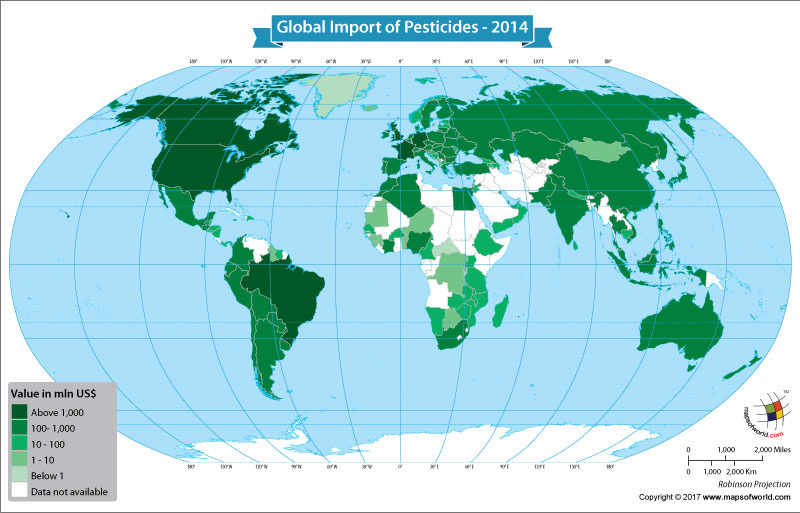 If you have a theme, we have a map.
Contact us for your custom mapping requirements
Pesticides are used in agriculture. Farmers use pesticides to get rid of agents that may harm crops such as insects, weed and fungi. Other than this, pesticides are at times used in other activities also such as to remove shrubs and weeds from roadways as well as to combat the growth of algae in water bodies. Pesticides ensure an increase in crop yield and as such benefit farmers monetarily. Thus, a number of nations around the world regularly import pesticides. The cons of pesticides are environmental degradation, harmful effects on the health of humans, among others.
According to a data by the Food and Agricultural Organization, Brazil was the leading importer of pesticides in the year 2014. According to the data, the South American nation imported pesticides valuing US$3.46B during the year. France was the second largest importer. The nation imported pesticides worth US$2.7B in 2014. Germany came at the third spot with an import of 1.98B during the year. The three other nations that imported pesticides worth more than US$1B in 2014 were Canada, The United Kingdom and the United States of America.
In 2014, the countries which imported pesticides ranging in value from US$100M to US$1B were India, Russia, Japan, Australia, South Africa, Spain, Malaysia, New Zealand, Morocco, and some other countries.
Countries and islands that were ranked at the bottom of the table and witnessed less than US$1M import of pesticides were Solomon Islands, Gambia, Sao Tome and Principe, Central African Republic, Montserrat, Andorra, Palau, and Greenland.
The table below will provide the reader with the information on how much worth of pesticides (in dollars) did each country import in 2014.
| Country | Value in 1000 US$ |
| --- | --- |
| Brazil | 3,464,131 |
| France | 2,705,754 |
| Germany | 1,977,006 |
| Canada | 1,556,135 |
| United Kingdom | 1,120,095 |
| United States of America | 1,074,804 |
| India | 990,319 |
| Spain | 976,471 |
| Italy | 966,366 |
| Belgium | 940,352 |
| Poland | 889,877 |
| Viet Nam | 829,497 |
| Netherlands | 809,478 |
| China, mainland | 770,626 |
| Argentina | 709,455 |
| Thailand | 696,912 |
| Mexico | 694,908 |
| Australia | 691,339 |
| Ukraine | 608,350 |
| Russian Federation | 600,498 |
| Japan | 471,844 |
| Nigeria | 457,030 |
| Hungary | 432,480 |
| South Africa | 399,408 |
| Indonesia | 396,135 |
| Romania | 393,628 |
| Turkey | 329,759 |
| Paraguay | 323,489 |
| Chile | 317,516 |
| Czechia | 316,246 |
| Colombia | 313,277 |
| Ecuador | 278,874 |
| Denmark | 276,245 |
| Austria | 268,949 |
| China, Taiwan Province of | 250,451 |
| Bolivia (Plurinational State of) | 248,849 |
| Greece | 246,428 |
| Philippines | 242,230 |
| Malaysia | 220,458 |
| Uruguay | 213,537 |
| New Zealand | 204,813 |
| Bulgaria | 201,800 |
| Peru | 197,783 |
| Switzerland | 195,616 |
| Republic of Korea | 187,849 |
| Lithuania | 176,931 |
| Sweden | 173,581 |
| Guatemala | 165,746 |
| Portugal | 164,219 |
| Morocco | 156,987 |
| Serbia | 149,593 |
| Singapore | 148,891 |
| Egypt | 145,146 |
| Pakistan | 143,866 |
| Slovakia | 143,177 |
| Belarus | 141,481 |
| Côte d'Ivoire | 134,247 |
| Kazakhstan | 130,387 |
| Israel | 124,984 |
| Algeria | 107,499 |
| Ireland | 104,580 |
| Finland | 103,198 |
| Nicaragua | 93,074 |
| Honduras | 91,209 |
| Ethiopia | 90,715 |
| Croatia | 90,241 |
| Panama | 86,315 |
| Norway | 85,256 |
| Dominican Republic | 82,466 |
| Latvia | 82,093 |
| Cameroon | 75,221 |
| United Republic of Tanzania | 61,596 |
| El Salvador | 59,267 |
| United Arab Emirates | 59,148 |
| Cambodia | 58,417 |
| Republic of Moldova | 58,136 |
| Slovenia | 52,070 |
| Uganda | 51,845 |
| Lebanon | 48,741 |
| Sri Lanka | 48,371 |
| Zambia | 47,809 |
| Zimbabwe | 45,817 |
| China, Hong Kong SAR | 41,234 |
| Estonia | 39,657 |
| Luxembourg | 38,291 |
| Yemen | 37,831 |
| Kuwait | 33,066 |
| Jordan | 30,962 |
| Oman | 25,485 |
| Burkina Faso | 24,602 |
| Mozambique | 23,457 |
| Bosnia and Herzegovina | 22,899 |
| Georgia | 21,754 |
| Malawi | 21,513 |
| Madagascar | 20,766 |
| The former Yugoslav Republic of Macedonia | 20,381 |
| Jamaica | 18,765 |
| Cyprus | 17,075 |
| Nepal | 16,778 |
| Qatar | 15,888 |
| Senegal | 15,437 |
| Azerbaijan | 15,270 |
| Mauritius | 13,970 |
| Belize | 13,429 |
| Namibia | 11,599 |
| Armenia | 11,104 |
| Suriname | 11,040 |
| Guinea | 9,610 |
| Guyana | 8,991 |
| Rwanda | 8,928 |
| Fiji | 8,213 |
| Occupied Palestinian Territory | 8,169 |
| Botswana | 7,902 |
| Mongolia | 7,187 |
| Barbados | 7,012 |
| French Polynesia | 6,592 |
| Bahamas | 6,557 |
| New Caledonia | 6,117 |
| Benin | 5,928 |
| Bahrain | 5,554 |
| Congo | 5,476 |
| Malta | 5,357 |
| Togo | 4,680 |
| Sierra Leone | 4,534 |
| Niger | 4,368 |
| Montenegro | 4,040 |
| Brunei Darussalam | 3,629 |
| Aruba | 3,485 |
| Saint Lucia | 3,336 |
| China, Macao SAR | 2,608 |
| Albania | 2,589 |
| Maldives | 2,386 |
| Antigua and Barbuda | 2,109 |
| Bermuda | 1,830 |
| Mauritania | 1,789 |
| Cabo Verde | 1,602 |
| Samoa | 1,442 |
| Tonga | 1,358 |
| Iceland | 1,030 |
| Burundi | 849 |
| Solomon Islands | 775 |
| Gambia | 373 |
| Sao Tome and Principe | 321 |
| Central African Republic | 298 |
| Montserrat | 228 |
| Andorra | 219 |
| Palau | 169 |
| Greenland | 87 |
(Data sourced from Food and Agriculture Organization)
Recent Posts