Countries with the Shortest Working Hours
Next Story
Top Ten Countries with the Highest Performing Graduates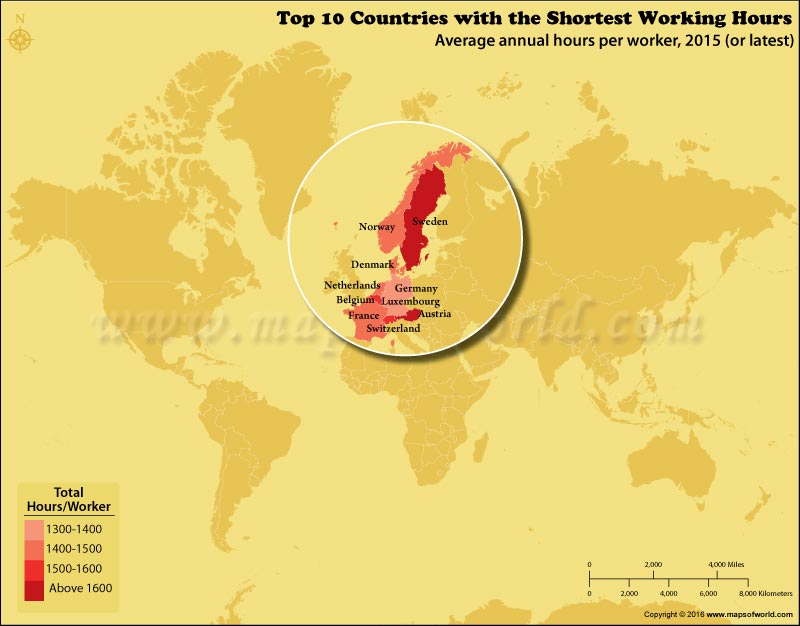 If you have a theme, we have a map.
Contact us for your custom mapping requirements
Feeling grumpy about the nine hours that you have to spend in office everyday? Well, just check out this list. There are a number of countries, with the majority of them in Europe, that have really short working hours. So, workers do not have to wait for the weekend to watch a movie at the theater, picnic with family and friends or while away time in a pub. They can do it on any day they want as short working hours give them plenty of opportunities to indulge in recreational activities after office hours.
Europe is the continent where everyone would like to work for all of top ten countries with the shortest working hours are located here, according to data published by the Organization for Economic Co-operation and Development (OECD). Standing right at the top of the list is Germany where the average working hours per person in 2015 were 1371. Though this is an effective way of fighting with unemployment but shorter work hours has in no way impacted Germany's economic progress. Today, Germany is the fourth largest economy in the world by nominal GDP.
Coming next on the list is the Netherlands, where it is easy to balance work-life. The Dutch work slightly more than the Germans with 1419 hours per week. Apart from the incredibly low working hours, every worker in the country, as per a law that was passed in 2000, has the right to lessen his or her working hours to a part-time schedule while keeping their jobs and other benefits.
Following the Netherlands is Norway with the shortest number of hours. In 2015, the people of Norway worked an average of 1423.9 hours while those in Denmark worked for 1457 hours. Occupying the fifth spot is France. Known for its spectacular working environment, workers in France spent 1482 hours in their office in the year 2015. The other five countries in the list of nations with the shortest working hours are Luxembourg, Belgium, Switzerland, Sweden and Austria.
(Data sourced from OECD)
Recent Posts