Countries where Toyota is Popular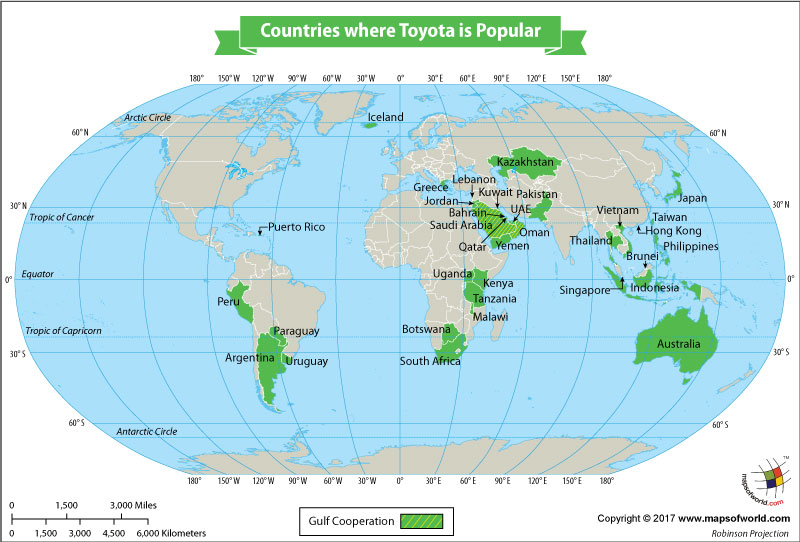 If you have a theme, we have a map.
Contact us for your custom mapping requirements
Toyota is one of the leading car manufacturers in the world, and offers a number of models such as the Prius, Yaris, Corolla, and Camry. The company was founded in 1937, in Japan, and over the years its popularity has continued to grow. Today the Japan-based manufacturer has the distinction of producing more than 10 million vehicles per year. In fact, Toyota is also the most 'Googled' brand in the world. Toyota vehicles are top selling, with millions of units sold across the globe, but there are some nations where Toyotas are the most popular vehicles on the road.
There are 33 countries and territories where Toyota is the number one brand, with 19 of them in Asia. Not surprisingly, Toyota is the leading car brand in Japan, the country of its origin. In Japan, the Prius was the most popular model in 2016. Other Asian nations where Toyota is tops are; Brunei, Bahrain, Indonesia, Jordan, Kazakhstan, Kuwait, Lebanon, Oman, Pakistan, the Philippines, Qatar, Singapore, Thailand, United Arab Emirates, Vietnam, and Yemen. Toyota is also the most popular brand in Hong Kong, the Special Administrative Region of China, while in mainland China it is Wuling that holds the number one position. It has also garnered much admiration in Taiwan, where it occupies the top spot.
Among European nations, Toyota has been able to reach the top position in only two countries. It is the most popular car brand in Greece and Iceland. The Toyota Yaris was the best-selling car in both of these nations. In Africa, there are six nations where Toyota is the most popular, while in the Americas it was the numero uno brand in four countries. The African nations where it occupied the top spots are: Botswana, Kenya, Malawi, South Africa, Tanzania, and Uganda. In the Americas, Toyota was the most popular brand in Argentina, Paraguay, Peru, and Uruguay.
Toyota is the top selling brand in Australia. The Hilux is the most popular model in Australia from the Toyota stable, while in Puerto Rico, the Yaris is the number one selling car.
Recent Posts