Iowa City Maps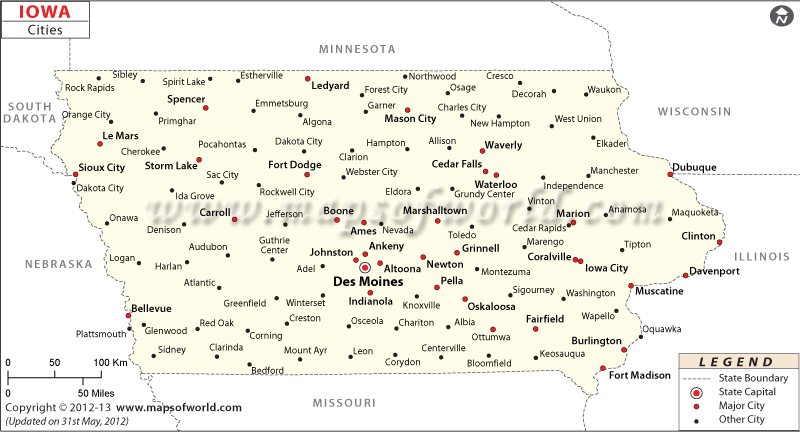 Iowa is the 26th largest state of the United States by area and the 30th most populous. Iowa is home to 947 incorporated cities. Des Moines is the capital as well as the largest city of the state. As per a 2016 estimate Des Moines had a population of 215,472 people. While Cedar Rapids is the second largest city with a population of 131,127, Davenport is the third and had a population of 102,612, as of 2016. Meanwhile, Le Roy and Beaconsfield are the smallest cities by population comprising 14 and 15 residents, respectively. Farmington is the first city to be incorprated. It was incoprated on January 11, 1841. The newest city to be incorporated is Maharishi Vedic City, which was incorporated on July 25, 2001.
Cities in Iowa
From the historic bridges of Madison County to the quaint villages of Van Buren County, there is a lot more to Iowa than corn. Located in the Midwestern United States, 'The Hawkeye State' is famous for great outdoors, significant historic sites, alluring natural treasures, and field of dreams.
A major center of the U.S. insurance industry, Des Moines is the state capital and also the largest city. A flourishing center for arts and culture, Cedar Rapids (City of Five Seasons) houses the Cedar Rapids Museum of Art, National Czech & Slovak Museum & Library, Paramount Theatre, and Orchestra Iowa. The city of Davenport lies approximately halfway between Chicago and Des Moines.
Situated on the banks of the Missouri River, Sioux City is the fourth largest city in Iowa. Dubuque – the oldest city in Iowa – features the shortest and steepest railroad in the world, Fenlon Place Elevator. Snake Alley in Burlington is the most crooked street in the world.
Getting In and Around
The Eastern Iowa Airport (CID) and Des Moines International Airport (DSM) are major aviation gateways to the state. Southwest Chief and California Zephyr are two Amtrak passenger trains serving the state. Interstate highways (I-80, I-35, and I-29) and US highways ( US 6, US 18, US 20, and US 30) create a dense road network.
| City Name | Population (2010) |
| --- | --- |
| Des Moines | 203,433 |
| Cedar Rapids | 126,326 |
| Davenport | 99,685 |
| Sioux City | 82,684 |
| Waterloo | 68,406 |
| Iowa City | 67,862 |
| Council Bluffs | 62,230 |
| Ames | 58,965 |
| Dubuque | 57,637 |
| West Des Moines | 56,609 |
| Ankeny | 45,582 |
| Urbandale | 39,463 |
| Cedar Falls | 39,260 |

| City Name | Population (2010) |
| --- | --- |
| Marion | 34,768 |
| Bettendorf | 33,217 |
| Mason City | 28,079 |
| Marshalltown | 27,552 |
| Clinton | 26,885 |
| Burlington | 25,663 |
| Fort Dodge | 25,206 |
| Ottumwa | 25,023 |
| Muscatine | 22,886 |
| Coralville | 18,907 |
| Johnston | 17,278 |
| Clive | 15,447 |
| Newton | 15,254 |