Illinois City Maps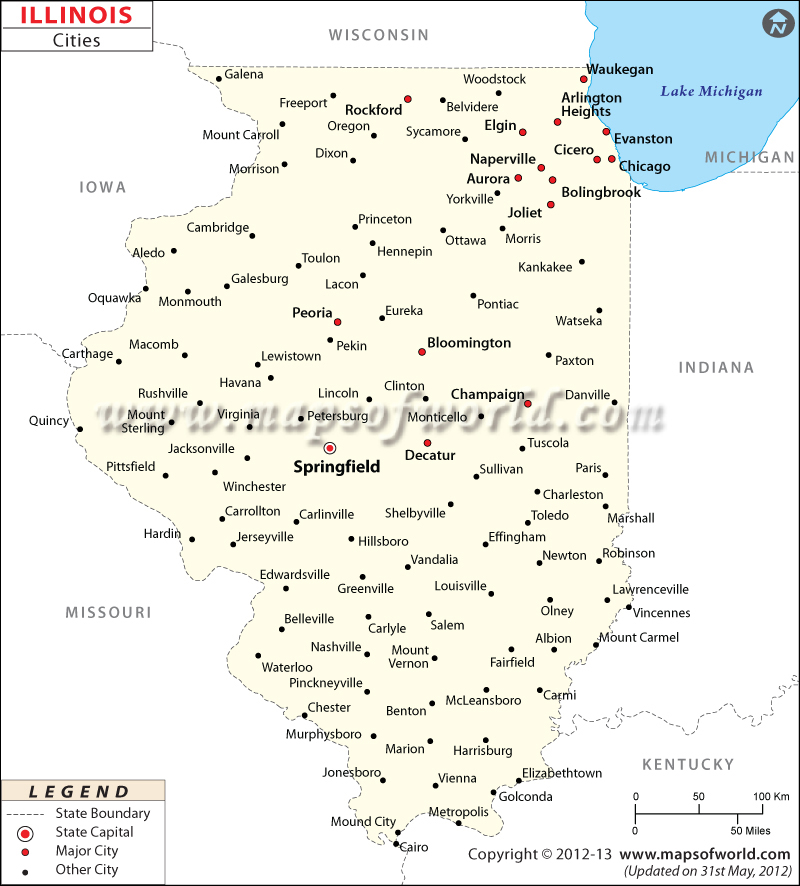 Cities in Illinois
Nicknamed 'The Prairie State', Illinois is located in the Midwestern United States. The state is known for productive prairies, antebellum architecture, and diverse cultures.
Known as the 'Windy City', Chicago shines like a beacon along the southwestern shores of Lake Michigan. Be it Hyde Park, Navy Pier, or Chicago Loop, the city has a fair share of attractions that can rival New York or Los Angeles.
The Abraham Lincoln Presidential Library and Museum lies in the state capital, Springfield. Also called 'The River city', Peoria is the oldest European settlement in Illinois. The city of Aurora is divided into three regions: West Side, East Side, and Fox Valley. Rockford, Joliet, Naperville, and Waukegan are other major cities in Illinois.
Getting In and Around
Chicago O'Hare International Airport (ORD) is among the busiest airports in the world whereas, Midway International Airport (MDW) provides a secondary gateway. Texas Eagle, Lake Shore Limited, Capitol Limited, Cardinal, California Zephyr, Southwest Chief, and Empire Builder are some of the Amtrak trains serving the state. Interstate Highways (I-57, I-55, I-74, I-72, and I-80) and U.S. Highways (US 45, US 51, US 66, and US 24) create a dense road network.
List of Cities in Illinois
| City Name | County | Population |
| --- | --- | --- |
| Chicago | Cook | 2,695,598 |
| Aurora | Kane | 197,899 |
| Rockford | Winnebago | 152,871 |
| Joliet | Will | 147,433 |
| Naperville | DuPage | 141,853 |
| Springfield | Sangamon | 116,250 |
| Peoria | Peoria | 115,007 |
| Elgin | Kane | 108,188 |
| Waukegan | Lake | 89,078 |
| Cicero | Cook | 83,891 |
| Champaign | Champaign | 81,055 |
| Bloomington | McLean | 44,189 |
| Decatur | Macon | 76,122 |
| Arlington Heights | Cook | 75,101 |
| Evanston | Cook | 74,486 |
| Des Plaines | Cook | 58,364 |
| Berwyn | Cook | 56,657 |
| Wheaton | DuPage | 52,894 |
| Belleville | St. Clair County | 44,478 |
| Elmhurst | DuPage | 44,121 |
| De Kalb | De Kalb | 43,862 |
| Moline | RockIsland | 43,483 |
| Urbana | Champaign | 41,250 |
| Crystal Lake | McHenry | 40,743 |
| Quincy | Adams | 40,633 |
| Rock Island | RockIsland | 39,018 |
| Park Ridge | Cook | 37,480 |
| Calumet City | Cook | 37,042 |
| Pekin | Tazewell | 34,094 |
| Danville | Vermilion | 33,027 |
| St. Charles | St. Charles | 32,974 |
| North Chicago | Lake | 32,574 |
| Galesburg | Knox | 32,195 |
| Chicago Heights | Cook | 30,276 |
| Granite City | Madison | 29,849 |
| Highland Park | Lake | 29,763 |
| Burbank | Cook | 28,925 |
| O'Fallon | StClair | 28,281 |
| Oak Forest | Cook | 27,962 |
| Alton | Madison | 27,865 |
| Kankakee | Kankakee | 27,537 |
| West Chicago | DuPage | 27,086 |
| East St. Louis | St. Clair County | 27,006 |
| McHenry | McHenry | 26,992 |
| Batavia | Kane | 26,045 |
| Carbondale | Jackson | 25,902 |
| Freeport | Stephenson | 25,638 |
| Belvidere | Boone | 25,585 |
| Collinsville | Madison | 25,579 |
| Harvey | Cook | 25,282 |
| Lockport | Will | 24,839 |
| Woodstock | McHenry | 24,770 |
| Zion | Lake | 24,413 |
| Edwardsville | Madison | 24,293 |
| Rolling Meadows | Cook | 24,099 |
| Loves Park | Winnebago | 23,996 |
| Blue Island | Cook | 23,706 |
| East Peoria | Tazewell | 23,402 |
| Darien | DuPage | 22,086 |
| Park Forest | Will | 21,975 |
| Charleston | Coles | 21,838 |
| Geneva | Kane | 21,495 |
| East Moline | RockIsland | 21,302 |
| Crest Hill | Will | 20,837 |
| Jacksonville | Morgan | 19,446 |
| Lake Forest | Lake | 19,375 |
| Macomb | McDonough | 19,288 |
| Ottawa | LaSalle | 18,768 |
| Mattoon | Coles | 18,555 |
| Sycamore | DeKalb | 17,519 |
| Palos Hills | Cook | 17,484 |
| Marion | Williamson | 17,193 |
| Fairview Heights | St. Clair | 17,078 |
| Yorkville | Kendall | 16,921 |
| Country Club Hills | Cook | 16,541 |
| Prospect Heights | Cook | 16,256 |
| Dixon | Lee | 15,733 |
| Sterling | Whiteside | 15,370 |
| Mount Vernon | Jefferson | 15,277 |
| Washington | Tazewell | 15,134 |
| Normal | McLean | 52,497 |