Map of Illinois Cities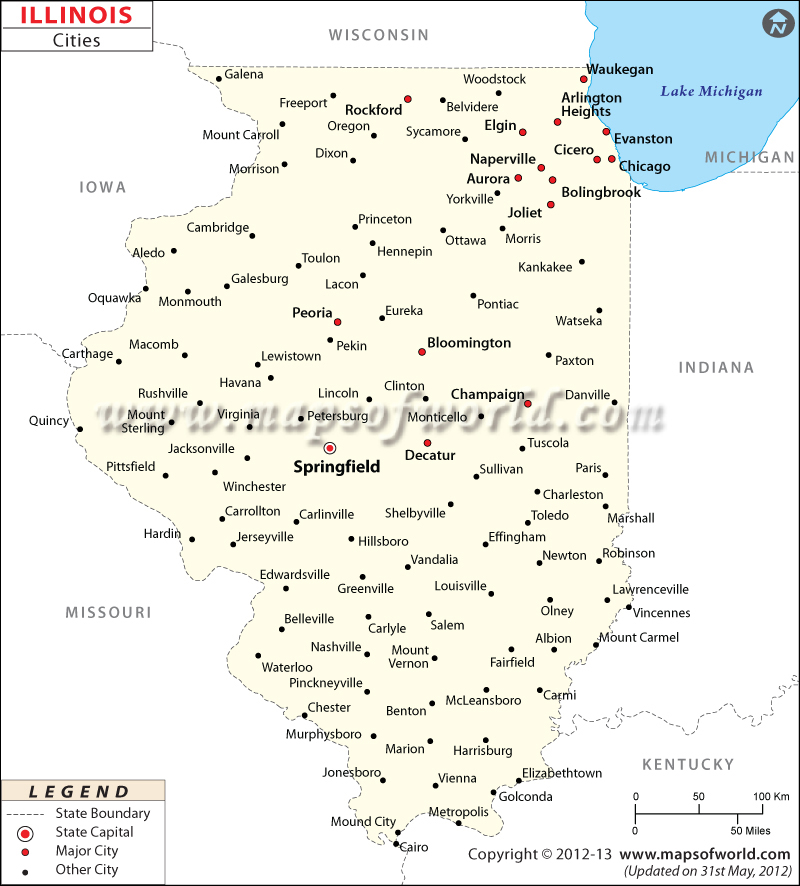 Map of Illinois Cities
Learn all about the different cities in Idaho with the Map of Illinois Cities. This map allows you to explore the various cities of the state of Illinois, making it easier to locate the cities on the map.
Cities in Illinois
Illinois has a bunch of cities, and each one has its own unique charm. Some cities are busy with lots of stuff happening and many people around, while others are calm and cozy, tucked away in quiet spots. The cities in Illinois are made for everyone. If you like the peaceful feeling of nature, exciting outdoor fun, or cool things to see in the city, you'll definitely find something you enjoy.
How Many Cities are in Illinois
Illinois has a grand total of 1,299 cities. Each city brings its own special touch to the fun adventures you can have in the state. Whether you like the buzz of big cities or the snug atmosphere of small towns, the cities in Illinois give you lots of options. You can find where each city is located on the Map of Illinois Cities.
Largest Cities in Illinois
The biggest cities in Illinois are bustling with excitement and have so much to discover and enjoy. Some of the most well-known cities in Illinois are Chicago, Aurora, Rockford, Joliet, Naperville, and Springfield. These cities are famous for having fantastic places to explore, unique things to see, and lively cultural experiences. Whether you live here or you're just visiting, there are lots of chances to have a great time and uncover new adventures.
Safest Cities in Illinois
Some cities in Illinois really focus on keeping their residents safe and happy. They do things to make sure everyone feels secure and comfortable. Places like Wheaton, Chatham, Glen Carbon, Hinsdale, and Lake in the Hills are known for being some of the safest cities in Illinois. These cities put in a lot of effort to keep crime rates low and create a strong feeling of safety, making them perfect communities for families and individuals.
Best Cities to Live in Illinois
Illinois has many cities where life is really good and there are lots of good things. Some of the best places to live in Illinois are Chicago, Naperville, Springfield, Champaign, and Rockford. These cities have a mix of good jobs, great schools, and fun things to do. Whether you really like being outside, enjoy the arts, or just want a lively community, these cities have something for everyone. They make sure you have a happy and enjoyable life.
Feel free to explore the Map of Illinois Cities to discover all the cities marked on the map.
List of Cities in Illinois

City Name
County
Chicago
Cook
Aurora
Kane
Rockford
Winnebago
Joliet
Will
Naperville
DuPage
Springfield
Sangamon
Peoria
Peoria
Elgin
Kane
Waukegan
Lake
Cicero
Cook
Champaign
Champaign
Bloomington
McLean
Decatur
Macon
Arlington Heights
Cook
Evanston
Cook
Des Plaines
Cook
Berwyn
Cook
Wheaton
DuPage
Belleville
St. Clair County
Elmhurst
DuPage
De Kalb
De Kalb
Moline
RockIsland
Urbana
Champaign
Crystal Lake
McHenry
Quincy
Adams
Rock Island
RockIsland
Park Ridge
Cook
Calumet City
Cook
Pekin
Tazewell
Danville
Vermilion
St. Charles
St. Charles
North Chicago
Lake
Galesburg
Knox
Chicago Heights
Cook
Granite City
Madison
Highland Park
Lake
Burbank
Cook
O'Fallon
StClair
Oak Forest
Cook
Alton
Madison
Kankakee
Kankakee
West Chicago
DuPage
East St. Louis
St. Clair County
McHenry
McHenry
Batavia
Kane
Carbondale
Jackson
Freeport
Stephenson
Belvidere
Boone
Collinsville
Madison
Harvey
Cook
Lockport
Will
Woodstock
McHenry
Zion
Lake
Edwardsville
Madison
Rolling Meadows
Cook
Loves Park
Winnebago
Blue Island
Cook
East Peoria
Tazewell
Darien
DuPage
Park Forest
Will
Charleston
Coles
Geneva
Kane
East Moline
RockIsland
Crest Hill
Will
Jacksonville
Morgan
Lake Forest
Lake
Macomb
McDonough
Ottawa
LaSalle
Mattoon
Coles
Sycamore
DeKalb
Palos Hills
Cook
Marion
Williamson
Fairview Heights
St. Clair
Yorkville
Kendall
Country Club Hills
Cook
Prospect Heights
Cook
Dixon
Lee
Sterling
Whiteside
Mount Vernon
Jefferson
Washington
Tazewell
Normal
McLean