Florida City Maps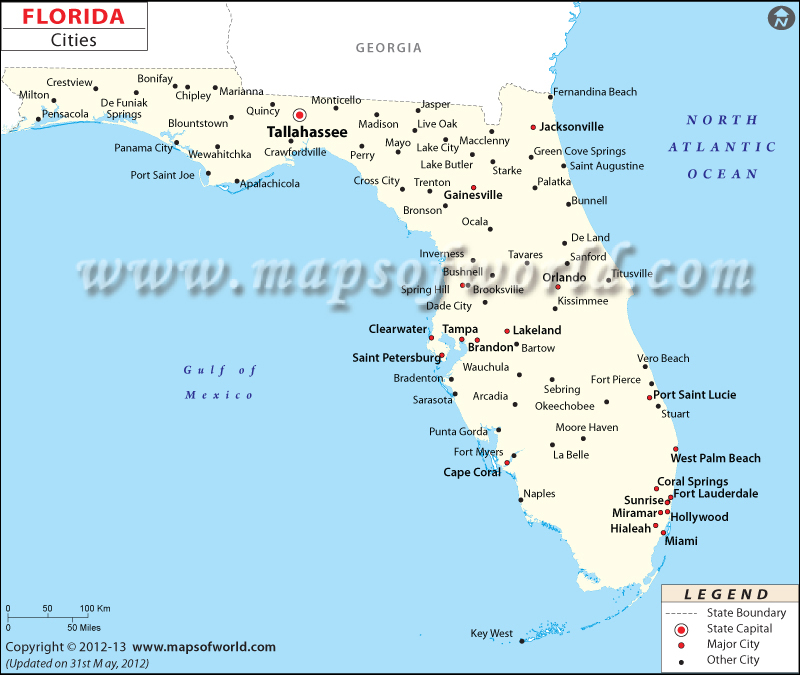 Located in the northeastern region of the United States, Florida is the 22nd most extensive and the third most populated state in the country. Miami is the largest city in Florida by population. According to a 2016 estimate, Jacksonville comprised a population of 880,619 inhabitants. Miami, with an estimated population of 453,579 (2016), is the second-most populous city in the state, while, Tampa stands at the third rank. Tallahassee, which is the capital of Florida, had an estimated population of 190,894 (2016), making it the seventh-largest city in the state by population. Lake Buena Vista, with a population of just 11 (2016), is the smallest city in the state by population. St Augustine and Pensacola are the oldest incorporated cities. Both cities were incorporated in 1822. Loxahatchee Groves and Grant-Valkaria, which were incorporated in 2006, are the most recent cities to be incorporated.
About Cities in Florida
Florida, 'The Sunshine State', has sub-tropical weather, amazing beach destinations, and a strong presence of the Cuban community, giving it a distinct character as compared to other states in the US.
Miami, located in the southeastern tip of Florida, is known for the Biscayne Bay, glamorous South Beach, cigar shops, and art deco buildings. Jacksonville, located in North Florida, is not only the most populous city in Florida but also the largest city by area in the contiguous US.
Tallahassee, the state capital, is located in the far north. The city of Orlando in central Florida houses quite a few attractions, including Sea World Orlando and Universal Studios.
Getting In and Around Florida, Miami International Airport and Orlando International Airport connect Florida with major international destinations. Interstate Highways I-4, I-10, I-75, and I-95 criss-cross the entire state. Cities in Florida such as Sanford, Orlando, Tampa Union Station, Miami, and Jacksonville are among the busiest stations served by Florida.
List of Cities in Florida
| City Name | County | Area(mile and km) |
| --- | --- | --- |
| Alachua | Alachua | 29.0 sq mi (75.2 km2) |
| Alford | Jackson | 1.3 sq mi (3.4 km2) |
| Altamonte Springs | Seminole | 9.5 sq mi (24.4 km2) |
| Altha | Calhoun | 1.4 sq mi (3.8 km2) |
| Anna Maria | Manatee | 1.0 sq mi (2.5 km2) |
| Apalachicola | Franklin | 2.7 sq mi (6.9 km2) |
| Apopka | Orange | 24.9 sq mi (64.6 km2) |
| Arcadia | DeSoto | 4.0 sq mi (10.5 km2) |
| Archer | Alachua | 2.4 sq mi (6.2 km2) |
| Astatula | Lake | 2.2 sq mi (5.7 km2) |
| Atlantic Beach | Duval | 13.0 sq mi (33.7 km2) |
| Atlantis | Palm Beach | 1.4 sq mi (3.7 km2) |
| Auburndale | Polk | 9.3 sq mi (24.1 km2) |
| Aventura | Miami-Dade | 3.5 sq mi (9.1 km2) |
| Avon Park | Highlands | 5.7 sq mi (14.6 km2) |
| Bal Harbour | Miami-Dade | 0.6 sq mi (1.6 km2) |
| Baldwin | Duval | 2.1 sq mi (5.5 km2) |
| Bartow | Polk | 52.3 sq mi (135.6 km2) |
| Bascom | Jackson | 0.2 sq mi (0.5 km2) |
| Bay Harbor Islands | Miami-Dade | 0.6 sq mi (1.6 km2) |
| Bay Lake | Orange | 21.1 sq mi (54.7 km2) |
| Bell | Gilchrist | 1.6 sq mi (4.2 km2) |
| Belle Glade | Palm Beach | 4.7 sq mi (12.1 km2) |
| Belle Isle | Orange | 4.6 sq mi (12.0 km2) |
| Belleair | Pinellas | 2.8 sq mi (7.3 km2) |
| Belleair Beach | Pinellas | 1.8 sq mi (4.5 km2) |
| Belleair Bluffs | Pinellas | 0.7 sq mi (1.6 km2) |
| Belleair Shore | Pinellas | 0.5 sq mi (1.1 km2) |
| Belleview | Marion | 1.8 sq mi (4.7 km2) |
| Beverly Beach | Flagler | 0.4 sq mi (1.0 km2) |
| Biscayne Park | Miami-Dade | 0.6 sq mi (1.7 km2) |
| Blountstown | Calhoun | 3.2 sq mi (8.3 km2) |
| Boca Raton | Palm Beach | 29.1 sq mi (75.4 km2) |
| Bonifay | Holmes | 3.6 sq mi (9.4 km2) |
| Bonita Springs | Lee | 41.0 sq mi (106.2 km2) |
| Bowling Green | Hardee | 1.4 sq mi (3.7 km2) |
| Boynton Beach | Palm Beach | 16.3 sq mi (42.1 km2) |
| Bradenton | Manatee | 14.4 sq mi (37.4 km2) |
| Bradenton Beach | Manatee | 1.0 sq mi (2.8 km2) |
| Branford | Suwannee | 0.8 sq mi (2.1 km2) |
| Briny Breezes | Palm Beach | 0.1 sq mi (0.3 km2) |
| Bristol | Liberty | 1.6 sq mi (4.2 km2) |
| Bronson | Levy | 4.0 sq mi (10.4 km2) |
| Brooker | Bradford | 0.5 sq mi (1.4 km2) |
| Brooksville | Hernando | 5.0 sq mi (12.9 km2) |
| Bunnell | Flagler | 4.7 sq mi (12.1 km2) |
| Bushnell | Sumter | 2.4 sq mi (6.1 km2) |
| Callahan | Nassau | 1.3 sq mi (3.4 km2) |
| Callaway | Bay | 6.1 sq mi (15.8 km2) |
| Campbellton | Jackson | 0.9 sq mi (2.3 km2) |
| Cape Canaveral | Brevard | 2.3 sq mi (6.0 km2) |
| Cape Coral | Lee | 119.5 sq mi (310.8 km2) |
| Carrabelle | Franklin | 4.8 sq mi (12.5 km2) |
| Caryville | Franklin | 3.1 sq mi (8.1 km2) |
| Casselberry | Seminole | 7.1 sq mi (18.4 km2) |
| Cedar Key | Levy | 2.0 sq mi (5.3 km2) |
| Center Hill | Sumter | 1.8 sq mi (4.5 km2) |
| Century | Escambia | 3.4 sq mi (8.7 km2) |
| Chattahoochee | Gadsden | 5.7 sq mi (14.6 km2) |
| Chiefland | Levy | 3.9 sq mi (10.1 km2) |
| Chipley | Washington | 4.1 sq mi (10.7 km2) |
| Cinco Bayou | Okaloosa | 0.2 sq mi (0.5 km2) |
| Clearwater | Pinellas | 37.7 sq mi (97.7 km2) |
| Clermont | Lake | 11.5 sq mi (29.7 km2) |
| Clewiston | Hendry | 4.7 sq mi (12.2 km2) |
| Cloud Lake | Palm Beach | 0.1 sq mi (0.3 km2) |
| Cocoa | Brevard | 9.6 sq mi (24.6 km2) |
| Cocoa Beach | Brevard | 15.0 sq mi (39.0 km2) |
| Coconut Creek | Broward | 11.8 sq mi (30.5 km2) |
| Coleman | Sumter | 1.5 sq mi (3.8 km2) |
| Cooper City | Broward | 6.7 sq mi (17.3 km2) |
| Coral Gables | Miami-Dade | 37.2 sq mi (96.2 km2) |
| Coral Springs | Broward | 23.9 sq mi (62.0 km2) |
| Cottomdale | Jackson | 1.7 sq mi (4.4 km2) |
| Crescent City | Putnam | 2.1 sq mi (5.5 km2) |
| Crestview | Okaloosa | 12.8 sq mi (33.2 km2) |
| Cross City | Dixie | 1.9 sq mi (4.9 km2) |
| Crystal River | Citrus | 6.3 sq mi (16.3 km2) |
| Cutler Bay | Miami-Dade | 4.9 sq mi (12.6 km2) |
| Dade City | Pasco | 3.4 sq mi (8.8 km2) |
| Dania Beach | Broward | 6.3 sq mi (16.3 km2) |
| Davenport | Polk | 1.7 sq mi (4.2 km2) |
| Davie | Broward | 34.2 sq mi (88.5 km2) |
| Daytona Beach | Volusia | 64.9 sq mi (168.2 km2) |
| Daytona Beach Shores | Volusia | 0.9 sq mi (2.4 km2) |
| DeBary | Volusia | 21.4 sq mi (55.5 km2) |
| Deerfield Beach | Broward | 14.9 sq mi (38.7 km2) |
| DeFuniak Springs | Walton | 11.3 sq mi (29.1 km2) |
| DeLand | Volusia | 16.1 sq mi (41.6 km2) |
| Delray Beach | Palm Beach | 15.9 sq mi (41.2 km2) |
| Deltona | Volusia | 41.1 sq mi (106.4 km2) |
| Destin | Okaloosa | 8.2 sq mi (21.2 km2) |
| Doral | Miami-Dade | 13.6 sq mi (35.3 km2) |
| Dundee | Polk | 4.3 sq mi (11.2 km2) |
| Dunedin | Pinellas | 28.2 sq mi (73.1 km2) |
| Dunnellon | Marion | 7.4 sq mi (19.3 km2) |
| Eagle Lake | Polk | 1.4 sq mi (3.7 km2) |
| Eatonville | Orange | 1.1 sq mi (2.9 km2) |
| Ebro | Washington | 3.1 sq mi (8.3 km2) |
| Edgewater | Volusia | 10.4 sq mi (26.8 km2) |
| Edgewood | Orange | 1.5 sq mi (3.8 km2) |
| El Portal | Miami-Dade | 0.4 sq mi (1.1 km2) |
| Esto | Holmes | 2.4 sq mi (6.1 km2) |
| Eustis | Lake | 9.7 sq mi (24.9 km2) |
| Everglades City | Collier | 1.2 sq mi (3.1 km2) |
| Fanning Springs | Gilchrist Levy | 3.7 sq mi (9.6 km2) |
| Fellsmere | Indian River | 5.4 sq mi (14.0 km2) |
| Fernandina Beach | Nassau | 10.7 sq mi (27.8 km2) |
| Flagler Beach | Flagler | 4.1 sq mi (10.6 km2) |
| Florida City | Miami-Dade | 3.2 sq mi (18.3 km2) |
| Fort Lauderdale | Broward | 36.0 sq mi (93.3 km2) |
| Fort Meade | Polk | 5.0 sq mi (13.0 km2) |
| Fort Myers | Lee | 40.4 sq mi (104.7 km2) |
| Fort Myers Beach | Lee | 6.2 sq mi (15.9 km2) |
| Fort Pierce | St. Lucie | 20.7 sq mi (53.8 km2) |
| Fort Walton Beach | Okaloosa | 8.2 sq mi (21.3 km2) |
| Fort White | Columbia | 2.3 sq mi (6.0 km2) |
| Freeport | Walton | 10.8 sq mi (28.0 km2) |
| Frostproof | Polk | 2.5 sq mi (6.4 km2) |
| Fruitland Park | Lake | 3.7 sq mi (9.5 km2) |
| Gainesville | Alachua | 49.1 sq mi (127.2 km2) |
| Glen Ridge | Palm Beach | 0.2 sq mi (0.7 km2) |
| Golden Beach | Miami-Dade | 0.3 sq mi (1.0 km2) |
| Golf | Palm Beach | 0.8 sq mi (2.2 km2) |
| Graceville | Jackson | 4.4 sq mi (11.4 km2) |
| Grand Ridge | Jackson | 2.3 sq mi (5.8 km2) |
| Grant-Valkaria | Brevard | 1.0 sq mi (2.7 km2) |
| Green Cove Springs | Clay | 9.4 sq mi (24.5 km2) |
| Greenacres | Palm Beach | 4.7 sq mi (12.1 km2) |
| Greensboro | Gadsden | 1.0 sq mi (2.6 km2) |
| Greenville | Madison | 1.3 sq mi (3.4 km2) |
| Greenwood | Jackson | 4.8 sq mi (12.4 km2) |
| Gretna | Gadsden | 1.9 sq mi (4.9 km2) |
| Groveland | Lake | 3.0 sq mi (7.8 km2) |
| Gulf Breeze | Santa Rosa | 23.5 sq mi (61.0 km2) |
| Gulf Stream | Palm Beach | 0.8 sq mi (2.2 km2) |
| Gulfport | Pinellas | 3.8 sq mi (9.9 km2) |
| Haines City | Polk | 8.9 sq mi (23.2 km2) |
| Hallandale Beach | Broward | 4.6 sq mi (11.8 km2) |
| Hampton | Bradford | 1.0 sq mi (2.7 km2) |
| Hastings | St. Johns | 0.7 sq mi (1.7 km2) |
| Havana | Gadsden | 1.9 sq mi (4.8 km2) |
| Haverhill | Palm Beach | 0.6 sq mi (1.5 km2) |
| Hawthorne | Alachua | 4.8 sq mi (12.4 km2) |
| Hialeah | Miami-Dade | 19.7 sq mi (51.5 km2) |
| Hialeah Gardens | Miami-Dade | 2.5 sq mi (6.5 km2) |
| High Springs | Alachua | 18.5 sq mi (47.9 km2) |
| Highland Beach | Palm Beach | 1.1 sq mi (2.9 km2) |
| Highland Park | Polk | 0.7 sq mi (1.9 km2) |
| Hillcrest Heights | Polk | 0.2 sq mi (0.5 km2) |
| Hilliard | Nassau | 5.5 sq mi (14.2 km2) |
| Hillsboro Beach | Broward | 1.6 sq mi (4.2 km2) |
| Holly Hill | Volusia | 4.5 sq mi (11.7 km2) |
| Hollywood | Broward | 30.8 sq mi (79.8 km2) |
| Holmes Beach | Manatee | 1.7 sq mi (4.5 km2) |
| Homestead | Miami-Dade | 14.4 sq mi (37.2 km2) |
| Horseshoe Beach | Dixie | 0.2 sq mi (0.6 km2) |
| Howey-in-the-Hills | Lake | 1.9 sq mi (4.8 km2) |
| Hypoluxo | Palm Beach | 0.8 sq mi (2.1 km2) |
| Indialantic | Brevard | 1.2 sq mi (3.2 km2) |
| Indian Creek | Miami-Dade | 0.4 sq mi (1.2 km2) |
| Indian Harbor Beach | Brevard | 2.6 sq mi (6.8 km2) |
| Indian River Shores | Indian River | 7.2 sq mi (18.5 km2) |
| Indian Rocks Beach | Pinellas | 1.4 sq mi (3.6 km2) |
| Indian Shores | Pinellas | 0.9 sq mi (2.5 km2) |
| Inglis | Levy | 3.7 sq mi (9.5 km2) |
| Interlachen | Putnam | 6.4 sq mi (16.7 km2) |
| Inverness | Citrus | 8.1 sq mi (21.0 km2) |
| Islamorada | Monroe | 7.3 sq mi (18.8 km2) |
| Islandia | Miami-Dade | 66.4 sq mi (171.9 km2) |
| Jacksonville | Duval | 883.6 sq mi (2,292.2 km2) |
| Jacksonville Beach | Duval | 22.0 sq mi (56.9 km2) |
| Jacob City | Jackson | 3.2 sq mi (8.3 km2) |
| Jasper | Hamilton | 2.0 sq mi (5.1 km2) |
| Jay | Santa Rosa | 1.6 sq mi (4.1 km2) |
| Jennings | Hamilton | 1.8 sq mi (4.7 km2) |
| Juno Beach | Palm Beach | 1.9 sq mi (4.8 km2) |
| Jupiter | Palm Beach | 21.1 sq mi (54.7 km2) |
| Jupiter Inlet Colony | Palm Beach | 0.2 sq mi (0.6 km2) |
| Jupiter Island | Martin | 3.6 sq mi (9.3 km2) |
| Kenneth City | Pinellas | 0.7 sq mi (1.9 km2) |
| Key Biscayne | Miami-Dade | 1.4 sq mi (3.6 km2) |
| Key Colony Beach | Monroe | 0.7 sq mi (1.7 km2) |
| Key West | Monroe | 7.4 sq mi (19.2 km2) |
| Keystone Heights | Bradford Clay | 4.6 sq mi (12.0 km2) |
| Kissimmee | Osceola | 17.3 sq mi (44.8 km2) |
| LaBelle | Hendry | 3.6 sq mi (9.2 km2) |
| La Crosse | Alachua | 1.3 sq mi (3.5 km2) |
| Lady Lake | Lake | 6.7 sq mi (17.4 km2) |
| Lake Alfred | Polk | 8.6 sq mi (22.2 km2) |
| Lake Buena Vista | Orange | 4.9 sq mi (12.7 km2) |
| Lake Butler | Union | 1.8 sq mi (4.8 km2) |
| Lake City | Columbia | 11.1 sq mi (28.7 km2) |
| Lake Clarke Shores | Palm Beach | 1.1 sq mi (2.7 km2) |
| Lake Hamilton | Polk | 3.9 sq mi (10.2 km2) |
| Lake Helen | Volusia | 4.3 sq mi (11.2 km2) |
| Lake Mary | Seminole | 9.7 sq mi (25.0 km2) |
| Lake Park | Palm Beach | 2.3 sq mi (6.1 km2) |
| Lake Placid | Highlands | 2.8 sq mi (7.4 km2) |
| Lake Wales | Polk | 14.0 sq mi (36.3 km2) |
| Lake Worth | Palm Beach | 6.5 sq mi (16.7 km2) |
| Lakeland | Polk | 74.4 sq mi (192.7 km2) |
| Lantana | Palm Beach | 2.9 sq mi (7.5 km2) |
| Largo | Pinellas | 16.1 sq mi (41.8 km2) |
| Lauderdale Lakes | Broward | 3.6 sq mi (9.4 km2) |
| Lauderdale-by-the-Sea | Broward | 1.5 sq mi (3.2 km2) |
| Lauderhill | Broward | 7.3 sq mi (19.0 km2) |
| Laurel Hill | Okaloosa | 3.1 sq mi (8.1 km2) |
| Lawtey | Bradford | 1.4 sq mi (3.6 km2) |
| Layton | Monroe | 0.2 sq mi (0.7 km2) |
| Lazy Lake | Broward | 0.1 sq mi (0.1 km2) |
| Lee | Madison | 1.2 sq mi (3.2 km2) |
| Leesburg | Lake | 24.5 sq mi (63.3 km2) |
| Lighthouse Point | Broward | 2.4 sq mi (6.2 km2) |
| Live Oak | Suwannee | 11.4 sq mi (29.5 km2) |
| Longboat Key | Manatee Sarasota | 17.0 sq mi (44.2 km2) |
| Longwood | Seminole | 5.6 sq mi (14.5 km2) |
| Loxahatchee Groves | Palm Beach | 12.5 sq mi (32.4 km2) |
| Lynn Haven | Bay | 9.6 sq mi (24.7 km2) |
| Macclenny | Baker | 3.3 sq mi (8.5 km2) |
| Madeira Beach | Pinellas | 3.2 sq mi (8.5 km2) |
| Madison | Madison | 2.5 sq mi (6.7 km2) |
| Maitland | Orange | 5.6 sq mi (14.7 km2) |
| Malabar | Brevard | 13.2 sq mi (34.2 km2) |
| Malone | Jackson | 3.1 sq mi (8.1 km2) |
| Manalapan | Palm Beach | 2.4 sq mi (6.3 km2) |
| Mangonia Park | Palm Beach | 0.7 sq mi (1.8 km2) |
| Marathon | Monroe | 9.6 sq mi (25.0 km2) |
| Marco Island | Collier | 17.1 sq mi (44.3 km2) |
| Margate | Broward | 9.0 sq mi (23.3 km2) |
| Marianna | Jackson | 8.0 sq mi (20.9 km2) |
| Marineland | Flagler St. Johns | 0.3 sq mi (0.8 km2) |
| Mary Esther | Okaloosa | 1.5 sq mi (4.0 km2) |
| Mascotte | Lake | 2.8 sq mi (7.3 km2) |
| Mayo | Lafayette | 0.8 sq mi (2.1 km2) |
| McIntosh | Marion | 0.7 sq mi (1.8 km2) |
| Medley | Miami-Dade | 4.3 sq mi (11.1 km2) |
| Melbourne | Brevard | 35.5 sq mi (91.9 km2) |
| Melbourne Beach | Brevard | 1.3 sq mi (3.4 km2) |
| Melbourne Village | Brevard | 0.6 sq mi (1.5 km2) |
| Mexico Beach | Bay | 1.3 sq mi (3.4 km2) |
| Miami | Miami-Dade | 55.3 sq mi (143.3 km2) |
| Miami Beach | Miami-Dade | 18.7 sq mi (48.5 km2) |
| Miami Gardens | Miami-Dade | 20.0 sq mi (51.8 km2) |
| Miami Lakes | Miami-Dade | 6.4 sq mi (16.5 km2) |
| Miami Shores | Miami-Dade | 3.7 sq mi (9.7 km2) |
| Miami Springs | Miami-Dade | 3.0 sq mi (7.7 km2) |
| Micanopy | Alachua | 1.0 sq mi (2.8 km2) |
| Midway | Gadsden | 3.8 sq mi (9.9 km2) |
| Milton | Santa Rosa | 4.6 sq mi (11.8 km2) |
| Minneola | Lake | 3.3 sq mi (8.3 km2) |
| Miramar | Broward | 31.0 sq mi (80.3 km2) |
| Monticello | Jefferson | 3.4 sq mi (8.8 km2) |
| Montverde | Lake | 1.8 sq mi (4.6 km2) |
| Moore Haven | Glades | 1.2 sq mi (3.0 km2) |
| Mount Dora | Lake | 5.7 sq mi (14.9 km2) |
| Mulberry | Polk | 3.2 sq mi (8.3 km2) |
| Naples | Collier | 14.4 sq mi (37.3 km2) |
| Neptune Beach | Duval | 6.8 sq mi (17.7 km2) |
| New Port Richey | Pasco | 4.6 sq mi (11.9 km2) |
| New Smyrna Beach | Volusia | 30.8 sq mi (79.7 km2) |
| Newberry | Alachua | 46.0 sq mi (119.0 km2) |
| Niceville | Okaloosa | 11.3 sq mi (29.4 km2) |
| Noma | Holmes | 1.1 sq mi (2.8 km2) |
| North Bay Village | Miami-Dade | 0.8 sq mi (2.2 km2) |
| North Lauderdale | Broward | 3.9 sq mi (10.1 km2) |
| North Miami | Miami-Dade | 10.0 sq mi (25.9 km2) |
| North Miami Beach | Miami-Dade | 5.0 sq mi (13.7 km2) |
| North Palm Beach | Palm Beach | 5.8 sq mi (15.0 km2) |
| North Port | Sarasota | 75.6 sq mi (195.7 km2) |
| North Redington Beach | Pinellas | 1.0 sq mi (2.7 km2) |
| Oak Hill | Volusia | 11.3 sq mi (29.1 km2) |
| Oakland Park | Broward | 6.9 sq mi (17.9 km2) |
| Oakland | Orange | 1.6 sq mi (4.2 km2) |
| Ocala | Marion | 38.6 sq mi (100.1 km2) |
| Ocean Breeze Park | Martin | 0.2 sq mi (0.5 km2) |
| Ocean Ridge | Palm Beach | 2.0 sq mi (5.2 km2) |
| Ocoee | Orange | 14.0 sq mi (36.4 km2) |
| Okeechobee | Okeechobee | 4.2 sq mi (10.8 km2) |
| Oldsmar | Pinellas | 9.7 sq mi (25.0 km2) |
| Opa-locka | Miami-Dade | 4.5 sq mi (11.6 km2) |
| Orange City | Volusia | 6.2 sq mi (15.9 km2) |
| Orange Park | Clay | 5.6 sq mi (14.4 km2) |
| Orchid | Indian River | 1.8 sq mi (4.8 km2) |
| Orlando | Orange | 100.6 sq mi (261.5 km2) |
| Ormond Beach | Volusia | 29.0 sq mi (75.3 km2) |
| Otter Creek | Levy | 1.5 sq mi (3.8 km2) |
| Oviedo | Seminole | 15.4 sq mi (40.0 km2) |
| Pahokee | Palm Beach | 5.4 sq mi (14.0 km2) |
| Palatka | Putnam | 7.5 sq mi (19.5 km2) |
| Palm Bay | Brevard | 66.8 sq mi (172.9 km2) |
| Palm Beach | Palm Beach | 10.4 sq mi (27.0 km2) |
| Palm Beach Gardens | Palm Beach | 55.3 sq mi (143.3 km2) |
| Palm Beach Shores | Palm Beach | 0.4 sq mi (1.0 km2) |
| Palm Coast | Flagler | 51.7 sq mi (133.9 km2) |
| Palm Shores | Brevard | 0.5 sq mi (1.3 km2) |
| Palm Springs | Palm Beach | 1.7 sq mi (4.3 km2) |
| Palmetto | Manatee | 4.4 sq mi (11.5 km2) |
| Palmetto Bay | Miami-Dade | 8.8 sq mi (22.6 km2) |
| Panama City | Bay | 26.7 sq mi (69.1 km2) |
| Panama City Beach | Bay | 7.0 sq mi (18.2 km2) |
| Parker | Bay | 2.4 sq mi (6.3 km2) |
| Parkland | Broward | 10.8 sq mi (27.9 km2) |
| Paxton | Walton | 4.0 sq mi (10.3 km2) |
| Pembroke Park | Broward | 1.8 sq mi (4.6 km2) |
| Pembroke Pines | Broward | 34.4 sq mi (89.2 km2) |
| Penney Farms | Clay | 1.4 sq mi (3.6 km2) |
| Pensacola | Escambia | 39.7 sq mi (102.7 km2) |
| Perry | Taylor | 9.3 sq mi (24.1 km2) |
| Pierson | Volusia | 8.7 sq mi (22.7 km2) |
| Pinecrest | Miami-Dade | 7.6 sq mi (19.6 km2) |
| Pinellas Park | Pinellas | 14.9 sq mi (38.7 km2) |
| Plant City | Hillsborough | 22.7 sq mi (58.9 km2) |
| Plantation | Broward | 21.9 sq mi (56.8 km2) |
| Polk City | Polk | 0.8 sq mi (2.0 km2) |
| Pomona Park | Putnam | 3.3 sq mi (8.6 km2) |
| Pompano Beach | Broward | 25.8 sq mi (66.8 km2) |
| Ponce de Leon | Holmes | 5.0 sq mi (12.8 km2) |
| Ponce Inlet | Volusia | 14.6 sq mi (38.0 km2) |
| Port Orange | Volusia | 26.7 sq mi (69.1 km2) |
| Port Richey | Pasco | 2.7 sq mi (7.1 km2) |
| Port St. Joe | Gulf | 3.3 sq mi (8.6 km2) |
| Port St. Lucie | St. Lucie | 76.7 sq mi (198.6 km2) |
| Punta Gorda | Charlotte | 18.5 sq mi (47.9 km2) |
| Quincy | Gadsden | 7.6 sq mi (19.7 km2) |
| Raiford | Union | 0.5 sq mi (1.4 km2) |
| Reddick | Marion | 1.2 sq mi (3.2 km2) |
| Redington Beach | Pinellas | 1.3 sq mi (3.3 km2) |
| Redington Shores | Pinellas | 1.2 sq mi (3.1 km2) |
| Riviera Beach | Palm Beach | 9.8 sq mi (25.5 km2) |
| Rockledge | Brevard | 12.2 sq mi (31.5 km2) |
| Royal Palm Beach | Palm Beach | 10.1 sq mi (26.1 km2) |
| Safety Harbor | Pinellas | 5.0 sq mi (13.0 km2) |
| San Antonio | Pasco | 1.2 sq mi (3.2 km2) |
| Sanford | Seminole | 22.6 sq mi (58.5 km2) |
| Sanibel | Lee | 33.2 sq mi (85.9 km2) |
| Sarasota | Sarasota | 25.9 sq mi (67.2 km2) |
| Satellite Beach | Brevard | 3.4 sq mi (8.8 km2) |
| Sea Ranch Lakes | Broward | 0.2 sq mi (0.6 km2) |
| Sebastian | Indian River | 13.5 sq mi (35.1 km2) |
| Sebring | Highlands | 11.0 sq mi (28.5 km2) |
| Seminole | Pinellas | 2.7 sq mi (7.0 km2) |
| Sewall's Point | Martin | 4.1 sq mi (10.7 km2) |
| Shalimar | Okaloosa | 0.3 sq mi (0.8 km2) |
| Sneads | Jackson | 4.6 sq mi (12.0 km2) |
| Sopchoppy | Wakulla | 1.5 sq mi (3.9 km2) |
| South Bay | Palm Beach | 3.7 sq mi (9.6 km2) |
| South Daytona | Volusia | 4.9 sq mi (12.5 km2) |
| South Miami | Miami-Dade | 2.3 sq mi (6.0 km2) |
| South Palm Beach | Palm Beach | 0.3 sq mi (0.8 km2) |
| South Pasadena | Pinellas | 1.2 sq mi (3.0 km2) |
| Southwest Ranches | Broward | 13.0 sq mi (33.7 km2) |
| Springfield | Bay | 4.2 sq mi (10.7 km2) |
| St. Augustine | St. Johns | 10.7 sq mi (27.8 km2) |
| St. Augustine Beach | St. Johns | 1.9 sq mi (5.0 km2) |
| St. Cloud | Osceola | 9.2 sq mi (23.7 km2) |
| St. Leo | Pasco | 1.9 sq mi (4.9 km2) |
| St. Lucie Village | St. Lucie | 0.8 sq mi (2.1 km2) |
| St. Marks | Wakulla | 1.9 sq mi (5.0 km2) |
| St. Pete Beach | Pinellas | 19.8 sq mi (51.5 km2) |
| St. Petersburg | Pinellas | 132.6 sq mi (344.7 km2) |
| Starke | Bradford | 6.7 sq mi (17.3 km2) |
| Stuart | Martin | 8.5 sq mi (22.0 km2) |
| Sunny Isles Beach | Miami-Dade | 1.4 sq mi (3.6 km2) |
| Sunrise | Broward | 18.4 sq mi (47.7 km2) |
| Surfside | Miami-Dade | 1.0 sq mi (2.5 km2) |
| Sweetwater | Miami-Dade | 0.8 sq mi (2.1 km2) |
| Tallahassee | Leon | 103.1 sq mi (267.0 km2) |
| Tamarac | Broward | 11.9 sq mi (30.8 km2) |
| Tampa | Hillsborough | 170.6 sq mi (441.9 km2) |
| Tarpon Springs | Pinellas | 16.8 sq mi (43.8 km2) |
| Tavares | Lake | 7.5 sq mi (19.3 km2) |
| Temple Terrace | Hillsborough | 7.0 sq mi (18.0 km2) |
| Tequesta | Palm Beach | 2.2 sq mi (5.7 km2) |
| Titusville | Brevard | 26.0 sq mi (67.1 km2) |
| Treasure Island | Pinellas | 5.3 sq mi (13.8 km2) |
| Trenton | Gilchrist | 2.6 sq mi (6.7 km2) |
| Umatilla | Lake | 3.0 sq mi (7.9 km2) |
| Valparaiso | Okaloosa | 12.7 sq mi (33.0 km2) |
| Venice | Sarasota | 9.6 sq mi (25.0 km2) |
| Vernon | Washington | 4.7 sq mi (12.2 km2) |
| Vero Beach | Indian River | 12.9 sq mi (33.5 km2) |
| Virginia Gardens | Miami-Dade | 0.3 sq mi (0.8 km2) |
| Waldo | Alachua | 1.7 sq mi (4.5 km2) |
| Wachula | Hardee | 2.6 sq mi (6.8 km2) |
| Wausau | Washington | 1.1 sq mi (2.9 km2) |
| Webster | Sumter | 1.3 sq mi (3.4 km2) |
| Weeki Wachee | Hernando | 1.0 sq mi (2.7 km2) |
| Welaka | St. Johns | 1.4 sq mi (3.6 km2) |
| Wellington | Palm Beach | 45.0 sq mi (116.6 km2) |
| West Melbourne | Brevard | 7.8 sq mi (20.3 km2) |
| West Miami | Miami-Dade | 0.7 sq mi (1.8 km2) |
| West Palm Beach | Palm Beach | 58.2 sq mi (150.7 km2) |
| West Park | Broward | 2.1 sq mi (5.4 km2) |
| Weston | Broward | 26.3 sq mi (68.1 km2) |
| Westville | Holmes | 7.5 sq mi (19.3 km2) |
| Wewahitchka | Gulf | 7.4 sq mi (19.3 km2) |
| White Springs | Hamilton | 1.8 sq mi (4.8 km2) |
| Wildwood | Sumter | 5.2 sq mi (13.4 km2) |
| Williston | Levy | 6.1 sq mi (15.7 km2) |
| Wilton Manors | Broward | 1.9 sq mi (5.0 km2) |
| Windermere | Orange | 1.1 sq mi (2.9 km2) |
| Winter Garden | Orange | 17.0 sq mi (44.0 km2) |
| Winter Haven | Polk | 25.4 sq mi (65.8 km2) |
| Winter Park | Orange | 8.7 sq mi (22.4 km2) |
| Winter Springs | Seminole | 14.4 sq mi (37.6 km2) |
| Worthington Springs | Union | 0.4 sq mi (0.9 km2) |
| Yankeetown | Levy | 20.3 sq mi (52.6 km2) |
| Zephyrhills | Pasco | 6.4 sq mi (16.4 km2) |
| Zolfo Springs | Hardee | 1.5 sq mi (3.9 km2) |