Florida Map with Cities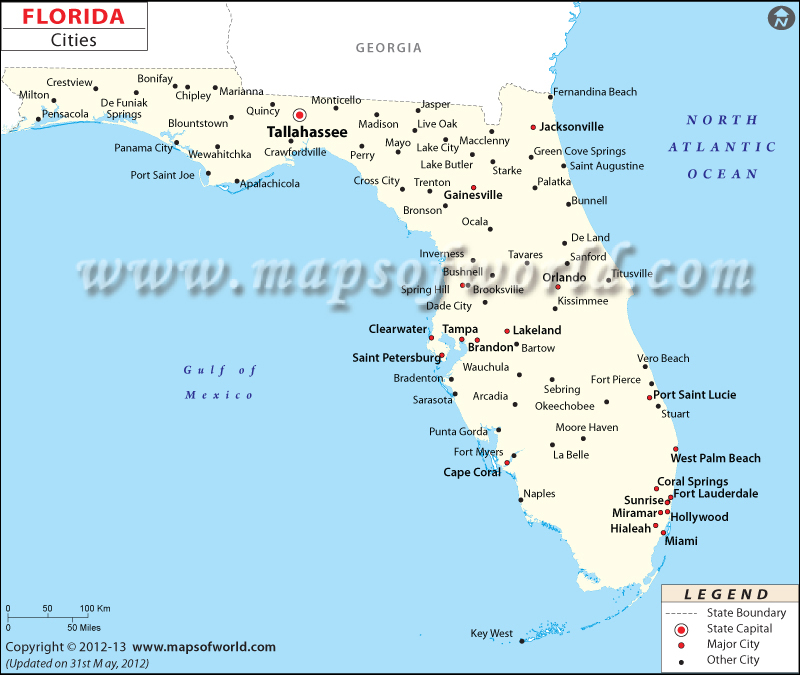 Map of Florida Cities
Map of Florida Cities provides a comprehensive visual overview of the cities scattered throughout the state of Florida. This map allows you to easily explore and navigate the diverse locations of each city.
Cities in Florida
Florida has many different cities, and each one is special in its own way. Some cities are big and busy, while others are by the beach or in the countryside. Florida's cities have something for everyone, whether you like going out at night, relaxing on the beach, exploring nature, or visiting museums and shows. Whatever you're looking for, you can find it in Florida.
How Many Cities are in Florida
Florida has many cities, a total of 411 in fact. These cities are spread out all over the state and offer a wide variety of experiences. From big cities to small towns, Florida has a place for everyone. You can use the Map of Florida Cities to see where each city is located. It's a great way to explore and discover all that Florida has to offer.
Largest Cities in Florida
In Florida, the biggest cities are the ones with the most people, and they have a lot of fun things to do. Some of the biggest cities in Florida are Jacksonville, Miami, Tampa, Orlando, Ocala, Venice, Tampa, Tallahassee and St. Augustine. These cities have famous places to visit, like landmarks and attractions.
Safest Cities in Florida
Some cities in Florida are known for being really safe and caring about the well-being of their people. These cities work hard to keep everyone secure and protected. Weston, Parkland, Wellington, Coral Springs, and Naples are some of the safest cities in Florida. They have low crime rates and take proactive steps to make sure everyone feels safe. These cities have nice neighborhoods, good police plans, and involve the community in safety efforts.
Best Cities to Live in Florida
Florida has many cities that are considered great places to live in the state. These cities offer a good life with lots of things to do. Some of the best cities to live in Florida are Miami, Orlando, Tampa, Jacksonville, and St. Petersburg. These cities have good job opportunities, good schools, and lots of fun things to do. You can enjoy outdoor activities, visit exciting places, and experience different cultures.
List of Cities in Florida
| City Name | County | Area(mile and km) |
| --- | --- | --- |
| Alachua | Alachua | 29.0 sq mi (75.2 km2) |
| Alford | Jackson | 1.3 sq mi (3.4 km2) |
| Altamonte Springs | Seminole | 9.5 sq mi (24.4 km2) |
| Altha | Calhoun | 1.4 sq mi (3.8 km2) |
| Anna Maria | Manatee | 1.0 sq mi (2.5 km2) |
| Apalachicola | Franklin | 2.7 sq mi (6.9 km2) |
| Apopka | Orange | 24.9 sq mi (64.6 km2) |
| Arcadia | DeSoto | 4.0 sq mi (10.5 km2) |
| Archer | Alachua | 2.4 sq mi (6.2 km2) |
| Astatula | Lake | 2.2 sq mi (5.7 km2) |
| Atlantic Beach | Duval | 13.0 sq mi (33.7 km2) |
| Atlantis | Palm Beach | 1.4 sq mi (3.7 km2) |
| Auburndale | Polk | 9.3 sq mi (24.1 km2) |
| Aventura | Miami-Dade | 3.5 sq mi (9.1 km2) |
| Avon Park | Highlands | 5.7 sq mi (14.6 km2) |
| Bal Harbour | Miami-Dade | 0.6 sq mi (1.6 km2) |
| Baldwin | Duval | 2.1 sq mi (5.5 km2) |
| Bartow | Polk | 52.3 sq mi (135.6 km2) |
| Bascom | Jackson | 0.2 sq mi (0.5 km2) |
| Bay Harbor Islands | Miami-Dade | 0.6 sq mi (1.6 km2) |
| Bay Lake | Orange | 21.1 sq mi (54.7 km2) |
| Bell | Gilchrist | 1.6 sq mi (4.2 km2) |
| Belle Glade | Palm Beach | 4.7 sq mi (12.1 km2) |
| Belle Isle | Orange | 4.6 sq mi (12.0 km2) |
| Belleair | Pinellas | 2.8 sq mi (7.3 km2) |
| Belleair Beach | Pinellas | 1.8 sq mi (4.5 km2) |
| Belleair Bluffs | Pinellas | 0.7 sq mi (1.6 km2) |
| Belleair Shore | Pinellas | 0.5 sq mi (1.1 km2) |
| Belleview | Marion | 1.8 sq mi (4.7 km2) |
| Beverly Beach | Flagler | 0.4 sq mi (1.0 km2) |
| Biscayne Park | Miami-Dade | 0.6 sq mi (1.7 km2) |
| Blountstown | Calhoun | 3.2 sq mi (8.3 km2) |
| Boca Raton | Palm Beach | 29.1 sq mi (75.4 km2) |
| Bonifay | Holmes | 3.6 sq mi (9.4 km2) |
| Bonita Springs | Lee | 41.0 sq mi (106.2 km2) |
| Bowling Green | Hardee | 1.4 sq mi (3.7 km2) |
| Boynton Beach | Palm Beach | 16.3 sq mi (42.1 km2) |
| Bradenton | Manatee | 14.4 sq mi (37.4 km2) |
| Bradenton Beach | Manatee | 1.0 sq mi (2.8 km2) |
| Branford | Suwannee | 0.8 sq mi (2.1 km2) |
| Briny Breezes | Palm Beach | 0.1 sq mi (0.3 km2) |
| Bristol | Liberty | 1.6 sq mi (4.2 km2) |
| Bronson | Levy | 4.0 sq mi (10.4 km2) |
| Brooker | Bradford | 0.5 sq mi (1.4 km2) |
| Brooksville | Hernando | 5.0 sq mi (12.9 km2) |
| Bunnell | Flagler | 4.7 sq mi (12.1 km2) |
| Bushnell | Sumter | 2.4 sq mi (6.1 km2) |
| Callahan | Nassau | 1.3 sq mi (3.4 km2) |
| Callaway | Bay | 6.1 sq mi (15.8 km2) |
| Campbellton | Jackson | 0.9 sq mi (2.3 km2) |
| Cape Canaveral | Brevard | 2.3 sq mi (6.0 km2) |
| Cape Coral | Lee | 119.5 sq mi (310.8 km2) |
| Carrabelle | Franklin | 4.8 sq mi (12.5 km2) |
| Caryville | Franklin | 3.1 sq mi (8.1 km2) |
| Casselberry | Seminole | 7.1 sq mi (18.4 km2) |
| Cedar Key | Levy | 2.0 sq mi (5.3 km2) |
| Center Hill | Sumter | 1.8 sq mi (4.5 km2) |
| Century | Escambia | 3.4 sq mi (8.7 km2) |
| Chattahoochee | Gadsden | 5.7 sq mi (14.6 km2) |
| Chiefland | Levy | 3.9 sq mi (10.1 km2) |
| Chipley | Washington | 4.1 sq mi (10.7 km2) |
| Cinco Bayou | Okaloosa | 0.2 sq mi (0.5 km2) |
| Clearwater | Pinellas | 37.7 sq mi (97.7 km2) |
| Clermont | Lake | 11.5 sq mi (29.7 km2) |
| Clewiston | Hendry | 4.7 sq mi (12.2 km2) |
| Cloud Lake | Palm Beach | 0.1 sq mi (0.3 km2) |
| Cocoa | Brevard | 9.6 sq mi (24.6 km2) |
| Cocoa Beach | Brevard | 15.0 sq mi (39.0 km2) |
| Coconut Creek | Broward | 11.8 sq mi (30.5 km2) |
| Coleman | Sumter | 1.5 sq mi (3.8 km2) |
| Cooper City | Broward | 6.7 sq mi (17.3 km2) |
| Coral Gables | Miami-Dade | 37.2 sq mi (96.2 km2) |
| Coral Springs | Broward | 23.9 sq mi (62.0 km2) |
| Cottomdale | Jackson | 1.7 sq mi (4.4 km2) |
| Crescent City | Putnam | 2.1 sq mi (5.5 km2) |
| Crestview | Okaloosa | 12.8 sq mi (33.2 km2) |
| Cross City | Dixie | 1.9 sq mi (4.9 km2) |
| Crystal River | Citrus | 6.3 sq mi (16.3 km2) |
| Cutler Bay | Miami-Dade | 4.9 sq mi (12.6 km2) |
| Dade City | Pasco | 3.4 sq mi (8.8 km2) |
| Dania Beach | Broward | 6.3 sq mi (16.3 km2) |
| Davenport | Polk | 1.7 sq mi (4.2 km2) |
| Davie | Broward | 34.2 sq mi (88.5 km2) |
| Daytona Beach | Volusia | 64.9 sq mi (168.2 km2) |
| Daytona Beach Shores | Volusia | 0.9 sq mi (2.4 km2) |
| DeBary | Volusia | 21.4 sq mi (55.5 km2) |
| Deerfield Beach | Broward | 14.9 sq mi (38.7 km2) |
| DeFuniak Springs | Walton | 11.3 sq mi (29.1 km2) |
| DeLand | Volusia | 16.1 sq mi (41.6 km2) |
| Delray Beach | Palm Beach | 15.9 sq mi (41.2 km2) |
| Deltona | Volusia | 41.1 sq mi (106.4 km2) |
| Destin | Okaloosa | 8.2 sq mi (21.2 km2) |
| Doral | Miami-Dade | 13.6 sq mi (35.3 km2) |
| Dundee | Polk | 4.3 sq mi (11.2 km2) |
| Dunedin | Pinellas | 28.2 sq mi (73.1 km2) |
| Dunnellon | Marion | 7.4 sq mi (19.3 km2) |
| Eagle Lake | Polk | 1.4 sq mi (3.7 km2) |
| Eatonville | Orange | 1.1 sq mi (2.9 km2) |
| Ebro | Washington | 3.1 sq mi (8.3 km2) |
| Edgewater | Volusia | 10.4 sq mi (26.8 km2) |
| Edgewood | Orange | 1.5 sq mi (3.8 km2) |
| El Portal | Miami-Dade | 0.4 sq mi (1.1 km2) |
| Esto | Holmes | 2.4 sq mi (6.1 km2) |
| Eustis | Lake | 9.7 sq mi (24.9 km2) |
| Everglades City | Collier | 1.2 sq mi (3.1 km2) |
| Fanning Springs | Gilchrist Levy | 3.7 sq mi (9.6 km2) |
| Fellsmere | Indian River | 5.4 sq mi (14.0 km2) |
| Fernandina Beach | Nassau | 10.7 sq mi (27.8 km2) |
| Flagler Beach | Flagler | 4.1 sq mi (10.6 km2) |
| Florida City | Miami-Dade | 3.2 sq mi (18.3 km2) |
| Fort Lauderdale | Broward | 36.0 sq mi (93.3 km2) |
| Fort Meade | Polk | 5.0 sq mi (13.0 km2) |
| Fort Myers | Lee | 40.4 sq mi (104.7 km2) |
| Fort Myers Beach | Lee | 6.2 sq mi (15.9 km2) |
| Fort Pierce | St. Lucie | 20.7 sq mi (53.8 km2) |
| Fort Walton Beach | Okaloosa | 8.2 sq mi (21.3 km2) |
| Fort White | Columbia | 2.3 sq mi (6.0 km2) |
| Freeport | Walton | 10.8 sq mi (28.0 km2) |
| Frostproof | Polk | 2.5 sq mi (6.4 km2) |
| Fruitland Park | Lake | 3.7 sq mi (9.5 km2) |
| Gainesville | Alachua | 49.1 sq mi (127.2 km2) |
| Glen Ridge | Palm Beach | 0.2 sq mi (0.7 km2) |
| Golden Beach | Miami-Dade | 0.3 sq mi (1.0 km2) |
| Golf | Palm Beach | 0.8 sq mi (2.2 km2) |
| Graceville | Jackson | 4.4 sq mi (11.4 km2) |
| Grand Ridge | Jackson | 2.3 sq mi (5.8 km2) |
| Grant-Valkaria | Brevard | 1.0 sq mi (2.7 km2) |
| Green Cove Springs | Clay | 9.4 sq mi (24.5 km2) |
| Greenacres | Palm Beach | 4.7 sq mi (12.1 km2) |
| Greensboro | Gadsden | 1.0 sq mi (2.6 km2) |
| Greenville | Madison | 1.3 sq mi (3.4 km2) |
| Greenwood | Jackson | 4.8 sq mi (12.4 km2) |
| Gretna | Gadsden | 1.9 sq mi (4.9 km2) |
| Groveland | Lake | 3.0 sq mi (7.8 km2) |
| Gulf Breeze | Santa Rosa | 23.5 sq mi (61.0 km2) |
| Gulf Stream | Palm Beach | 0.8 sq mi (2.2 km2) |
| Gulfport | Pinellas | 3.8 sq mi (9.9 km2) |
| Haines City | Polk | 8.9 sq mi (23.2 km2) |
| Hallandale Beach | Broward | 4.6 sq mi (11.8 km2) |
| Hampton | Bradford | 1.0 sq mi (2.7 km2) |
| Hastings | St. Johns | 0.7 sq mi (1.7 km2) |
| Havana | Gadsden | 1.9 sq mi (4.8 km2) |
| Haverhill | Palm Beach | 0.6 sq mi (1.5 km2) |
| Hawthorne | Alachua | 4.8 sq mi (12.4 km2) |
| Hialeah | Miami-Dade | 19.7 sq mi (51.5 km2) |
| Hialeah Gardens | Miami-Dade | 2.5 sq mi (6.5 km2) |
| High Springs | Alachua | 18.5 sq mi (47.9 km2) |
| Highland Beach | Palm Beach | 1.1 sq mi (2.9 km2) |
| Highland Park | Polk | 0.7 sq mi (1.9 km2) |
| Hillcrest Heights | Polk | 0.2 sq mi (0.5 km2) |
| Hilliard | Nassau | 5.5 sq mi (14.2 km2) |
| Hillsboro Beach | Broward | 1.6 sq mi (4.2 km2) |
| Holly Hill | Volusia | 4.5 sq mi (11.7 km2) |
| Hollywood | Broward | 30.8 sq mi (79.8 km2) |
| Holmes Beach | Manatee | 1.7 sq mi (4.5 km2) |
| Homestead | Miami-Dade | 14.4 sq mi (37.2 km2) |
| Horseshoe Beach | Dixie | 0.2 sq mi (0.6 km2) |
| Howey-in-the-Hills | Lake | 1.9 sq mi (4.8 km2) |
| Hypoluxo | Palm Beach | 0.8 sq mi (2.1 km2) |
| Indialantic | Brevard | 1.2 sq mi (3.2 km2) |
| Indian Creek | Miami-Dade | 0.4 sq mi (1.2 km2) |
| Indian Harbor Beach | Brevard | 2.6 sq mi (6.8 km2) |
| Indian River Shores | Indian River | 7.2 sq mi (18.5 km2) |
| Indian Rocks Beach | Pinellas | 1.4 sq mi (3.6 km2) |
| Indian Shores | Pinellas | 0.9 sq mi (2.5 km2) |
| Inglis | Levy | 3.7 sq mi (9.5 km2) |
| Interlachen | Putnam | 6.4 sq mi (16.7 km2) |
| Inverness | Citrus | 8.1 sq mi (21.0 km2) |
| Islamorada | Monroe | 7.3 sq mi (18.8 km2) |
| Islandia | Miami-Dade | 66.4 sq mi (171.9 km2) |
| Jacksonville | Duval | 883.6 sq mi (2,292.2 km2) |
| Jacksonville Beach | Duval | 22.0 sq mi (56.9 km2) |
| Jacob City | Jackson | 3.2 sq mi (8.3 km2) |
| Jasper | Hamilton | 2.0 sq mi (5.1 km2) |
| Jay | Santa Rosa | 1.6 sq mi (4.1 km2) |
| Jennings | Hamilton | 1.8 sq mi (4.7 km2) |
| Juno Beach | Palm Beach | 1.9 sq mi (4.8 km2) |
| Jupiter | Palm Beach | 21.1 sq mi (54.7 km2) |
| Jupiter Inlet Colony | Palm Beach | 0.2 sq mi (0.6 km2) |
| Jupiter Island | Martin | 3.6 sq mi (9.3 km2) |
| Kenneth City | Pinellas | 0.7 sq mi (1.9 km2) |
| Key Biscayne | Miami-Dade | 1.4 sq mi (3.6 km2) |
| Key Colony Beach | Monroe | 0.7 sq mi (1.7 km2) |
| Key West | Monroe | 7.4 sq mi (19.2 km2) |
| Keystone Heights | Bradford Clay | 4.6 sq mi (12.0 km2) |
| Kissimmee | Osceola | 17.3 sq mi (44.8 km2) |
| LaBelle | Hendry | 3.6 sq mi (9.2 km2) |
| La Crosse | Alachua | 1.3 sq mi (3.5 km2) |
| Lady Lake | Lake | 6.7 sq mi (17.4 km2) |
| Lake Alfred | Polk | 8.6 sq mi (22.2 km2) |
| Lake Buena Vista | Orange | 4.9 sq mi (12.7 km2) |
| Lake Butler | Union | 1.8 sq mi (4.8 km2) |
| Lake City | Columbia | 11.1 sq mi (28.7 km2) |
| Lake Clarke Shores | Palm Beach | 1.1 sq mi (2.7 km2) |
| Lake Hamilton | Polk | 3.9 sq mi (10.2 km2) |
| Lake Helen | Volusia | 4.3 sq mi (11.2 km2) |
| Lake Mary | Seminole | 9.7 sq mi (25.0 km2) |
| Lake Park | Palm Beach | 2.3 sq mi (6.1 km2) |
| Lake Placid | Highlands | 2.8 sq mi (7.4 km2) |
| Lake Wales | Polk | 14.0 sq mi (36.3 km2) |
| Lake Worth | Palm Beach | 6.5 sq mi (16.7 km2) |
| Lakeland | Polk | 74.4 sq mi (192.7 km2) |
| Lantana | Palm Beach | 2.9 sq mi (7.5 km2) |
| Largo | Pinellas | 16.1 sq mi (41.8 km2) |
| Lauderdale Lakes | Broward | 3.6 sq mi (9.4 km2) |
| Lauderdale-by-the-Sea | Broward | 1.5 sq mi (3.2 km2) |
| Lauderhill | Broward | 7.3 sq mi (19.0 km2) |
| Laurel Hill | Okaloosa | 3.1 sq mi (8.1 km2) |
| Lawtey | Bradford | 1.4 sq mi (3.6 km2) |
| Layton | Monroe | 0.2 sq mi (0.7 km2) |
| Lazy Lake | Broward | 0.1 sq mi (0.1 km2) |
| Lee | Madison | 1.2 sq mi (3.2 km2) |
| Leesburg | Lake | 24.5 sq mi (63.3 km2) |
| Lighthouse Point | Broward | 2.4 sq mi (6.2 km2) |
| Live Oak | Suwannee | 11.4 sq mi (29.5 km2) |
| Longboat Key | Manatee Sarasota | 17.0 sq mi (44.2 km2) |
| Longwood | Seminole | 5.6 sq mi (14.5 km2) |
| Loxahatchee Groves | Palm Beach | 12.5 sq mi (32.4 km2) |
| Lynn Haven | Bay | 9.6 sq mi (24.7 km2) |
| Macclenny | Baker | 3.3 sq mi (8.5 km2) |
| Madeira Beach | Pinellas | 3.2 sq mi (8.5 km2) |
| Madison | Madison | 2.5 sq mi (6.7 km2) |
| Maitland | Orange | 5.6 sq mi (14.7 km2) |
| Malabar | Brevard | 13.2 sq mi (34.2 km2) |
| Malone | Jackson | 3.1 sq mi (8.1 km2) |
| Manalapan | Palm Beach | 2.4 sq mi (6.3 km2) |
| Mangonia Park | Palm Beach | 0.7 sq mi (1.8 km2) |
| Marathon | Monroe | 9.6 sq mi (25.0 km2) |
| Marco Island | Collier | 17.1 sq mi (44.3 km2) |
| Margate | Broward | 9.0 sq mi (23.3 km2) |
| Marianna | Jackson | 8.0 sq mi (20.9 km2) |
| Marineland | Flagler St. Johns | 0.3 sq mi (0.8 km2) |
| Mary Esther | Okaloosa | 1.5 sq mi (4.0 km2) |
| Mascotte | Lake | 2.8 sq mi (7.3 km2) |
| Mayo | Lafayette | 0.8 sq mi (2.1 km2) |
| McIntosh | Marion | 0.7 sq mi (1.8 km2) |
| Medley | Miami-Dade | 4.3 sq mi (11.1 km2) |
| Melbourne | Brevard | 35.5 sq mi (91.9 km2) |
| Melbourne Beach | Brevard | 1.3 sq mi (3.4 km2) |
| Melbourne Village | Brevard | 0.6 sq mi (1.5 km2) |
| Mexico Beach | Bay | 1.3 sq mi (3.4 km2) |
| Miami | Miami-Dade | 55.3 sq mi (143.3 km2) |
| Miami Beach | Miami-Dade | 18.7 sq mi (48.5 km2) |
| Miami Gardens | Miami-Dade | 20.0 sq mi (51.8 km2) |
| Miami Lakes | Miami-Dade | 6.4 sq mi (16.5 km2) |
| Miami Shores | Miami-Dade | 3.7 sq mi (9.7 km2) |
| Miami Springs | Miami-Dade | 3.0 sq mi (7.7 km2) |
| Micanopy | Alachua | 1.0 sq mi (2.8 km2) |
| Midway | Gadsden | 3.8 sq mi (9.9 km2) |
| Milton | Santa Rosa | 4.6 sq mi (11.8 km2) |
| Minneola | Lake | 3.3 sq mi (8.3 km2) |
| Miramar | Broward | 31.0 sq mi (80.3 km2) |
| Monticello | Jefferson | 3.4 sq mi (8.8 km2) |
| Montverde | Lake | 1.8 sq mi (4.6 km2) |
| Moore Haven | Glades | 1.2 sq mi (3.0 km2) |
| Mount Dora | Lake | 5.7 sq mi (14.9 km2) |
| Mulberry | Polk | 3.2 sq mi (8.3 km2) |
| Naples | Collier | 14.4 sq mi (37.3 km2) |
| Neptune Beach | Duval | 6.8 sq mi (17.7 km2) |
| New Port Richey | Pasco | 4.6 sq mi (11.9 km2) |
| New Smyrna Beach | Volusia | 30.8 sq mi (79.7 km2) |
| Newberry | Alachua | 46.0 sq mi (119.0 km2) |
| Niceville | Okaloosa | 11.3 sq mi (29.4 km2) |
| Noma | Holmes | 1.1 sq mi (2.8 km2) |
| North Bay Village | Miami-Dade | 0.8 sq mi (2.2 km2) |
| North Lauderdale | Broward | 3.9 sq mi (10.1 km2) |
| North Miami | Miami-Dade | 10.0 sq mi (25.9 km2) |
| North Miami Beach | Miami-Dade | 5.0 sq mi (13.7 km2) |
| North Palm Beach | Palm Beach | 5.8 sq mi (15.0 km2) |
| North Port | Sarasota | 75.6 sq mi (195.7 km2) |
| North Redington Beach | Pinellas | 1.0 sq mi (2.7 km2) |
| Oak Hill | Volusia | 11.3 sq mi (29.1 km2) |
| Oakland Park | Broward | 6.9 sq mi (17.9 km2) |
| Oakland | Orange | 1.6 sq mi (4.2 km2) |
| Ocala | Marion | 38.6 sq mi (100.1 km2) |
| Ocean Breeze Park | Martin | 0.2 sq mi (0.5 km2) |
| Ocean Ridge | Palm Beach | 2.0 sq mi (5.2 km2) |
| Ocoee | Orange | 14.0 sq mi (36.4 km2) |
| Okeechobee | Okeechobee | 4.2 sq mi (10.8 km2) |
| Oldsmar | Pinellas | 9.7 sq mi (25.0 km2) |
| Opa-locka | Miami-Dade | 4.5 sq mi (11.6 km2) |
| Orange City | Volusia | 6.2 sq mi (15.9 km2) |
| Orange Park | Clay | 5.6 sq mi (14.4 km2) |
| Orchid | Indian River | 1.8 sq mi (4.8 km2) |
| Orlando | Orange | 100.6 sq mi (261.5 km2) |
| Ormond Beach | Volusia | 29.0 sq mi (75.3 km2) |
| Otter Creek | Levy | 1.5 sq mi (3.8 km2) |
| Oviedo | Seminole | 15.4 sq mi (40.0 km2) |
| Pahokee | Palm Beach | 5.4 sq mi (14.0 km2) |
| Palatka | Putnam | 7.5 sq mi (19.5 km2) |
| Palm Bay | Brevard | 66.8 sq mi (172.9 km2) |
| Palm Beach | Palm Beach | 10.4 sq mi (27.0 km2) |
| Palm Beach Gardens | Palm Beach | 55.3 sq mi (143.3 km2) |
| Palm Beach Shores | Palm Beach | 0.4 sq mi (1.0 km2) |
| Palm Coast | Flagler | 51.7 sq mi (133.9 km2) |
| Palm Shores | Brevard | 0.5 sq mi (1.3 km2) |
| Palm Springs | Palm Beach | 1.7 sq mi (4.3 km2) |
| Palmetto | Manatee | 4.4 sq mi (11.5 km2) |
| Palmetto Bay | Miami-Dade | 8.8 sq mi (22.6 km2) |
| Panama City | Bay | 26.7 sq mi (69.1 km2) |
| Panama City Beach | Bay | 7.0 sq mi (18.2 km2) |
| Parker | Bay | 2.4 sq mi (6.3 km2) |
| Parkland | Broward | 10.8 sq mi (27.9 km2) |
| Paxton | Walton | 4.0 sq mi (10.3 km2) |
| Pembroke Park | Broward | 1.8 sq mi (4.6 km2) |
| Pembroke Pines | Broward | 34.4 sq mi (89.2 km2) |
| Penney Farms | Clay | 1.4 sq mi (3.6 km2) |
| Pensacola | Escambia | 39.7 sq mi (102.7 km2) |
| Perry | Taylor | 9.3 sq mi (24.1 km2) |
| Pierson | Volusia | 8.7 sq mi (22.7 km2) |
| Pinecrest | Miami-Dade | 7.6 sq mi (19.6 km2) |
| Pinellas Park | Pinellas | 14.9 sq mi (38.7 km2) |
| Plant City | Hillsborough | 22.7 sq mi (58.9 km2) |
| Plantation | Broward | 21.9 sq mi (56.8 km2) |
| Polk City | Polk | 0.8 sq mi (2.0 km2) |
| Pomona Park | Putnam | 3.3 sq mi (8.6 km2) |
| Pompano Beach | Broward | 25.8 sq mi (66.8 km2) |
| Ponce de Leon | Holmes | 5.0 sq mi (12.8 km2) |
| Ponce Inlet | Volusia | 14.6 sq mi (38.0 km2) |
| Port Orange | Volusia | 26.7 sq mi (69.1 km2) |
| Port Richey | Pasco | 2.7 sq mi (7.1 km2) |
| Port St. Joe | Gulf | 3.3 sq mi (8.6 km2) |
| Port St. Lucie | St. Lucie | 76.7 sq mi (198.6 km2) |
| Punta Gorda | Charlotte | 18.5 sq mi (47.9 km2) |
| Quincy | Gadsden | 7.6 sq mi (19.7 km2) |
| Raiford | Union | 0.5 sq mi (1.4 km2) |
| Reddick | Marion | 1.2 sq mi (3.2 km2) |
| Redington Beach | Pinellas | 1.3 sq mi (3.3 km2) |
| Redington Shores | Pinellas | 1.2 sq mi (3.1 km2) |
| Riviera Beach | Palm Beach | 9.8 sq mi (25.5 km2) |
| Rockledge | Brevard | 12.2 sq mi (31.5 km2) |
| Royal Palm Beach | Palm Beach | 10.1 sq mi (26.1 km2) |
| Safety Harbor | Pinellas | 5.0 sq mi (13.0 km2) |
| San Antonio | Pasco | 1.2 sq mi (3.2 km2) |
| Sanford | Seminole | 22.6 sq mi (58.5 km2) |
| Sanibel | Lee | 33.2 sq mi (85.9 km2) |
| Sarasota | Sarasota | 25.9 sq mi (67.2 km2) |
| Satellite Beach | Brevard | 3.4 sq mi (8.8 km2) |
| Sea Ranch Lakes | Broward | 0.2 sq mi (0.6 km2) |
| Sebastian | Indian River | 13.5 sq mi (35.1 km2) |
| Sebring | Highlands | 11.0 sq mi (28.5 km2) |
| Seminole | Pinellas | 2.7 sq mi (7.0 km2) |
| Sewall's Point | Martin | 4.1 sq mi (10.7 km2) |
| Shalimar | Okaloosa | 0.3 sq mi (0.8 km2) |
| Sneads | Jackson | 4.6 sq mi (12.0 km2) |
| Sopchoppy | Wakulla | 1.5 sq mi (3.9 km2) |
| South Bay | Palm Beach | 3.7 sq mi (9.6 km2) |
| South Daytona | Volusia | 4.9 sq mi (12.5 km2) |
| South Miami | Miami-Dade | 2.3 sq mi (6.0 km2) |
| South Palm Beach | Palm Beach | 0.3 sq mi (0.8 km2) |
| South Pasadena | Pinellas | 1.2 sq mi (3.0 km2) |
| Southwest Ranches | Broward | 13.0 sq mi (33.7 km2) |
| Springfield | Bay | 4.2 sq mi (10.7 km2) |
| St. Augustine | St. Johns | 10.7 sq mi (27.8 km2) |
| St. Augustine Beach | St. Johns | 1.9 sq mi (5.0 km2) |
| St. Cloud | Osceola | 9.2 sq mi (23.7 km2) |
| St. Leo | Pasco | 1.9 sq mi (4.9 km2) |
| St. Lucie Village | St. Lucie | 0.8 sq mi (2.1 km2) |
| St. Marks | Wakulla | 1.9 sq mi (5.0 km2) |
| St. Pete Beach | Pinellas | 19.8 sq mi (51.5 km2) |
| St. Petersburg | Pinellas | 132.6 sq mi (344.7 km2) |
| Starke | Bradford | 6.7 sq mi (17.3 km2) |
| Stuart | Martin | 8.5 sq mi (22.0 km2) |
| Sunny Isles Beach | Miami-Dade | 1.4 sq mi (3.6 km2) |
| Sunrise | Broward | 18.4 sq mi (47.7 km2) |
| Surfside | Miami-Dade | 1.0 sq mi (2.5 km2) |
| Sweetwater | Miami-Dade | 0.8 sq mi (2.1 km2) |
| Tallahassee | Leon | 103.1 sq mi (267.0 km2) |
| Tamarac | Broward | 11.9 sq mi (30.8 km2) |
| Tampa | Hillsborough | 170.6 sq mi (441.9 km2) |
| Tarpon Springs | Pinellas | 16.8 sq mi (43.8 km2) |
| Tavares | Lake | 7.5 sq mi (19.3 km2) |
| Temple Terrace | Hillsborough | 7.0 sq mi (18.0 km2) |
| Tequesta | Palm Beach | 2.2 sq mi (5.7 km2) |
| Titusville | Brevard | 26.0 sq mi (67.1 km2) |
| Treasure Island | Pinellas | 5.3 sq mi (13.8 km2) |
| Trenton | Gilchrist | 2.6 sq mi (6.7 km2) |
| Umatilla | Lake | 3.0 sq mi (7.9 km2) |
| Valparaiso | Okaloosa | 12.7 sq mi (33.0 km2) |
| Venice | Sarasota | 9.6 sq mi (25.0 km2) |
| Vernon | Washington | 4.7 sq mi (12.2 km2) |
| Vero Beach | Indian River | 12.9 sq mi (33.5 km2) |
| Virginia Gardens | Miami-Dade | 0.3 sq mi (0.8 km2) |
| Waldo | Alachua | 1.7 sq mi (4.5 km2) |
| Wachula | Hardee | 2.6 sq mi (6.8 km2) |
| Wausau | Washington | 1.1 sq mi (2.9 km2) |
| Webster | Sumter | 1.3 sq mi (3.4 km2) |
| Weeki Wachee | Hernando | 1.0 sq mi (2.7 km2) |
| Welaka | St. Johns | 1.4 sq mi (3.6 km2) |
| Wellington | Palm Beach | 45.0 sq mi (116.6 km2) |
| West Melbourne | Brevard | 7.8 sq mi (20.3 km2) |
| West Miami | Miami-Dade | 0.7 sq mi (1.8 km2) |
| West Palm Beach | Palm Beach | 58.2 sq mi (150.7 km2) |
| West Park | Broward | 2.1 sq mi (5.4 km2) |
| Weston | Broward | 26.3 sq mi (68.1 km2) |
| Westville | Holmes | 7.5 sq mi (19.3 km2) |
| Wewahitchka | Gulf | 7.4 sq mi (19.3 km2) |
| White Springs | Hamilton | 1.8 sq mi (4.8 km2) |
| Wildwood | Sumter | 5.2 sq mi (13.4 km2) |
| Williston | Levy | 6.1 sq mi (15.7 km2) |
| Wilton Manors | Broward | 1.9 sq mi (5.0 km2) |
| Windermere | Orange | 1.1 sq mi (2.9 km2) |
| Winter Garden | Orange | 17.0 sq mi (44.0 km2) |
| Winter Haven | Polk | 25.4 sq mi (65.8 km2) |
| Winter Park | Orange | 8.7 sq mi (22.4 km2) |
| Winter Springs | Seminole | 14.4 sq mi (37.6 km2) |
| Worthington Springs | Union | 0.4 sq mi (0.9 km2) |
| Yankeetown | Levy | 20.3 sq mi (52.6 km2) |
| Zephyrhills | Pasco | 6.4 sq mi (16.4 km2) |
| Zolfo Springs | Hardee | 1.5 sq mi (3.9 km2) |