Bermuda Map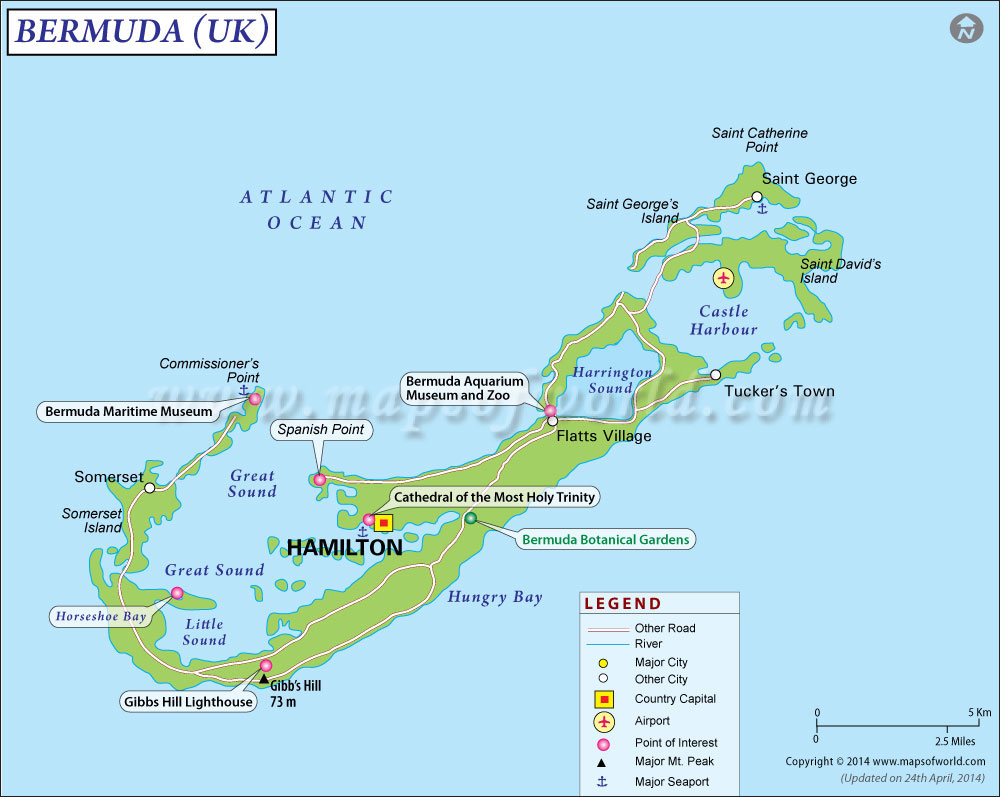 About Bermuda
Explore this Bermuda map to learn everything you want to know about this country. Learn about Bermuda location on the world map, official symbol, flag, geography, climate, postal/area/zip codes, time zones, etc. Check out Bermuda history, significant states, provinces/districts, & cities, most popular travel destinations and attractions, the capital city's location, facts and trivia, and many more.
Vacation to the land of promising booty engulfed within the fine grains of pink sand beaches and striking crystal blue waters and discover the splendor behind the untold prospects awaiting to surprise you in Bermuda.
This island is constituted with strings of island connected together through causeways and bridges. As you holiday in the Bermuda Island, rent a pleasure craft or a fishing boat where tourist may amuse themselves by being a part to the game fish which is quite popular in the region. Be it sailing in calm waters of Paget and Warwick or exploring the world of dolphins, taking a Wildcat adventure ride or strolling along the stretch lands of silent shorelines that are covered with coral reefs, this place has enough to offer. One can be a sport to the outdoor adventures like windsurfing, parasailing and water skiing that are safe to bet on.
Location of Bermuda
Bermuda is nestled in North Atlantic Ocean lying to the east-southeast of Cape Hatteras adjacent to the Outer Banks of North Carolina , roughly towards the southeast of Martha's Vineyard off the caost of United States.
Physical Map of Bermuda
Bermuda comprises of several islands and islets with low-lying hills that was been alienated by fertile depressions. There are about 360 small coral islands survived with ample rainfall.
Climate of Bermuda
Enjoy the placid sub tropical climatic condition with seldom heat or cold all round the year. With average rainfall with about 4 inches a month, this place provides you with cooler nights and warmer hours of daylight.The ocean wind is usually affected by the Gulf Stream and with the south winds find the humidity rise in the air that brings along thunderstorms. The hot humid climate in Bermuda prevails from the month of July and August.
Flora and Fauna of Bermuda
Travel to this horticultural paradise, a fertile land where innumerable, colorful native plants survives.Some of the prevalent native trees are namely Bermuda cedar, olivewood bark and the Bermuda palmetto, the loquat, royal poinciana, screw pine, paw-paw, cassava and banana.
Stopover at Bermuda Botanical Garden that mainly display different varieties of trees, flowers and shrubs. Watch out for native palmetto trees, hibiscus garden, frangipani assortments, banyan trees and range of ficus. The in house greenhouse has the collections of cacti and orchids.
Among the native animal, the giant toad is the most spectacular amphibian that can be sighted often. Snorkel to discover sea lives like parrotfish, angelfish, four-eyed butterfly fish and sergeant majors. Watch for Humpback whales at South Shore from the month of late February to May that can be spotted from Gibbs Hill Lighthouse.
Visit the Bermuda Aquarium, Museum and Zoo that was founded in 1926, which is a wonderful; tourist destination. Migratory birds can be sighted during the fall and winter, especially from Spittal Pond Nature Reserve. Watch for birds like white-eyed vireo, kiskadee and cahow.
People of Bermuda
Bermudians were traders and were known for building swift ships for carrying large cedar across the land of West Indies and west to the United States. Bermuda people are known for their practicality, especially of a cosmopolitan nature, famous for their witty intelligence. There are about 67,000 people who traveled till here and whose inheritance can be well traced from Britain, to Africa, to the Azores, North America and the West Indies.
Arts, Culture And Music of Bermuda
Art: Visit the Bermuda Festival of the Performing Arts, which is held during winter season where one can catch up with the local theater, dance, art and music. The Bermuda National Gallery exhibits primitive European paintings, African masks and sculptures; Bermudian furnishings; and historic paintings. Do visit the Bermuda Glassblowing Studio At Bailey's Bay where you can gaze how the local artists collect, theme based color and shapes the hot glass with traditional techniques. The life-size bronze sculptures of human figure can be well enjoyed at the Desmond Fountain Gallery.
Culture: Learn about the cultural aspect of Bermuda who originated from African and European descent. The Asians thrived in small percentage within the population. The localities were fun loving and peaceful people who loved protocol, pomp and ceremony. Kite flying was a major custom that was followed during the easter months.
Music: The tradition music of the island came from the Irish and Scottish descendants, who brought in steelpan, calypso, choral and bagpipe music. The island is known for gospel music, drum majorette bands, reggae, jazz and much more. Find Caribbean music groups especially the famous Bermuda Strollers thriving within United States. One gets to mesmerize in the folk ethnicity through the pipe bands, the ballad song and the gombey dance, which includes rhythmic chanting and rapid drumbeat.
The Bermuda Flag came into existence on 4 October 1910. The flag is designed with British Red Ensign with Union Flag in upper left corner and in the lower right exists the Bermuda coat of arm symbol.
Economy of Bermuda
The existing currency exchanges are done in Bermuda dollar, which is slightly different to the American dollar. The economic growth of Bermuda mainly depends on international business with thriving companies like Accenture Ltd., Tyco International Ltd., Foster Wheeler Ltd., Ingersoll-Rand Company Ltd and many others. Apart from this , the economy thrives on tourism and exports of manufactured goods and foodstuffs and fishes.