Map of Northern Ireland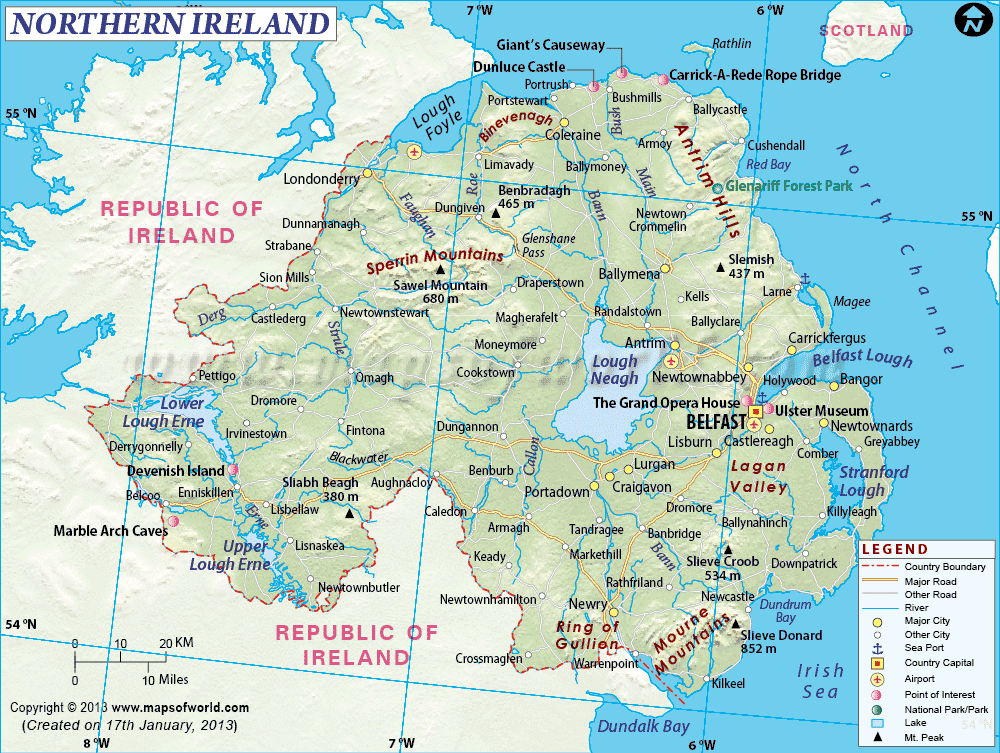 Northern Ireland is one among the four countries that constitutes the United Kingdom. Located to the northeast side of Ireland, it turned out to be a distinct legal entity on 3 May 1921. In 1949, the government of Northern Ireland and UK made a proposal to change the name of Northern Ireland; however, even after much consideration its original name was retained.
Historically, Northern Ireland witnessed antagonism and prejudice between the protestants, on the one hand, who were the descendants of Great Britain colonies and wanted to remain associated with the UK and the Catholics, on the other hand, who wanted a sovereign Ireland, free from British rule. During the late 1960s, dissension grew so much that it eventually led to violence of three decades called as The Troubles. It caused more than 50,000 casualties and lives of more than 3,000 people. The 1998 agreement of Good Friday was a major step towards establishing peace. Nonetheless, religious schisms and sectarianism continued to remain serious social issues.
Neighboring Countries and Major cities
The country shares a border to the west and the south with the Republic of Ireland. Besides, it is also home to some of the major countries like Belfast, Londonderry, Lisburn, Bangor, Newtownabbey, Castlereagh, and Craigavon.
Geographical Feature
The country was shielded by an ice sheet for ages; and even today one can witness the same legacy in the counties of Armagh, Fermanagh, Antrim, and especially Down. Rathlin is the largest island of this country and lies at the north Antrim Coast. The biggest fresh water lake, Lough Neagh, is the central feature of Northern Ireland's topography, which is both on the Britain Isles and the island of Ireland.
Rivers
Northern Ireland is home to various rivers including River Bann (the longest river of Northern Island), River Lagan, River Blackwater, and River Foyle.
Mountain Peaks
It is true that Northern Ireland is not a mountainous region; the country is certainly home to a couple of small mountain ranges as well as stand-alone peaks. The major mountains in Northern Ireland are as follows:-
Slieve Donard – 2,789 feet (The highest peak of Northern Ireland and a part of the Mourne Mountains)
The Sperrin Mountains – 2,224 feet (The highest peak is Sawel Mountain)
Slemish Mountain – 1,500 feet
Sea ports
Northern Ireland is categorized under the island nations and is largely dependent on the sea ways when it comes to trading products and services. The country is home to five commercial ports:-
Public Trust Port of Belfast
Public Trust Port of Londonderry
Public Trust Port of Warrenpoint
Public Trust Port of Coleraine
Port of Larne (privately owned)
Other Physical Feature
The landforms of this country are influenced by the Ice Age glaciers. The topography constitutes of low mountains and rounded hills, which are separated from each other by broad valleys.
Points of Interest
The country is not too famed for being a popular tourist destination. In spite of this, people visiting Northern Ireland will find a number of things to explore. The country carves a niche for its scenic beauty, lush valleys, and rocky coasts. Here's a list of major attractions that one cannot afford to miss out on the trip to Northern Ireland:
National Parks
Oxford Island
Rathlin Island
Scrabo Tower and Country Park
Glenariff Forest Park
Gosford Forest Park
Carnfunnock Country Park
Giants Causeway
Marble Arch Caves Global Geopark
Island Magee
Kilbroney Forest Park
Silent Valley Country Park
Tollymore Forest Park
Beaches
In Northern Ireland, one can explore some of the most remarkable beaches of Europe. The beaches make a mark for their striking coastline formations and sand dunes. These include:-
Portrush Whiterocks Beach
Ballyholme Beach
Tyrella Beach
Ballycastle Beach
Warrenpoint Beach
West Strand Beach
Castlerock Beach
Downhill Beach
Other Attractions
On the tour to Northern Ireland, some of the other must visit attractions include: Armagh Planetarium, Navan Center and Fort, Ulster Folk and Transport Museum, Ulster American Folk Park, Old Layde Church, The Argory, Ballycopeland Windmill, Belfast Zoo, Binders Cove, and Castle Espie.
Transportation
By air:

The country is home to three commercial airports, namely, the George Best Belfast City Airport, Belfast International Airport, and City of Derry Airport.

By train:

Northern Ireland Railways maintains a well controlled rail network across the province. There are four domestic lines that deviate from Belfast to Bangor, Portadown, Larne, and Londonderry, respectively.

By car:

By road, Northern Ireland is linked with the Republic of Ireland. But then, one must make sure to pay the needed attention to various road signs while driving on the border regions.

By boat:

Ferries from Great Britain to Belfast or Larne cross the Irish Sea in this country. Some of the operators whom you can count on, include, Stena Line, Norfolk Line, and P&O.