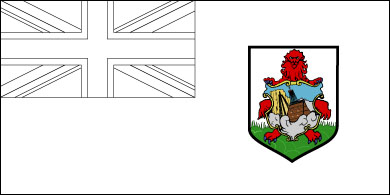 Download Picture of Blank Bermuda Flag For Kids to Color
The flag of Bermuda is one of the national symbols of Bermuda. As a British overseas territory, Bermuda's flag features the United Kingdom flag in the upper left.
In the middle of the right side of the Bermudan flag, is the Bermudan coat of arms. The coat of arms features a white and green shield with a red lion holding a shield that depicts a wrecked ship.
The shield shows the sinking of the ship Sea Venture of Bermuda about one mile off the coastline in the summer of 1609.
| | |
| --- | --- |
| Official Name: | The Bermudas or Somers Islands |
| Proportion: | 1:2 |
| Adopted on: | October 4, 1910 |
| Location of Bermuda: | Situated off the east coast of the United States, to the south of Halifax, Nova Scotia, and Canada, and north-east of Miami |
| Capital City: | Hamilton |
| Major Cities: | Devonshire, St George, Warwick, Pembroke |
| Area: | 20.6 square miles |
| Population: | 61,776 |
| Currency: | Bermudian dollar (BMD) |
| Official Language: | English |
| National Anthem: | God Save the Queen |
| National symbol(s): | red lion |
| National anthem: | |
| Name: | "Hail to Bermuda" |
| Lyrics/Music: | Bette JOHNS |