Map of England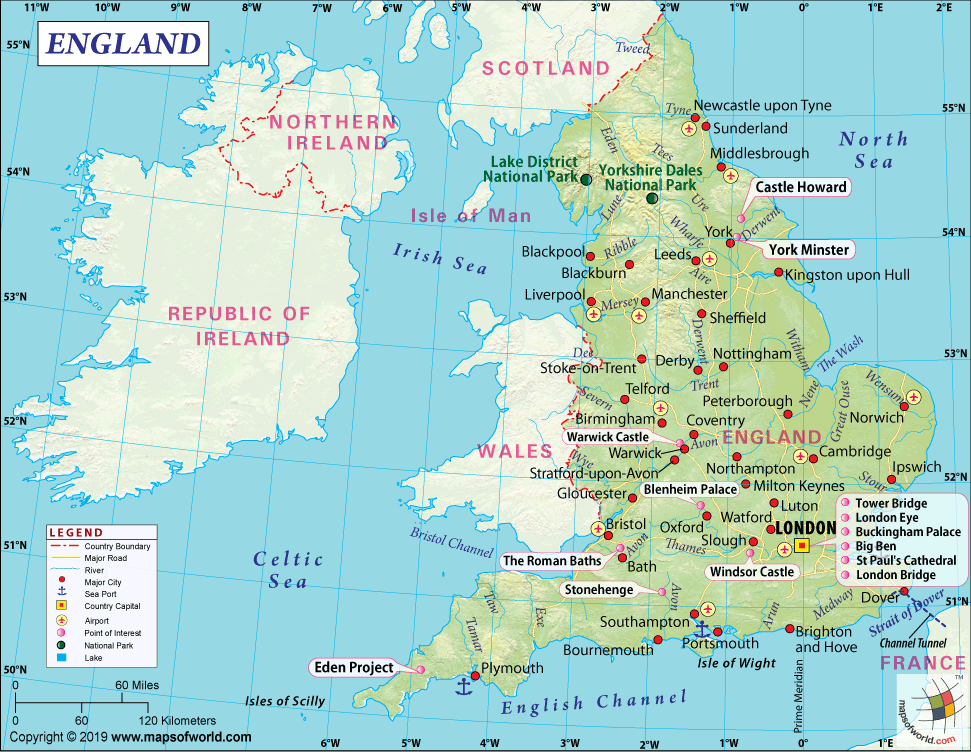 The map of England represents that England is the largest country in the United Kingdom (UK), It is located on the European continent as shown in the map of England. The official name of UK is the United Kingdom of Great Britain and Northern Ireland, with England occupying most of the island of Great Britain. England Map depicts that the country is bordered by its UK neighbors, Scotland and Wales, and is physically separated from Northern Ireland by the Irish Sea to its west, and from the continent of Europe by the English Channel to its south. England covers 50,301 square miles, and has a population of over 53 million people, according to the 2011 census. London is the capital of England and its largest city as shown in the England Map.
About England
Home to the well-known clock tower, Big Ben, and famous for its rich history, the United Kingdom has been the subject of fascination since around 6500 BC. The country accommodates more than 60 million inhabitants. With 50 million residing in England, 3 million in Wales, 5 million in Scotland, and 1.8 million in Northern Ireland, the different countries are depicted in the map of England. The terms 'England,'Great Britain,' and the 'United Kingdom' are often used interchangeably: The United Kingdom of Great Britain and Northern Ireland, is a sovereign state, and it includes the countries of England, Wales, Scotland, and Northern Ireland as shown in the England Map. It's similar to the states in US, with each state possessing its own laws, but ultimately being under the federal government's jurisdiction.
Each country in the UK has its own laws, but it is ultimately answerable to the United Kingdom. Great Britain consists of England, Wales, and Scotland, as shown on the map of England.
Because of its royal history and rich culture, England is popular with tourists and locals alike. Covering an area of 50,000 square miles (the United States is 74 times this size) and housing 50 million people, the European country is known for its dreary, rainy weather, and temperate climate. The capital is London and is pinpointed in the map of England. England's flag is a red cross on a white background, and it is featured prominently on the Union Jack flag of the United Kingdom. England is a constitutional monarchy, which means it's ruled by the Queen, who is Head of State, and the Prime Minister, who is Head of Government.
Location of England
Looking at the political map of England, it's clear that England lies to the southeast of Scotland, and to the east of Wales. Northern Ireland is the only country of the United Kingdom that does not share any boundaries with any of the state's countries as shown in the England Map.
| | |
| --- | --- |
| Geographic Coordinates: | 54 00 N, 2 00 W |
| Area: | 130,279 sq km , 50,301 sq miles |
| Population: | 54,786,300 (2015) |
| Capital City: | London |
| Major Cities: | Birmingham, Leeds, Liverpool, Manchester, Sheffield |
| Official Language: | English |
| Currency: | Pound Sterling (£) |
| GDP (2015) | Total – $2.340 trillion and Per Capita – $56,890 |
| National Day: | 23 April |
| Main Religions: | Church of England, Catholic, Methodist, Muslim, Jewish, Sikh and Hindu. |
| Ethnic Groups (2011) | 85.4% White, 7.8% Asian, 3.5% Black, 2.3% Mixed, 0.4% Arab and 0.6% Other |
| Motto: | Dieu et mon droit (God and my right) |
| Anthem (Song): | God Save the Queen |
| Highest Point: | Scafell Pike 978 m (3208 ft) |
| Lowest Point: | The Holme Fen, 2.75 metres (9.0 ft) below sea level |
| Longest River: | Thames – Length (346 km) (215 Miles) |
| Largest Lake: | Windermere (Area 5.69 sq mi) |
| Highest Waterfall: | Cautley Spout – 76 metres height |
| Tallest Building: | The Shard (London), 310 metres (1016 feet) high, 87 floor |
| The Busiest Airport: | London Heathrow, with 70 million passengers. |
| Official Animal | Lion |
| Official Tree | Oak tree |
| Drives on the | Left |
| Calling Code | +44 |
| ISO Code | GB-ENG |
| Time Zone : | GMT/UTC 0 and Summer – BST (UTC+1) |
Geography of England
English geography is generally flat, with fertile lands and gorgeous hills & moors in the west and the north. The beaches on the coastlines are long, and full of of sand, coves, and cliffs.
English people were originally Anglo-Saxons. Most people in England speak English as their first language, but you'll find a lot of Polish, Bengali, and even Punjabi speakers too (immigration from the Indian subcontinent is reaching an all-time high). England was invaded by a whole range of people, from Romans and Vikings to Normans and Celts. The English went on to colonize far off regions on the map, such as Tonga, India, Sudan, Australia and yep, even the United States, as known throughout history.
Religion
A lot of the Brits are Protestants, although there are sizable numbers of Catholics, Methodists, Baptists, and other Christians. A small proportion of the population are Jewish, Muslim, or Hindu.
Economy of England
England's economy is mixed: resources are owned by both the private sector and the government. It is the largest economy in the United Kingdom, with a GDP of US$ 2.638 trillion (World Bank, 2017). Citizens use the British pound as currency, and main English products are cereals, potatoes, manufactured goods, and fuels.
Places of Interest in England
Beyond geography and history, what attracts people to visit England? Why do tourists place their fingers on this particular spot on the map? We'll tell you why they don't: the weather. England gets over 45 inches (1154 mm) of rain each year…it's a pretty wet place. But if you visit any time between June and September, you can enjoy (mostly) sunny days with warm temperatures reaching nearly 80 degrees (25 degrees C).
Because of its age, England has accumulated a long history; the architectural sites around the country can attest to this fact as shown in the England Map with a number of well known places to visit.
The Stonehenge
in Wiltshire is a ring of stones and is located on the map of England, and the reason behind its construction is still not fully known. The largest stones soar to heights of 30 feet and weigh 25 tons each. Theories for its construction include ritualistic performances, celestial observations, or even a healing place.
London's
St Paul's Cathedral
is one of the world's largest churches and is a popular site to visit while in London and is located in the map of England. It was the tallest until 1962. The Whispering Gallery in the Cathedral is the most popular spot; a whisper against the wall carries to a distance of more than 100 feet away. Painters as renowned as Canaletto and Pissaro have contributed to the art in the church.
England's most famous, and world's tallest clock, is Big Ben.
England's geography bolsters seaside resorts. Look at the map of England, and you'll see that the only parts not surrounded by water are those where the country shares its borders with Scotland and Wales. Bournemouth, Brighton, and Blackpool beaches are just a few that England has to offer, and can be located on the England Map.
People can take countless rides in the amusement park at Blackpool, party hard to the hippest songs in clubs at Bournemouth, or search for some sun in Brightone. The three places in London are located on the England Map. Other famous beaches are Newquay, Camber, and Crantock.
Nightlife is a quite popular in England.
Cocktail bars, English pubs, inns, breweries, cafes, bars or just a plain nightclub for the hardy party goers, the English country has it all. In London represented on the map of England, there are over 16,000 clubs and pubs alone!
And if you're wondering where to stay, there are a number of affodable, easily available hotels and guesthouses that cater to your accommodation needs. Despite being an island-country, England is quite accessible with one of the world's most fast-paced airports, London's Heathrow Airport.
Here are some interesting facts about England we're willing to bet you didn't know:
English people consume the most tea in the entire world.
The first zoo in the world was opened here in 1828.
Before English took over, French was England's official language for a nearly 300 years (1066 to 1362).
If you're in England and you accidentally put a postage stamp of the queen's head upside down on a letter, you'll be tried for treason.
You thought Americans owned mac and cheese? The earliest known mac and cheese recipe originated from England in the 14th century!
Stock up on more knowledge of England, which is definitely one of the world's most fascinating countries. Get your hands on the political map of England now, so you don't miss out on any more facts on England.