UK Regions Map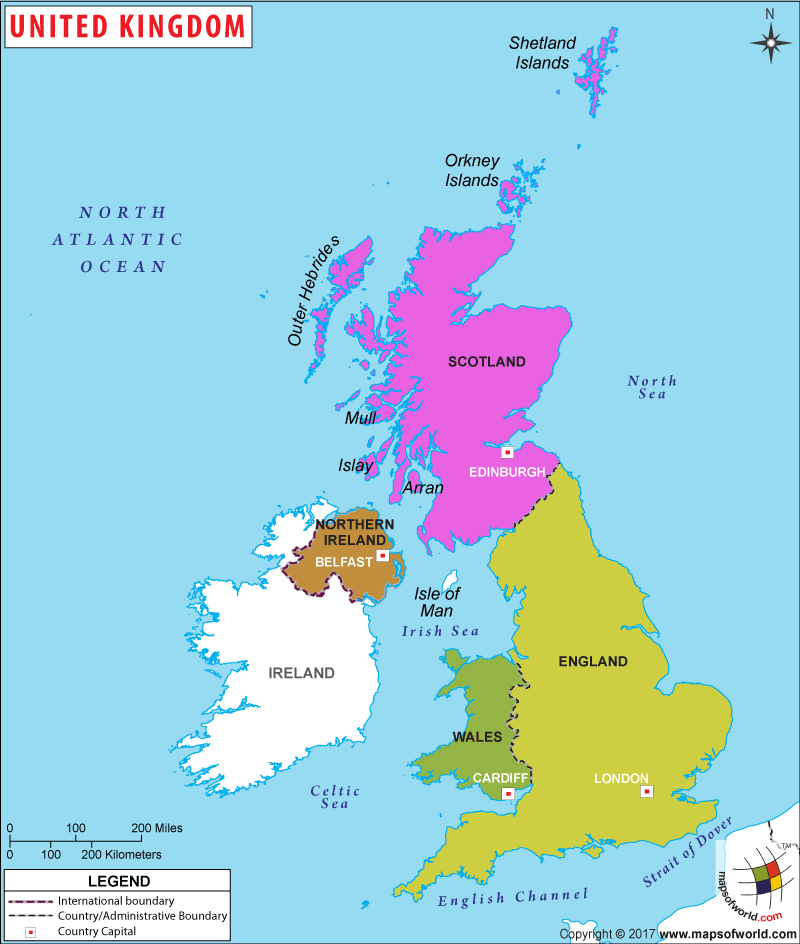 Explore the United Kingdom region map to know about the places here. Other maps that you can explore are Northern Ireland Region map, Scotland Region map, Wales Region map, map of Ireland etc.
Map of United kingdom Regions
Many of us have the confusion about the terms Great Britain and United kingdom; but do not worry just check out the given United kingdom map, it clearly depicts all the four regions that constitute United kingdom. Map of United kingdom includes England, Wales, Scotland, and Northerner Ireland; all these regions are shown on the United kingdom region map with their boundaries. However, as you can see on UK map, Northern Ireland is northern part of Ireland island and hence separated from the mainland of other three regions of UK through Irish Sea. Above all, these four regions are shown with different eye catching colors on the United kingdom map.
Map of United kingdom illustrates its location; so, you can clearly find it that it is located in the western part of the Europe continent. The entire region is situated in the North Atlantic Ocean; namely, North Sea in the north and east, English Channel in the south, and Irish Sea in the west. London is the capital city of UK located in the south England region as shown on the United kingdom map. All four regions shown on UK map are centrally governed by the UK parliament located at London. Nonetheless, all four regions have their own political identities and have local government that govern their respective regions.
Historically, UK is one of the most and earliest developed countries of Europe as well as of world. Currently, it has the sixth largest economy along with highly developed industries. For the education purpose, UK has had some of the oldest universities including Oxford University, and Cambridge University where students from many countries of the world prefer to go for their higher studies.
If we talk about the United kingdom tourism then UK is one the most favorite tourists' destinations of the world. Tourists from all corners of the world love to visit London city. The attractions for the tourists in UK are:
Stately Homes Palaces & Castles
Amusement & Theme Parks
Museums & Galleries
Churches, Abbeys & Cathedrals
Historical sites &
Shopping malls
Moreover, United kingdom map is beneficial not only for the students and teachers but also helpful for the tourists.
List of United Kingdom Regions by Population
| Rank | Name | Population (2015) | Area (Miles) |
| --- | --- | --- | --- |
| 1 | England | 54,786,327 | 50,346 |
| | | 8,673,713 | 607 |
| | | 8,947,913 | 7,373 |
| | | 6,076,451 | 5,469 |
| | | 5,471,800 | 7,382 |
| | | 7,173,835 | 5,019 |
| | | 4,677,038 | 9,200 |
| | | 5,751,000 | 5,954 |
| | | 5,390,576 | 6,034 |
| | | 2,624,621 | 3,317 |
| 2 | Scotland | 5,373,000 | 30,414 |
| 3 | Wales | 3,099,086 | 8,023 |
| 4 | Northern Ireland | 1,851,621 | 5,345 |
| | United Kingdom | 65,110,034 | 94,127 |