Great Britain Map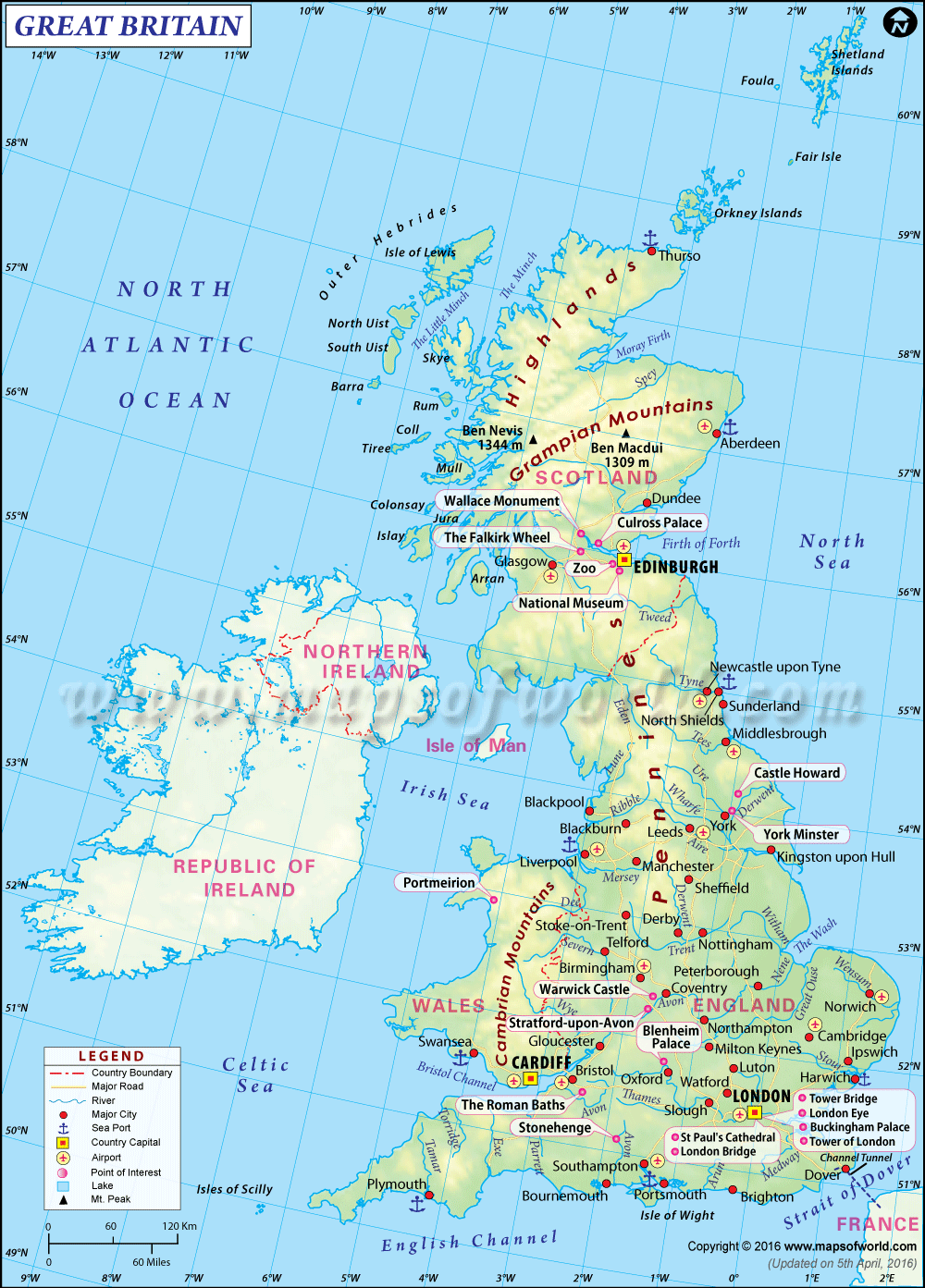 Great Britain is a broad term that generally refers to not only England but Scotland and Wales as well. Some important facts about this region include; population, major cities, geographical position, top travel destinations, climatic conditions, economy, government, people and culture, as well as natural divisions.
Population
According to the UN, Great Britain has a population of approximately 65,344,000 people. This is equivalent to 0.9% of the worlds population. Britain's population density is 701 people /per square mile, or 271 people / square kilometer. These people live on a land area of approximately 93,000 square miles / 242,000 square kilometers.
About 54,000,000 people or 82% of the GB population live in urban areas, with the remaining 18% residing in rural areas. By the year 2020, and 2030, Great Britain's population is expected to grow to 66,700,000 and 70,113,000 people respectively.
Geographical position
The United Kingdom is geographically positioned off the NW coast of continental Europe. It occupies the larger part of British Isles archipelago. The UK comprises of Great Britain Island, the northeast 1/6 of the Ireland Island, as well as several surrounding islands.
Great Britain is strategically located between the North Sea and the North Atlantic. The Republic of Ireland and the UK share a 310 mile (499 kilometer) land boundary.
Climatic conditions
Are you aware that different regions of Great Britain experience dramatically different climatic conditions? The northwestern region is characterized by cool summers, heavy rainfall throughout the year, and mild winters. Whereas the northeastern region is characterized by cool summers, steady rain, and cold winters. The southwestern region experiences warm summers, light rainfall, and mild winters, while the southeastern area generally experiences warm summers, heavy rainfall throughout the year, and mild winters.
Natural divisions
Great Britain is divided into bio-geographical zones that reflect different geological foundations and wildlife.
Did you know…the UK comprises of 120 natural areas? These areas range from The Fens to the North Penninnes, the Lizard as well as the Dorset Heaths.
Britain can be broadly classified into the following natural areas: North East, Southwest, Northwest, Southeast, Yorkshire, East of England, West Midlands, as well as East Midlands.
Economy
The Pound Sterling is the currency used in Great Britain. The country is, at the moment, a member of the European Union, and World Trade Organization.
The base borrowing rate is 0.25%, and approximately 15% of the population lives below the poverty line. The UK has an impressive labor force that comprises 32 million people, with an unemployment rate of only 4.8%.
For business, Britain is ranked 7th globally. Industries that substantially contribute to the economy are; aerospace, consumer goods, agriculture, chemicals, automotive, and professional services.
The government
In the UK, the Prime Minister is responsible for overseeing operations in the civil service, as well as other government agencies. The current PM is Theresa May. Currently there are 120 ministers, they consist of the prime minister, twenty-two cabinet ministers, and ninety-seven other ministers.
People and culture
The culture in Great Britain is primarily influenced by its historical background as a developed country, major power, and liberal democracy. Most people are Christians.
UK's culture is also influenced by Europe's wider culture as well as humanism, representative democracy, and Protestantism, that was developed from the broad Western culture. British literature, education, music, architecture, cinema, philosophy, art, media, theater, and comedy are very important components of the British life.
Top travel destinations
The following are the top ten travel destinations in the United Kingdom for domestic and foreign tourists:
1. Yorkshire
2. Brighton
3. Cotswolds
4. Bath
5. Devon
6. Cornwall
7. Lake District
8. London
9. Norfolk
10. Suffolk
Some of the top hotels are listed here:
Yorkshire's Swinton Park and Middlethorpe Hall & Spa
Brighton's YHA Brighton and Artist Residence Brighton
Cotswolds' The Old Swan & Minster Mill and Barnsley House
Bath's SACO Bath and the Queensbery Hotel
Devon's Bovey Castle and Red Lion-Clovelly
Cornwall's Watergate Bay and the Scarlet
Lake District's Cuckoo Brow Inn and Brimstone @ Langdale
London's Brown's Hotel and Zetter Townhouse
Norfolk's Blakeney Hotel and Congham Hall Hotel
Suffolk's Swan in Southwold and the Bildeston Crown
Other popular travel destinations include: London, Manchester, Edinburg, Glasgow, Liverpool, York, Llandudno, Torquay as well as Blackpool.
Cities in Great Britain
Did you know…that the United Kingdom has 69 cities? Are you also aware that England, Scotland, Wales, and Northern Ireland have fifty-one, seven, six, and five cities respectively?
The following is a list of cities found in Great Britain: Aberdeen, St. Albans, Bangor, Ripon, Bath, Belfast, Birmingham, Preston, Bradford, Brighton & Hove, Portsmouth, Bristol, Cambridge, Canterbury, Plymouth, Cardiff, Carlisle, Chelmsford, Peterborough, Chester, Coventry, Derby, Perth, Derry, Dundee, Durham, Oxford, Edinburg, Ely, Gloucester, Nottingham, Hereford, Inverness, Kingston, Norwich, Lancaster, Leeds, Leicester, Newport, Litchfield, Lincoln, Liverpool, Newcastle, City of London and Manchester, among other cities.