Oklahoma City Maps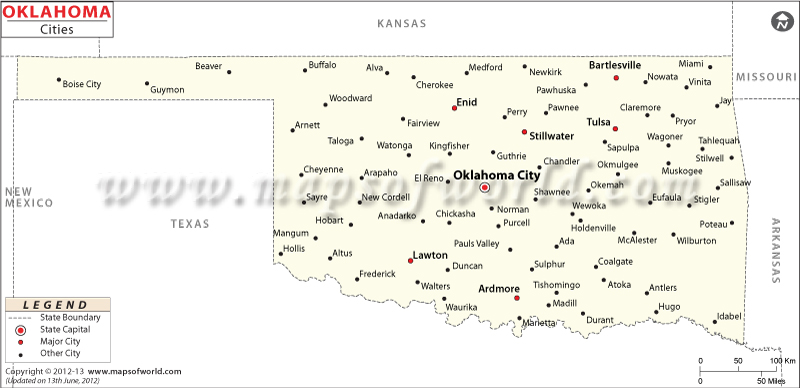 About Cities in Oklahoma
Referred as 'Sooner State' and 'Land of the Red Man', Oklahoma is located in south-central United States. The state is famous for windswept landscape, fresh farm produce, Western and Native American cultures, and mouthwatering food.
Oklahoma City is the capital and the largest city of the state. It features one of the largest livestock markets in the world. Often called "Oil Capital of the World", Tulsa is known for art deco architecture and a hub of the American oil industry. The Tulsa State Fair and Oktoberfest are major events in the city.
Home to the University of Oklahoma, Norman lies within Tornado Alley. Lawton, Edmond, and Stillwater are other cities in Oklahoma worth visiting.
Getting In and Around
Will Rogers World Airport (OKC) and Tulsa International Airport (TUL) are major international gateways to the state. Amtrak's Heartland Flyer runs daily between Oklahoma City and Fort Worth in Texas. Interstate Highways (I-35, I-40, and I-44) along with U.S. Highways (US 64, US 412, US 270, and US 62) create a dense road network.
List of Cities in Oklahoma
City Name
County Name
Population
(2011)
Oklahoma City
Oklahoma
591,967
Tulsa
Tulsa
396,466
Norman
Cleveland
113,273
Broken Arrow
Tulsa
100,073
Lawton
Comanche
98,177
Edmond
Oklahoma
82,963
Moore
Cleveland
56,315
Midwest City
Oklahoma
55,427
Enid
Garfield
49,451
Stillwater
Payne
46,048
Muskogee
Muskogee
39,231
Bartlesville
Washington
36,099
Shawnee
Pottawatomie
30,212
Owasso
Tulsa
29,854
Ponca City
Kay
25,168
Ardmore
Carter
24,553
Duncan
Stephens
23,507
Yukon
Canadian
23,491
Del City
Oklahoma
21,746
Bixby
Tulsa
21,137
Sapulpa
Creek
20,691
Altus
Jackson
19,814
Bethany
Oklahoma
19,406
Sand Springs
Tulsa
19,140
Claremore
Rogers
18,745
McAlester
Pittsburg
18,306
Mustang
Canadian
18,002
Jenks
Tulsa
17,130
El Reno
Canadian
17,268
Ada
Pontotoc
16,942
Chickasha
Grady
16,210
Durant
Bryan
16,097
Tahlequah
Cherokee
16,021
Miami
Ottawa
13,577
Okmulgee
Okmulgee
12,283
Woodward
Woodward
11,944
Elk City
Beckham
11,789
Guymon
Texas
11,823
Choctaw
Oklahoma
11,364
Weatherford
Custer
10,939
Glenpool
Tulsa
10,938
Guthrie
Logan
10,345
Warr Acres
Oklahoma
10,238