Map of Oklahoma with Cities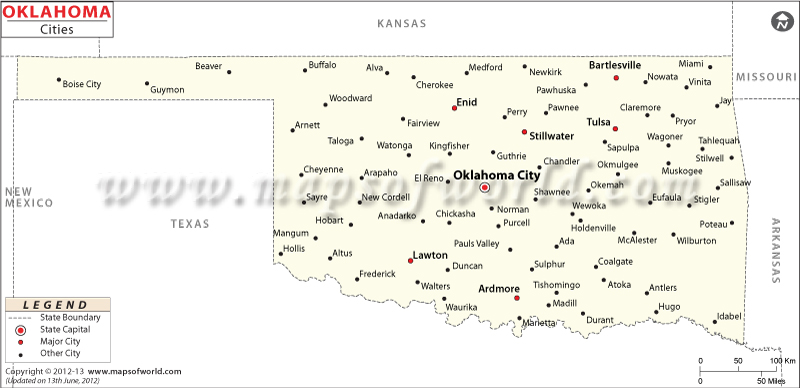 Map of Oklahoma Cities
Learn all about the different cities in Oklahoma with the Map of Oklahoma Cities. This map allows you to explore the various cities of the state of Oklahoma, making it easier to locate the cities on the map.
Cities in Oklahoma
Oklahoma has many cities, and each one has its own unique feel. Some cities are busy with lots of things to do and places to visit. Others are quiet and found in the peaceful countryside. The cities in Oklahoma have something for everyone. If you like peaceful nature, thrilling outdoor fun, or cool things to see in the city, you'll find something that you really enjoy. Whether you prefer the calm of nature, the thrill of outdoor activities, or the interesting sights of the city, there's something that will capture your interest.
How Many Cities are in Oklahoma
In total, Oklahoma is home to a diverse collection of 597 cities. Each city contributes to the rich tapestry of experiences available throughout the state. Whether you prefer the bustling energy of metropolitan areas or the close-knit warmth of small towns, Oklahoma's cities offer an array of choices to suit your preferences. You can easily pinpoint the location of each city on the Map of Oklahoma Cities.
Largest Cities in Oklahoma
The biggest cities in Oklahoma are bustling with excitement and offer plenty of chances to have fun and learn new things. Some of the most famous cities in Oklahoma include Oklahoma City, Tulsa, Norman, Broken Arrow, Lawton, and Edmond. These cities are known for their interesting things to do, special places to see, and lively arts and culture. It doesn't matter if you live there or you're just visiting, you'll have lots of opportunities to enjoy yourself and discover new experiences.
Safest Cities in Oklahoma
Some cities in Oklahoma really focus on keeping their residents safe and happy. They do things to make sure everyone feels protected and comfortable. Places like Owasso, Bixby, Jenks, Mustang, and Yukon are known for being some of the safest cities in Oklahoma. They put in a lot of effort to have very little crime and ensure that everyone feels really safe. This makes these cities great places for families and people who want to live well.
Best Cities to Live in Oklahoma
Oklahoma has some great cities to live in, each offering a really good life with lots of good things. Some of the best places to live in Oklahoma are Oklahoma City, Tulsa, Norman, Edmond, and Broken Arrow. These cities have a mix of good jobs, excellent schools, and fun things to do. It doesn't matter if you really like being outside, learning about interesting things, or enjoying cultural experiences, these cities have something for everyone. They make sure you have a happy and fun life.
Feel free to explore the Map of Oklahoma Cities to find and learn the location of all cities in Oklahoma.
List of Cities in Oklahoma

City Name
County Name
Oklahoma City
Oklahoma
Tulsa
Tulsa
Norman
Cleveland
Broken Arrow
Tulsa
Lawton
Comanche
Edmond
Oklahoma
Moore
Cleveland
Midwest City
Oklahoma
Enid
Garfield
Stillwater
Payne
Muskogee
Muskogee
Bartlesville
Washington
Shawnee
Pottawatomie
Owasso
Tulsa
Ponca City
Kay
Ardmore
Carter
Duncan
Stephens
Yukon
Canadian
Del City
Oklahoma
Bixby
Tulsa
Sapulpa
Creek
Altus
Jackson
Bethany
Oklahoma
Sand Springs
Tulsa
Claremore
Rogers
McAlester
Pittsburg
Mustang
Canadian
Jenks
Tulsa
El Reno
Canadian
Ada
Pontotoc
Chickasha
Grady
Durant
Bryan
Tahlequah
Cherokee
Miami
Ottawa
Okmulgee
Okmulgee
Woodward
Woodward
Elk City
Beckham
Guymon
Texas
Choctaw
Oklahoma
Weatherford
Custer
Glenpool
Tulsa
Guthrie
Logan
Warr Acres
Oklahoma