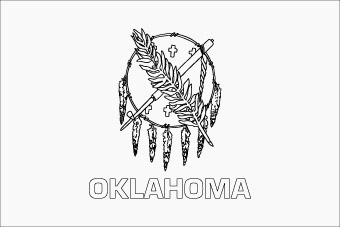 Download Picture of Blank Oklahoma Flag for Kids to Color
About Oklahoma Flag
The Oklahoma flag history states that the design of the current Flag was selected from a flag designing contest organized by the Daughters of the American Revolution.
The flag had to be one that could portray the cultural diversity of the state. The winner whose design got chosen was Mrs. Louise Funk Fluke, an artist based in Oklahoma City.
Description of Oklahoma Flag
The flag has a sky blue field with a depiction of an Osage warrior's shield in the center. The shield is built of buffalo skin and patterned with 7 eagle feathers. Other symbols on the shield are 6 crosses, an olive branch and a peace pipe.
Symbolism of Oklahoma Flag
The origin of the sky blue color can be traced back to the flag used by the Choctaw soldiers at the time of the Civil War. This color stands for the great virtues of loyalty and fidelity towards the state and its people. The peace pipe or the calumet is a Native American symbol for peace while the olive branch stands for the same implication, but is an European symbol. The crosses are actually stars according to the Native American culture and they stand for lofty and noble ideals. Below the shield, the name of the state, Oklahoma is written in bold white letters giving credibility and identity to the flag. Thus with a single glimpse, the Oklahoma Flag can be identified.
The current Oklahoma flag showers respect, adulation and honor on some 60 Native American groups as well as their forefathers.
For flags of other states of the USA, check the Flags of the 50 States.