Champagne-Ardenne France Map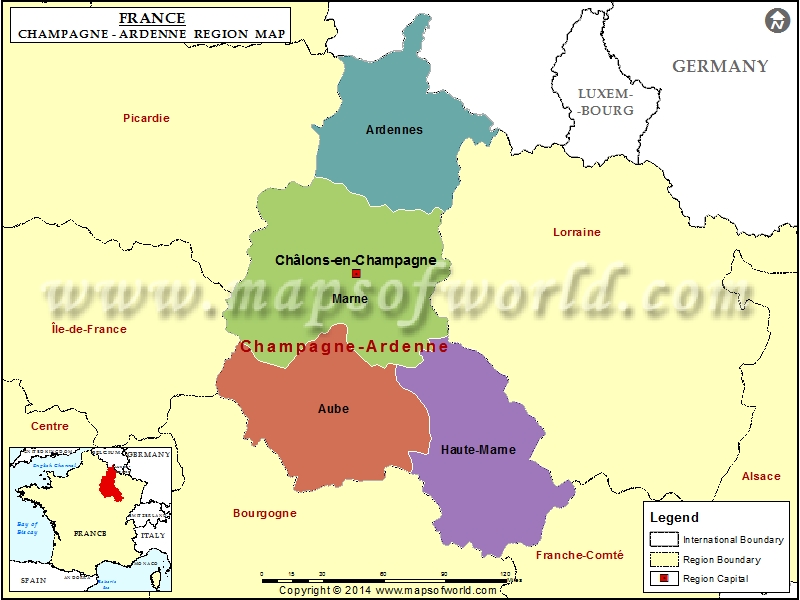 CHAMPAGNE – ARDENNE
The French Metropolitan Region, Champagne – Ardenne is located in Northeast of France. This region shares it's borders with Belgium.
GEOGRAPHY OF CHAMPAGNE – ARDENNE
The four departments of Champagne – Ardenne are Aube, Ardennes, Haute-Marne and Marne. The rivers of Champagne – Ardenne flow towards the west. These rivers are the Seine, the Marne and the Aisne. This region is divided into 15 arrondissements, 146 cantons and 1,947 communes. Chalons-en-Champagne is the capital of this region.
Champagne – Ardenne also has three autoroutes namely Autoroute A4, Autoroute A5 and Autoroute A26. These three autoroutes together cover a distance of 460 km.
The rail network of the region includes the Paris-Strasbourg line. Another line called the LGV Est TGV line connecting Paris and Strasbourg will open in 2007.
Champagne -Ardenne has two canals called the canal lateral to the Marne and canal from the Marne to the Rhine. These canals are referred to as the petit gabarit canals.
The Vatry International Airport serves the region. This Airport is dedicated to airfreight.
ECONOMY OF CHAMPAGNE – ARDENNE
This region stands 1st in France for the production of barley and alfalfa. 61.4% of the land of this region is dedicated to agriculture. The region holds the second position for the production of beets, onions and peas. As far as the production of tender wheat and rapeseed is concerned, it holds the 3rd position in France. Vineyards also cover a huge area in this region. It is also the 3rd metallurgic region in France.
TOURISM IN CHAMPAGNE – ARDENNE
Champagne – Ardenne attracts many tourists each year. In Champagne – Ardenne there are 291 approved tourist hotels that offer 8,000 rooms. This region is home to 19 museums. The city offers many options for recreation. There are around 16 theatres and 10 golf courses. Also, there are 650 km of waterways. In this region, tourists can see the largest man-made lake in Europe called Lac du Der-Chantecoq. There are many forests and lakes where tourists can indulge in walks and water sports.