Switzerland Map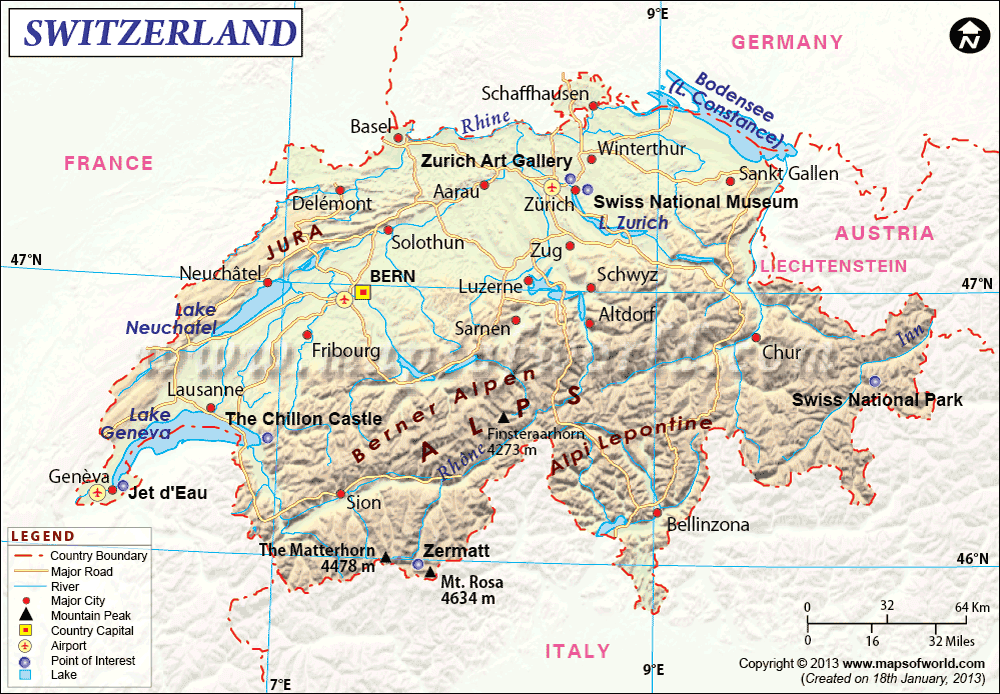 About Switzerland
Explore this Switzerland map to learn everything you want to know about this country. Learn about Switzerland location on the world map, official symbol, flag, geography, climate, postal/area/zip codes, time zones, etc. Check out Switzerland history, significant states, provinces/districts, & cities, most popular travel destinations and attractions, the capital city's location, facts and trivia, and many more.
| | |
| --- | --- |
| Official Name: | Confederati Suisse (French), Schweizerische Edgenossenschaft (German), Confederazione Svizzera (Italian), (Swiss Confederation) |
| Capital: | Berne |
| Population: | 7.2 million (2001) |
| Area: | 41,293 sq km or 15,943 sq mi |
| Currency: | Franc ($ = 1.67) |
| Religion: | Christianity |
| Literacy: | 100% |
| Languages: | French, German, Italian, Romansh |
| Major Cities: | Zurich, Basel, Geneva, Lausanne |
| Climate: | Varied in nature |
Switzerland with its snowcapped mountains, glaciers and lakes is a prized tourist destination. 60% of its area is covered by the Alps mountain range. It is one of the most peace loving countries of the world and has had no wars since the early 16th century. This is especially noticeable as its neighbors have been involved in all kinds of wars, including the two World Wars.
Physical Map of Switzerland
The topography of Switzerland is mostly mountainous with the Alps in south and Jura in the northwest. The central plateau consists of rolling hills, plains, and large lakes. Due to its steep hilly topography, Switzerland is the origin of many great rivers that include the Rhine and the Rhone, while the Po and the Danube are fed by rivers originating here. Glaciers and high waterfalls are a common sight.
Location of Switzerland
Switzerland is a landlocked country that shares its boundary with Austria and Liechtenstein in the east, France in the west, Italy in the south and Germany in the north.
Climate of Switzerland
Switzerland has a varied set of climates; the west is influenced by the Winds blowing in from the Atlantic, the east has a continental climate , and south of the Alps the climate is almost Mediterranean. Spring is generally wet and cool; April is well known for fast and often changing weather conditions; summer is warm and dry with maximum temperature of 35°C (95°F); fall is dry and cool; September and October brings in the cold and dry winter. Apart from high elevation areas, snow is common in lower elevations too.
The Swiss Flag has a red square with a bold, equilateral white cross in the center that does not extend to the edges of the flag.
Arts, Culture and Music of Switzerland
Switzerland has a rich and diverse cultural heritage as the German, French, Italian, and Rhaeto-Roman cultures have all profoundly influenced the broader Swiss culture, even as they have retained their own distinctive forms of expression. Foreign influences have also shaped Switzerland since it has a substantial number of foreign residents in the country. From literature to fine arts to music, drama and films, Switzerland excels in all fields. A number of Swiss artists have gained international recognition. Switzerland, which is known for its rich tradition of folk music, has also made notable contributions to European classical music. Many Opera houses are located here. Lucerne hosts an annual international music festival. The annual Locarno International Film Festival, which highlights the work of young filmmakers, is widely renowned.
Economy of Switzerland
Since approximately two third of Switzerland is covered with forests, lakes and mountains, and there are no mineral resources, Switzerland imports raw materials and then processes and resells them as products. In spite of these restrictions, Switzerland has a highly developed industrialized economy and has one of the highest standards of living in the world. "Services" like banking; assurances and tourism are the most important part of the economy. Farming too is important though it is not enough.
Banking in Switzerland
Banking in Switzerland is considered to be a stable, personal as well as protected system of safeguarding clients assets.
Switzerland is a landlocked European Alpine country. The economic condition of Switzerland is quite strong. It has a strong economy in banking. All of the Swiss banks are generally regulated by the Federal Banking Commission. It is indeed a rich city of Europe. In addition to this the value of the Swiss franc is comparatively stable compared to the other currencies. With the course of time the banking sector in Switzerland is improving a lot. In 2001 Swiss banks handled US $ 2.6 trillion. There are some foreign banks in Switzerland.
Foreign banks that are running its operation in Switzerland have managed 870 billion Swiss francs as on May 2006. The independent agency of the Swiss government, the Federal Banking Commission is working under the Federal finance department. It supervises most of the banking activities, securities markets and investment funds. It has acquired regulatory authority from the different statutes. In 1993 the office of the Swiss Banking Ombudsman was established. The sponsor of this Federal Banking Commission is the Swiss Banking Ombudsman Foundation. This Swiss Banking Ombudsman Foundation is again set up by the Swiss Bankers Association. The main work of it is to handle the complaints that are usually raised by the customers in a yearly basis.
The major Swiss banks include
UBS
Swiss National Bank
Credit Suisse

Cantonal banks
Bank Sarasin, a Private bank