What are the Visa requirements for French citizens?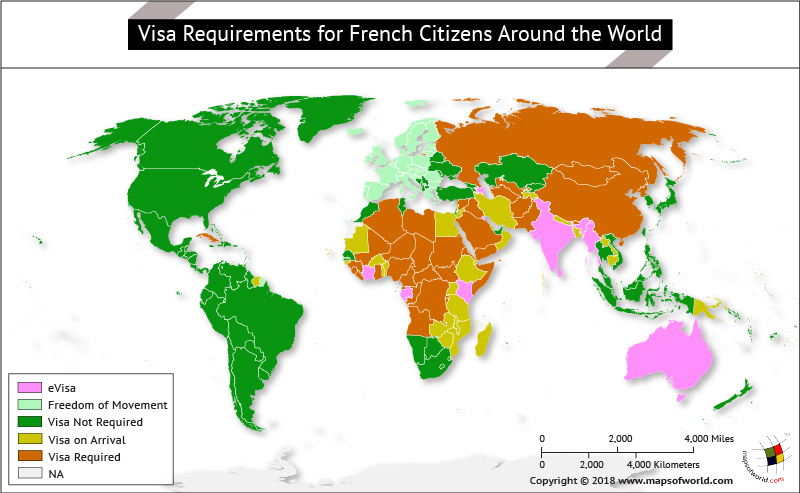 Traveling around the world can be a little more convenient if you have a French passport. French passport is the third most powerful passport in the world and offers citizens of the country visa-free or visa-on-arrival entry to 178 nations. France is also a part of the European Union, thus French citizens have an added advantage of moving around or living in other EU member countries without a visa, though they would require an ID.
French Citizens are offered freedom of movement in several nations, including EU members and a few non-EU countries. Some of these nations where the French can freely move or live are; Austria, the Netherlands, Norway, Poland, Spain, Sweden, Belgium, the United Kingdom, Iceland, Switzerland, and others.
Apart from these, there are many countries which do not require French citizens to apply for a visa. Some prominent nations that fall in this category include South Korea, New Zealand, Turkey, Ukraine, South Africa, Singapore, Thailand, the Philippines, Serbia, the United Arab Emirates, and many more.
Some of the nations where French citizens have the privilege of applying for a visa on arrival are: Qatar, Iran, Ethiopia, Egypt, Cambodia, Zimbabwe, Bangladesh, and Nepal, to name a few.
The United States of America provides a visa waiver program to the French citizens. According to this program, French tourists can travel to the United States for either tourism or business purposes without a visa, but their visit to the country should be 90 days or less.
Few nations also avail French tourists e-visa facilities. These are Gabon, India, Kenya, Kuwait, Azerbaijan, and Myanmar. Sri Lanka offers Electronic travel authorization and Australia provides e-visitor facilities.
However, there are still few nations which require French citizens to apply and obtain a visa. Some of those are Mongolia, Nigeria, Russia, Saudi Arabia, China, Afghanistan, Algeria, Angola, Bhutan, and Ghana.
Related Maps: