Lorraine France Map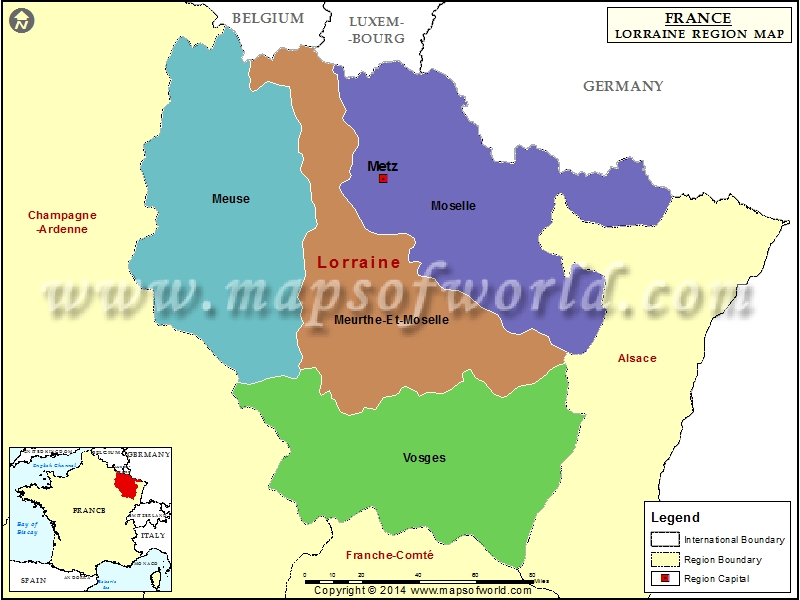 LORRAINE
The French Metropolitan region, Lorraine was earlier a province of France. On the north, the region shares its borders with Belgium, Luxembourg and Germany.
On the east, Lorraine shares its borders with Alsace and on the south wthe Franche – Comte. On the west, it shares it boundaries with Champagne. Lorraine region is divided into four departments namely Moselle, Meurthe-et-Moselle, Vosges and Meuse.
ECONOMY OF LORRAINE
There are pastures and some agricultural districts in Lorraine. Here hops are grown. There are also many vineyards in this region. In Lorraine salt is mined. Few years back, mining and steel industries were the mainstay of the economy. However since the early 1980s, the low-grade iron ore that was found near the Belgian and Luxembourg borders was not very much in demand in the market. Low-cost high-grade iron ore from other countries replaced it.
HISTORY OF LORRAINE
In the 9th century, Lorraine was a part of Lotharingia. Under the Holy Roman Empire, it became a duchy. Later in 1048, it was passed to the house of Alsace. It became house of Lorraine. Till, 1738, it had control over the duchy. The Guise family, a cadet branch of the house of Lorraine gained enormous influence in France. Under the rule of Duke Charles II, Lorraine enjoyed tremendous popularity in Europe.
After the Franco-Prussian War in 1871, the eastern part of Lorraine was handed over to Germany. Also, Lorraine was united with Alsace as the imperial land (Reichsland) of Alsace – Lorraine. When World War I was over, Alsace – Lorraine was returned to France. However, Germany again annexed the region during World War II. Lorraine had to suffer a lot during both the World Wars.