Monaco Map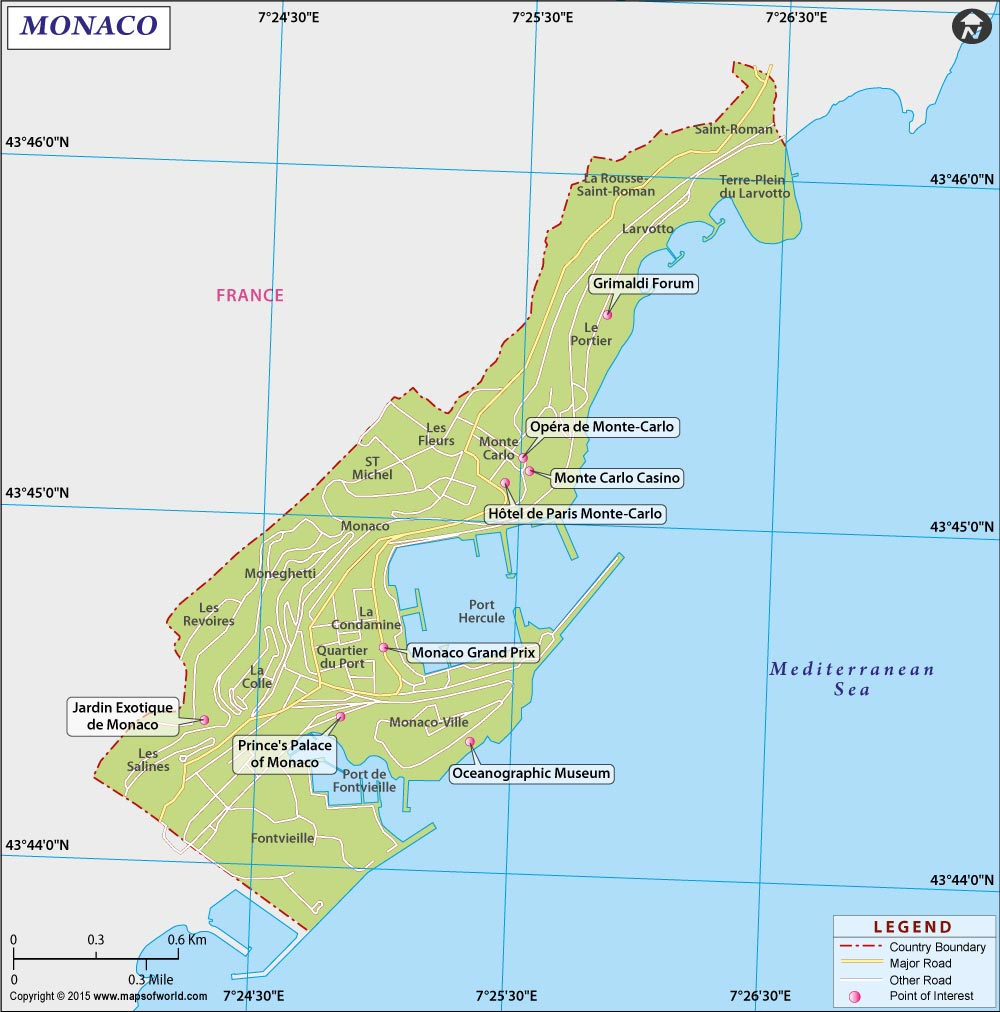 Explore this Monaco map to grasp everything you want to know about this country. Learn about the location of Monaco on the world map, flag, official symbol, geography, climate, postal codes, time zones, etc. Check out the history, provinces/districts, & cities, most famous travel destinations and attractions, facts and trivia, Top FAQs (Frequently Asked Questions), and many more. 
Monaco, known as the principality of Monaco officially, is a microstate and sovereign city-state in Europe. Monaco is located on the French Riviera. The sovereign state is some kilometers west of the Italian region of Liguria on the Mediterranean Sea in Western Europe. Monaco is the second-smallest microstate in the world after Vatican City having an area of 2.1 km2 (0.81 sq mi). The sovereignty of Monaco was granted by the Franco-Monegasque Treaty of 1861y. In 1993  Monaco became a full United Nations voting member. Monaco doesn't have a capital city due to its small size, but most government buildings are located in Monte Carlo. Check Key facts of Monaco to learn more about Monaco.
The present flag of Malta was adopted on April 4, 188. The flag's design is bicolor, consisting of two equal horizontal bands of white and red. The coat of arms of the principality of Monaco referred to as arms of dominion, is the symbolic representation of the House of Grimaldi.
Monaco Location
The Monaco location Map shows the exact location of Monaco on the world map. This location map shows the boundaries of this country, its neighboring countries, and its oceans. The country is bordered by France to the north, east, and west, and one side borders the Mediterranean Sea, across which Italy. Monaco's Latitude and Longitude extent is 43.7328.N Latitude and 7.4197.E Longitude in Europe. One can check the Latitude and Longitude Map of Monaco for more information.
Monaco uses only a one-time zone; Central European Standard Time (CET) is one hour ahead of UTC (coordinated universal time), that is, UTC+1. Monaco observes daylight saving time as Central European Summertime (CEST), where the clocks are switched forward by 2 hours in summer (UTC +2).
The physical map of Monaco has revealed all the details about the country's physical features, including mountain peaks, rivers, and lakes. The sovereign city-state has the world's shortest coastline of 3.83 km (2.38 mi) approximately and a land border of 5.47 km (3.40 mi). The highest point of Monaco is 164.4 m (539 ft) above sea level at Chemin Des Revoires, and the lowest point is in the Mediterranean sea. 
Monaco Climate 
A Hot Summer Mediterranean climate characterizes the climatic conditions of Monaco. There are hot and dry summers in comparison to mild and wet winters. The average temperature of Monaco is 16.5.C, and the annual average rainfall is 714.6 mm. The highest precipitation occurs in autumn and spring.
Monaco Major Cities
The major cities of Monaco are:
Monte Carlo

La Condamine

La Turbie

Gorbio

Saint-Jean-Cap-Ferrat
Districts in Monaco
Monaco is divided into seven districts despite its small size. These districts are:
The Jardin Exotique

Fontvieille

La Condamine

Monaco-Ville

Monte Carlo

The Larvotto

Saint Roman
Monaco Airports
Monaco has no international or domestic airports within its boundaries. The closest airport to the principality of Monaco is Cote d'Azur Airport in Nice, France. The airport is connected to Monaco by Express 110. Passengers can also board tramway lines to downtown Nice and then a train to Monaco.
Monaco Postal or ZIP Codes
Postal codes in Monaco consist of five digits starting with the number" 9″. All the postal codes of Monaco are prefixed by" MC."
The principality of Monaco is one of the most glamorous destinations which can be explored during all times of the year. Monaco is home to picturesque beaches, lavish five-star hotels, luxury yachts, and Casinos. Some of the most popular tourist destinations of Monaco are:
Monte-Carlo

Palais Princier de Monaco

Musée Océanographique de Monaco

Jardin Exotique

Cathédrale de Monaco

Les Jardins Saint-Martin

Opera de Monte-Carlo (Salle Garnier)
Top FAQs on Monaco 
FAQ #1: How big is Monaco?
Ans: Monaco is the second smallest sovereign state with an area of 2.2 km2.
Faq #2: Is Monaco in the EU?
Ans: Monaco shares a special relationship with the EU but is not part of it because the EU has not been designed with microstates in mind. However, Monaco is part of the EU customs territory.
Faq #3 What language is spoken in Monaco?
Ans: The official language of Monaco is French.