Andorra Map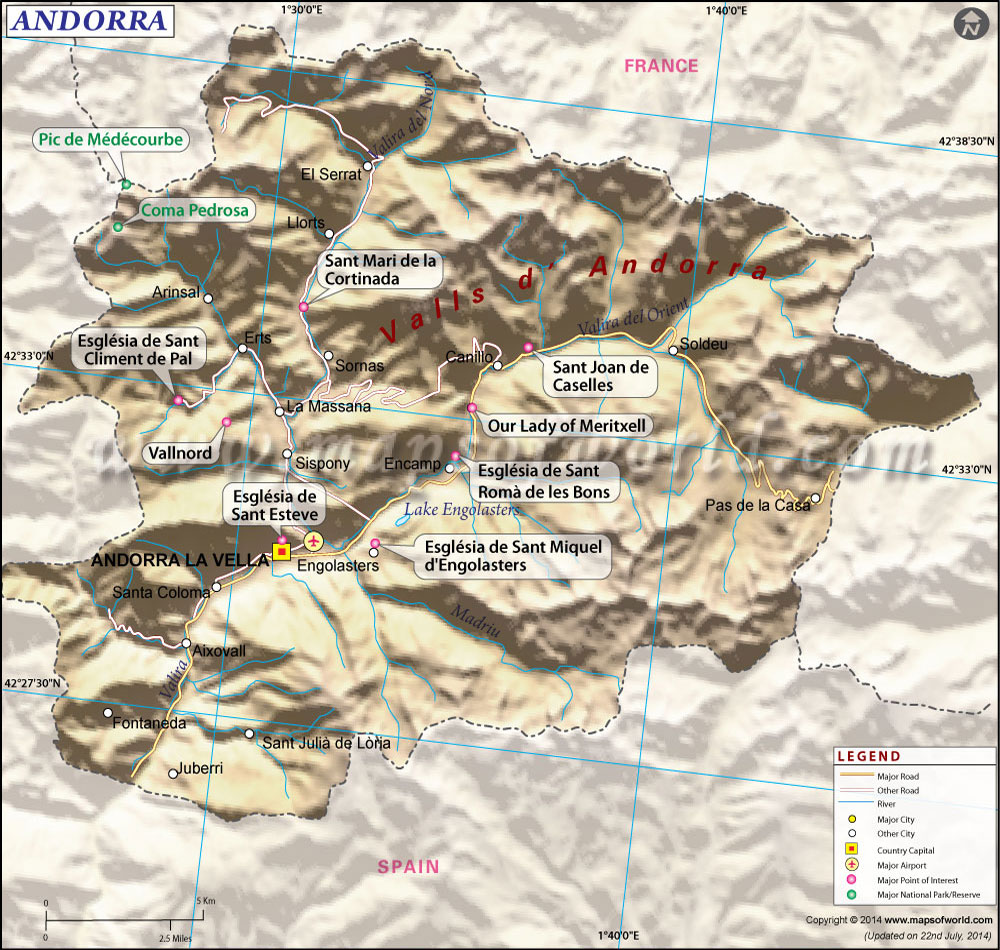 The Principality of Andorra (fully the Principality of the Valleys of Andorra) is a microstate set between the borders of France and Spain. A principality is similar to a monarchy, but it has two princes who rule together, in this case, the Spanish Bishop of Urgell and the President of France.
This tiny nation was formed by a charter in 988, though regional conflicts resulted in the current joint sovereignty arrangement between the French head of state and the Catalonian Bishop, which was worked out in the 1278 Pareage. Andorra handles many of its government issues among its General Council, though some aspects are taken care of by Spain and France, including the country's defense.
Andorra has one of the world's smallest populations, estimated at around 85,000. However, it is one of the world's richest nations, with tourism as its greatest sector. Many visitors come to Andorra for its many shopping opportunities. The official language of Andorra is Catalan, and it shares strong historical and cultural ties with Catalonia, an autonomous region of Spain.
Neighboring Countries
Andorra is situated between France and Spain.
Major Cities
Andorra is divided into parishes:
Andorra la Vella (the capital)
Canillo
Encamp
Escaldes-Engordany
La Massana
Ordino
Sant Julia de Loria
Geography
Andorra is situated in the Eastern Pyrenees mountains, which account for the majority of its geographic features. The highest peak of the Andorran Pyrenees is Coma Pedrosa, which has an elevation of 2,942 meters (9,652 feet). Andorra's capital, Andorra la Vella, is the highest capital city on the continent with an elevation of 1,023 meters (3,356 feet).
Other geographic features include valleys and the Gran Valira River which flows into Spain. Andorra is the 6th smallest country in Europe, with a land area of 468 square kilometers (181 square miles).
Points of Interest
Andorra is visited by over 10 million people each year. Skiing is one of the most popular activities for visitors – with several ski resorts among the mountain villages. The major ski areas are Vallnord and Grandvalira, which each have a few resorts and slopes.
The capital city, Andorra la Vella offers cultural experiences and historical churches, like the Eglesia de Sant Esteve and the Santa Coloma d'Andorra. The city also offers plenty of shopping and a historic old town.
Transportation
Transportation options are limited in Andorra, with no airports of its own, no railways, and no ports. The nearest airports to Andorra are those in Barcelona, Spain and Toulouse, France – each about 3 hours from Andorra. Other airports are Perpignan in France, and Lleida in Spain. Nearest train station is about 10 kilometers (6 miles) east of Andorra, and provides high speed rail service from Toulouse and Paris. On the Spanish side, the nearest train station is Puigcerda, which is 80 kilometers (50 miles) from Andorra.
The country does have a road network and is served by buses, but many of the roads around Andorra (outside of the busy city centers) remain unpaved. However, bus service around the country and from Toulouse and Barcelona is available.