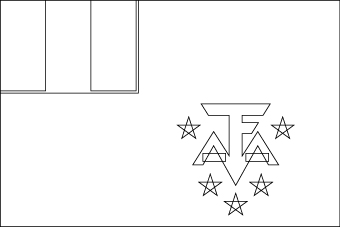 Download Picture of Blank French Southern Territories Flag For Kids to Color.
The flag of French Southern Territories is the official flag of Terres australes et Antarctiques Francaises (TAAF), an overseas province of France with governmental and financial sovereignty.
The five stars represent the five districts of TAAF – Kerguelen Islands, Crozet Archipelago, Amsterdam Island, Adelie Land, and Iles eparses.
Protocol
The Government of French Southern Territories uses the flag on all national holidays. The Ensign has a blue background with a constellation of five white stars and the flag of France at the upper left corner. The flag features the intertwined alphabets "T", "A", "A", and "F". The ensign is used before the Prefet's bureau, administrateur superieur des Terres Australes et Antarctiques Francaises in Saint-Pierre, Reunion. It can be hoisted in the provinces of the TAAF provided the residents want to show the flag and the climate allows it.
History
The French Southern Territories flag was formally approved on February 23, 2007. There is no hard-and-fast guideline for using this ensign. Therefore, anyone can hoist the flag. For example, the ensign with three stars was exhibited in the Telross mission in 2006.
| | |
| --- | --- |
| Adopted On | February 23, 2007 |
| Name | Flag of French Southern Territories, French Southern Territories Flag |
| Stands for | The flag of France as the canton symbolizes association with France. The five stars represent the five districts of TAAF. |
| Proportion | 2:3 |
| Colors | Blue, red, and white. |