United States Divided into Physical Regions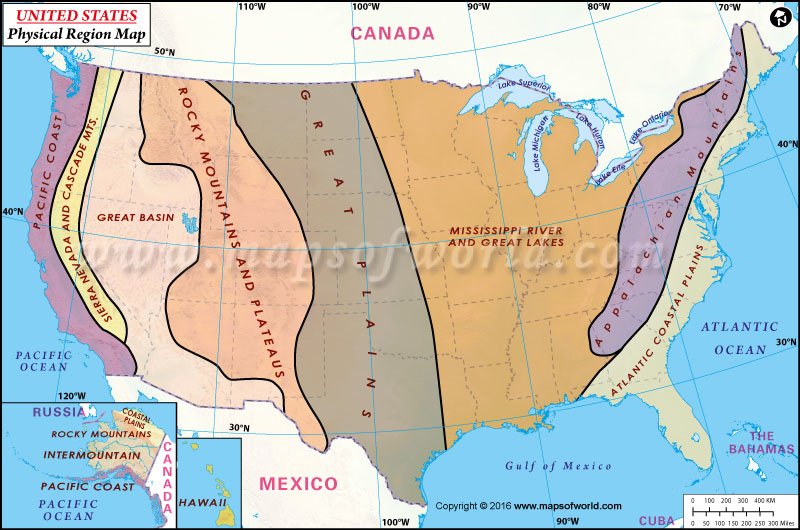 Description : The Map showing the various physical regions of the United States.
The United States, in the geographical sense, is commonly showed as the contiguous US which has 48 states. The states of Alaska and Hawaii are outside of the contiguous United States.
Each region has distinct culture, history, climate, and geographic features, and more.
First map of the contiguous US shows four geographic regions: the East Coast, Midwest, South, and West.
The second map depicts physical regions of the country which are: Atlantic Coastal Plains, Appalachian Mountains, Great Lakes and Great Rivers Basin, Great Plains, Rocky Mountains and Plateaus, Great Basin, Sierra Nevada and Cascades Mountains, and the Pacific Coast.
According to US Census Bureau, each of the four census regions is further divided into two or more census divisions. See table below –
ACOD~20121005
Region 1 (The Northeast)

Division 1 (New England)
Division 2 (Middle Atlantic)
Maine
New York
New Hampshire
Pennsylvania
Vermont
New Jersey
Massachusetts
Rhode Island
Connecticut

Region 2 (The Midwest)

Division 3 (East North Central)
Division 4 (West North Central)
Wisconsin
North Dakota
Michigan
South Dakota
Illinois
Nebraska
Indiana
Kansas
Ohio
Minnesota
Iowa

Region 3 (The South)

Division 5 (South Atlantic)
Division 6 (East South Central)
Delaware
Kentucky
Maryland
Tennessee
District of Columbia
Mississippi
Virginia
Alabama
West Virginia
North Carolina
Division 7 (West South Central)
South Carolina
Oklahoma
Georgia
Texas
Florida
Arkansas
Louisiana

Region 4 (The West)

Division 8 (Mountain)
Division 9 (Pacific)
Idaho
Alaska
Montana
Washington
Wyoming
Oregon
Nevada
California
Utah
Hawaii
Colorado
Arizona
New Mexico