USA Average Temperature Map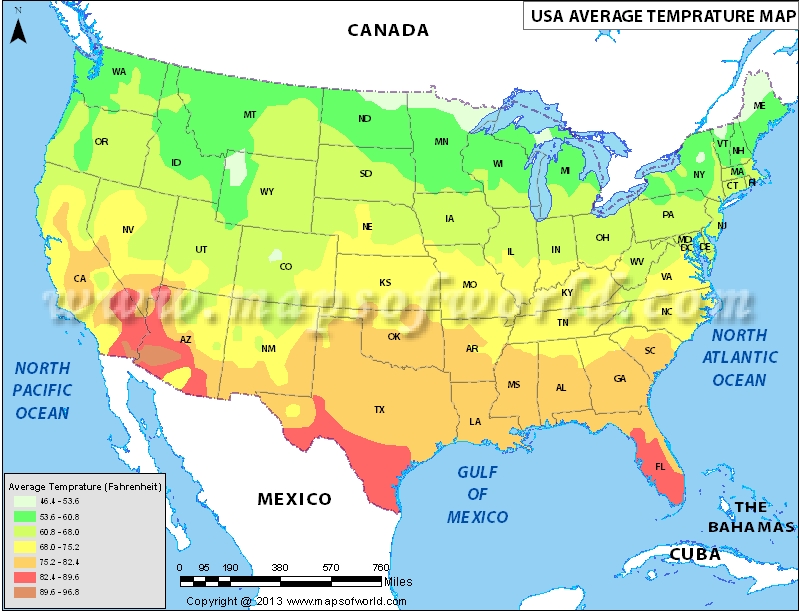 Description : US Weather Map represents the average annual temperature of the United States.
Weather Map of US
Consulting with weather maps can prove to be very helpful, given the important and crucial information they provide. For instance, if you are traveling to a particular place in United States, it's always a good idea to check the United States Weather Maps before heading out. It will keep you one cautious step ahead, helping you in knowing whether the weather condition of your destination is all right or not.
Here, we have put together information about the United States Weather Map for you. However, if you want to find out even more, pay mapsofworld.com a visit! And, don't think that these weather maps are static. Not at all! After every 60 hours or after a particular period of time, the map is automatically reloaded so that you get the latest news about the weather of a particular state or city in the United States.
US Weather Forecast Map
In the United States Weather Maps, you will get ample information about the weather, such as the Zone Forecast, Forecast Discussion, Weather Summery, Hourly Report, Public Information, Climate Data and so on. There are separate weather maps for every state and city. In the map presented here, if you click on a particular place, you will find data like the visibility, sky condition, dew pint, temperature, relative humidity and pressure of that particular area.
Want to have clearer idea of these United States weather Maps? You may log on to Mapsofworld for more such interesting information on the weather condition of specific place.