Map of Alabama Cities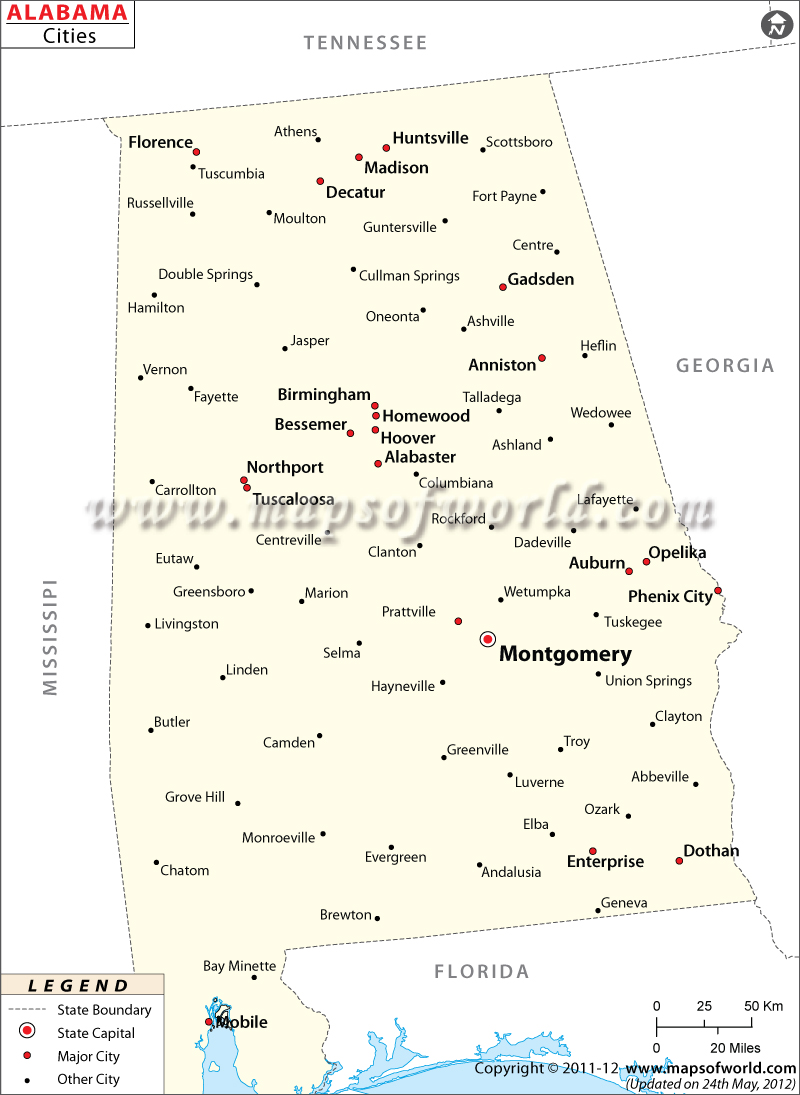 Map of Alabama Cities
Map of Alabama Cities provides a visual overview of the cities located throughout the state of Alabama. This map allows you to explore and navigate the diverse locations of each city easily.
Cities in Alabama
Alabama has many different cities, and each one is special in its own way. Some cities have a lot of history, while others are busy with lots of things to do. Cities in Alabama have something for everyone, whether you like learning about the past, being in nature, going to concerts and festivals, or trying delicious food. No matter what you're interested in, you can find it in Alabama.
How Many Cities are in Alabama
Alabama has many cities, with a total of 463 incorporated municipalities. These cities are spread throughout the state, providing a wide range of options for exploration and discovery. The Map of Alabama Cities allows you to visualize the locations of each city marked on a map.
Largest Cities in Alabama
The largest cities in Alabama have the highest populations and offer a variety of activities and attractions. Some of the biggest cities in Alabama include Birmingham, Montgomery, Huntsville, Mobile, and Tuscaloosa. These cities boast vibrant downtown areas, cultural institutions, outdoor recreational opportunities, and a rich history.
Safest Cities in Alabama
Some cities in Alabama are known for being very safe. They have fewer crimes and work hard to keep people secure. Some of the safest cities in Alabama are Madison, Vestavia Hills, Homewood, Auburn, and Hoover. These cities involve the community, take care of neighborhoods, and have good police plans. People feel safe living or visiting these cities.
Best Cities to Live in Alabama
Alabama has many great cities to live in. They have good things to do and friendly people. Some of the best cities to live in Alabama are Huntsville, Birmingham, Mobile, Tuscaloosa, and Montgomery. These cities have fun places to visit, good schools, and nice people. You can enjoy your life and feel at home in these cities.
Major Cities in Alabama

City
Population
County
Region
Notable Attractions

Birmingham

209,880

Jefferson

Central Alabama

Birmingham Museum of Art

Huntsville

200,574

Madison

North Alabama

U.S. Space & Rocket Center

Mobile

189,572

Mobile

Coastal Alabama

USS Alabama Battleship Memorial

Montgomery

198,218

Montgomery

Central Alabama

Alabama State Capitol

Tuscaloosa

101,113

Tuscaloosa

West Alabama

University of Alabama
Related Maps