Alabama City Maps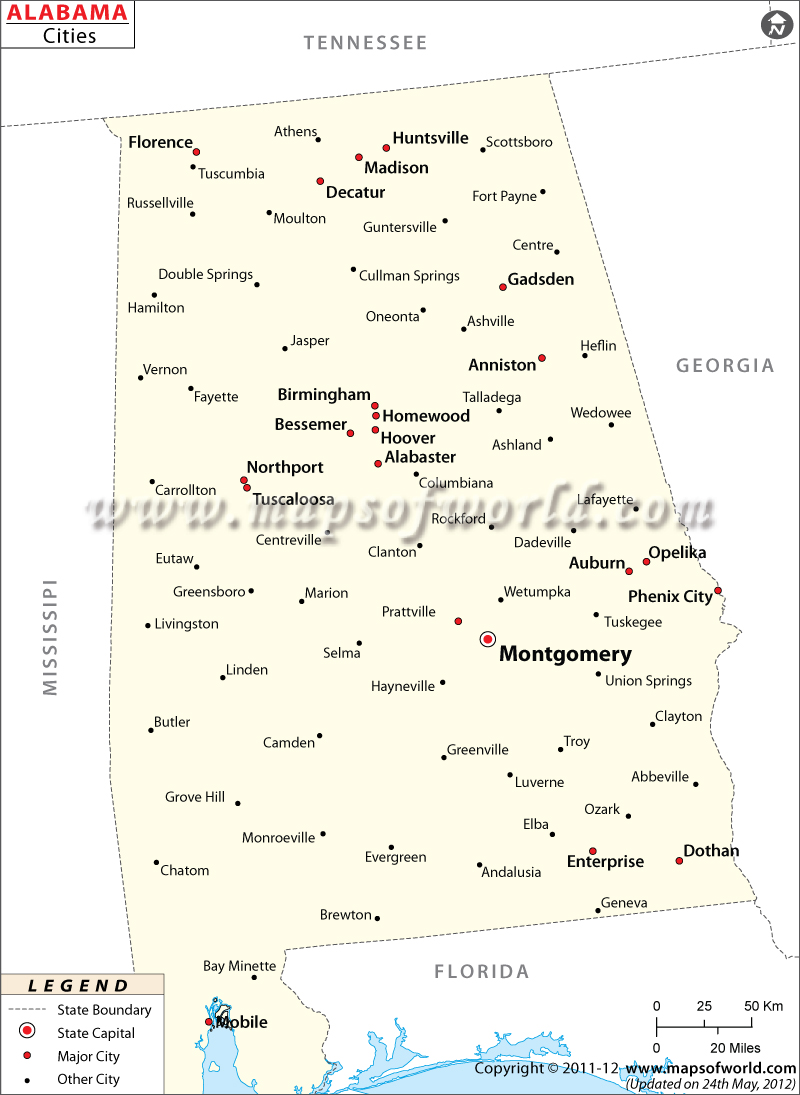 Major cities in Alabama
Birmingham is the largest city in Alabama in terms of population. Birmingham is the most industrialized city of the state and has a population of 212,157 inhabitants, according to a 2016 estimate. By land area, Huntsville is the largest city in Alabama. It covers an area of 210.0 square miles. Mobile, which is the third-most populous city in Alabama, is the oldest city in the state. It was founded in 1702 and was incorporated as a city on December 17, 1819. McMullen is the smallest city both by area and population. Covering an area of 0.11 square miles, it has a population of just 10 inhabitants.
Located in the southeastern United States, Alabama is nicknamed 'The Yellowhammer State', after the state bird. The state has 67 counties. The capital of Alabama is Montgomery which played a significant role in the Civil Rights Movement. This mid-sized city has a burgeoning arts-scene and hosts Alabama Shakespeare Festival at the Carolyn Blount Theatre
Most Populous city in Alabama
Known as 'The Magic City' and 'Pittsburgh of the South', Birmingham is the most populous city in Alabama. The Vulcan statue, Birmingham Botanical Gardens, Birmingham Zoo, and Kelly Ingram Park are major attractions in the city.
The city of Huntsville is referred to as the 'Rocket Capital of the World.' The US Space & Rocket Center, Alabama Constitution Village, Old Town Historic District, Big Spring International Park, and North Alabama Railroad Museum are popular places to visit in Huntsville.
The oldest city in Alabama
Founded by French colonists in 1702, Mobile is the oldest city in Alabama. It lies on the southernmost tip of Alabama near the Gulf of Mexico. The city is a gateway to glorious white sand beaches. Known as 'The City of Dogwoods', Abbeville is the seat of Henry County. Tuscaloosa, Decatur, Auburn, Dothan, and Florence are other major cities in Alabama.
About Alabama Airports, Railroad and Highways
Birmingham-Shuttlesworth International Airport (BHM) and Huntsville International Airport (HSV) are served by international flights.
Amtrak's Crescent passenger train, between New Orleans and New York, has three stops in the state: Birmingham, Anniston, and Tuscaloosa.
I-10, I-20, I-59, and I-65 are the major interstate highways traversing the state.