Map of Georgia Cities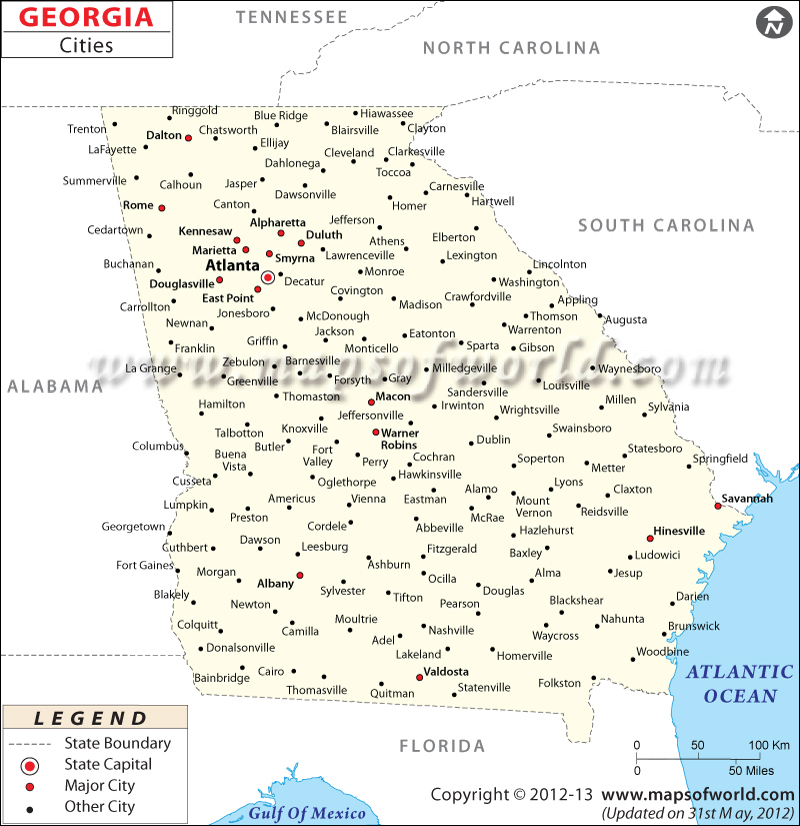 Map of Georgia Cities
Map of Georgia Cities provides a comprehensive visual overview of the cities scattered throughout the state of Georgia. With this map, you can easily navigate and explore the diverse locations of each city.
Cities in Georgia
Georgia is home to a wide array of cities, each with its own distinct characteristics and appeal. From dynamic urban centers to charming small towns, Georgia's cities encompass a variety of experiences. Whether you're seeking vibrant city life, historical landmarks, natural beauty, or cultural treasures, Georgia has something for everyone.
How Many Cities are in Georgia
Georgia boasts a considerable number of cities, with a total of 536 municipalities. This abundance of cities showcases the state's extensive urban landscape, offering numerous opportunities for exploration and discovery. The Map of Georgia Cities serves as a helpful resource to visualize the distribution of cities across the state.
Largest Cities in Georgia
The largest cities in Georgia have the most people and lots of things to do. Some of the largest cities in Georgia are Atlanta, Augusta, Columbus, Savannah, and Athens. These cities have many fun things to see and do, like famous places to visit, special events for culture and art, and a busy city life. If you want to see where these cities are on the map, you can click on their names.
Safest Cities in Georgia
Some cities in Georgia are known for being very safe. These cities really care about keeping their residents and visitors safe. Some of the safest cities in Georgia are Johns Creek, Milton, Alpharetta, Peachtree City, and Roswell. These cities have low crime rates and work hard to make sure everyone feels secure. They have nice neighborhoods, good police strategies, and involve the community in safety efforts.
Best Cities to Live in Georgia
Georgia has many cities that are considered the best places to live in the state. These cities offer a good quality of life and lots of things to do. Some of the best cities to live in Georgia are Atlanta, Athens, Savannah, Alpharetta, and Decatur. These cities have good job opportunities, good schools, nice parks, and lots of cultural activities.
Major Cities in Georgia

City
Population
County
Region
Notable Attractions

Atlanta

498,044

Fulton

Metro Atlanta

Georgia Aquarium, Centennial Olympic Park

Augusta

197,888

Richmond

East Georgia

Augusta National Golf Club, Riverwalk

Columbus

195,769

Muscogee

West Georgia

National Infantry Museum, Columbus Riverwalk

Savannah

145,862

Chatham

Coastal Georgia

Historic District, Forsyth Park

Macon

153,159

Bibb

Central Georgia

Ocmulgee Mounds National Historical Park

Athens

125,964

Clarke

Northeast Georgia

University of Georgia, State Botanical Garden

Albany

73,179

Dougherty

Southwest Georgia

Flint RiverQuarium, Thronateeska Heritage Center

Valdosta

56,426

Lowndes

South Georgia

Wild Adventures Theme Park, Valdosta State University