Map of South Australia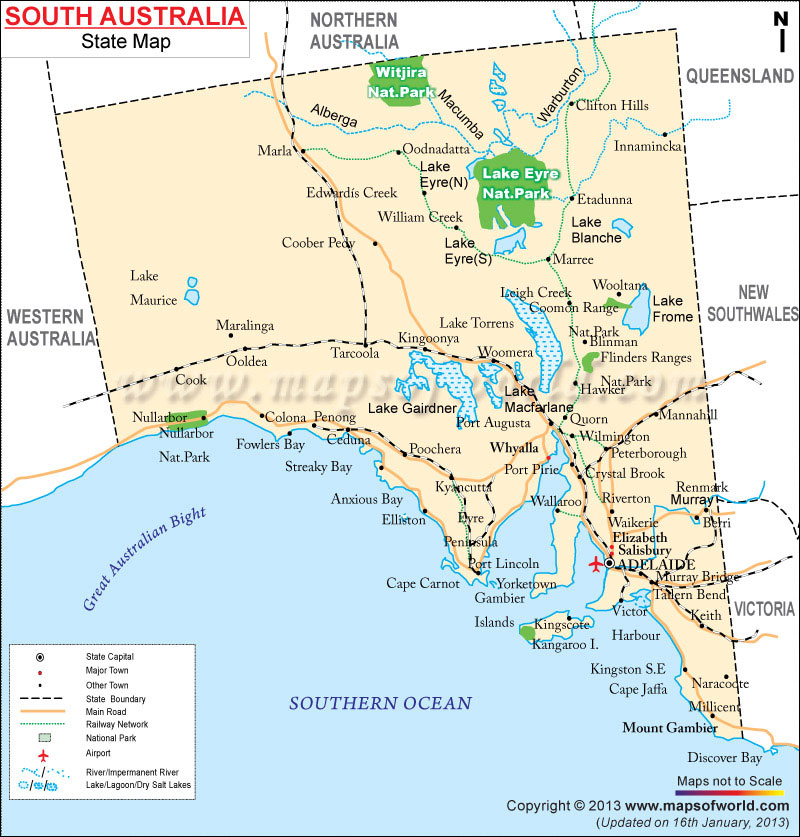 Facts about South Australia

Capital
Adelaide
Demonym
South Australian, Croweater
Government
Constitutional monarchy
Area
1043514 sq km
Population
1,698,660 (2016 est.)
Time zone
UTC+9:30 (ACST), UTC+10:30 (ACDT)
Web site
www.sa.gov.au
Places to Visit
Canoe the Coorong, Adelaide's cultural precinct, Off Piste, Hahndorf Walking Tours, Murray River, Gawler Ranges, Mr Mick, Naracoorte Caves, Head of Bight, Tailem Bend's pink lake, Remarkable Rocks, Pool of Siloam, Magnetic Hill, Umpherston Sinkhole, Lake Eyre, Hallett Cove's ice age, Whyalla's giant cuttlefish, Piccaninnie Ponds, Farina, Murphy's Haystacks, Pearson Island, The Painted Desert, Naracoorte Caves, Dalhousie Springs, Mt Gambier's Blue Lake, Whispering Wall, The underground homes of Coober Pedy, Kangaroo Island's Little Sahara, Wilpena Pound, Woomera Prohibited Area, Maralinga, Port Lincoln tuna
South Australia is an Australian state located in the South-central part of the country. Covering a total land area of 379,725 square miles, it is the fourth-largest state in Australia. The estimated population of the state is 1,698,660.
South Australia is bordered by Western Australia to the west, by the Northern Territory to the north, by Queensland to the north-east, by New South Wales to the east, by Victoria to the south-east. To the south, South Australia borders the Great Australian Bight and the Indian Ocean.
Adelaide is the capital city of South Australia. With an estimated population of more than 1.2 million, it is the fifth-largest city in Australia. The city serves as the administrative and commercial center of the state.
Before the arrival of the British colonists in the nineteenth century, South Australia inhabited by aboriginal groups. On July 26, 1836, the region was first proclaimed as a free state and the first settlement was established at Kingscote, Kangaroo Island. In 1857, the state was granted responsible government and in 1901 it was officially proclaimed a state.
Today, South Australia is an advancing state and is characterized by rich culture. The state government functions in the framework of a constitutional monarchy. Kevin Scarce is the Governor.
Agriculture, manufacturing, finance and mining are the major sectors of the economy of South Australia. Education and defence technology are some of the rapidly growing industries in the state.
South Australia is an eco-tourism paradise. With Kangaroo Island, the Flinders Ranges, and the Adelaide Hills, the wilderness retreats in the state are adventurous. The other major destinations in the state include the Eyre Peninsula, Nullarbor Plain, Murray River National Park, Seal Bay Conservation Park, Troubridge Island, Neptune Island, and the Clare Valley.
Local government areas of South Australia
| Name | Council Seat | Region | Area (sq km) | Population (2016) |
| --- | --- | --- | --- | --- |
| City of Adelaide | Adelaide | Metropolitan Adelaide | 15.57 | 23,169 |
| Adelaide Hills Council | Woodside | Metropolitan Adelaide | 795.08 | 40,031 |
| City of Burnside | Tusmore | Metropolitan Adelaide | 27.53 | 45,034 |
| City of Campbelltown | Rostrevor | Metropolitan Adelaide | 24.35 | 51,889 |
| City of Charles Sturt | Woodville | Metropolitan Adelaide | 52.14 | 114,209 |
| Town of Gawler | Gawler | Metropolitan Adelaide | 41.1 | 22,617 |
| City of Holdfast Bay | Brighton | Metropolitan Adelaide | 13.72 | 37,262 |
| City of Marion | Sturt | Metropolitan Adelaide | 55.5 | 88,983 |
| City of Mitcham | Torrens Park | Metropolitan Adelaide | 75.55 | 66,347 |
| City of Norwood Payneham & St Peters | Norwood | Metropolitan Adelaide | 15.1 | 37,340 |
| City of Onkaparinga | Noarlunga Centre | Metropolitan Adelaide | 518.4 | 168,788 |
| City of Playford | Elizabeth | Metropolitan Adelaide | 344.9 | 88,222 |
| City of Port Adelaide Enfield | Port Adelaide | Metropolitan Adelaide | 97 | 123,753 |
| City of Prospect | Prospect | Metropolitan Adelaide | 7.81 | 20,910 |
| City of Salisbury | Salisbury | Metropolitan Adelaide | 158.1 | 138,534 |
| City of Tea Tree Gully | Modbury | Metropolitan Adelaide | 95.21 | 100,155 |
| City of Unley | Unley | Metropolitan Adelaide | 14.29 | 38,465 |
| Town of Walkerville | Gilberton | Metropolitan Adelaide | 3.57 | 7,671 |
| City of West Torrens | Hilton | Metropolitan Adelaide | 37.07 | 55,620 |
| District Council of Ceduna | Ceduna | Eyre Peninsula | 5427.1 | 3,797 |
| District Council of Cleve | Cleve | Eyre Peninsula | 4506.7 | 1,908 |
| District Council of Elliston | Elliston | Eyre Peninsula | 6500 | 1,169 |
| District Council of Franklin Harbour | Cowell | Eyre Peninsula | 3283 | 1,355 |
| District Council of Kimba | Kimba | Eyre Peninsula | 3986.2 | 1,125 |
| District Council of Lower Eyre Peninsula | Cummins | Eyre Peninsula | 4771 | 4,820 |
| City of Port Augusta | Port Augusta | Eyre Peninsula | 1153.1 | 14,669 |
| City of Port Lincoln | Port Lincoln | Eyre Peninsula | 30.4 | 14,593 |
| District Council of Streaky Bay | Streaky Bay | Eyre Peninsula | 6232 | 2,181 |
| District Council of Tumby Bay | Tumby Bay | Eyre Peninsula | 2615.9 | 2,757 |
| Wudinna District Council | Wudinna | Eyre Peninsula | 5393.8 | 1,314 |
| City of Whyalla | Whyalla | Eyre Peninsula | 1032.5 | 23,028 |
| Barossa Council | Angaston | Central | 912 | 22,514 |
| District Council of Barunga West | Port Broughton | Central | | 2,631 |
| District Council of Clare and Gilbert Valleys | Clare | Central | | 8,743 |
| District Council of the Copper Coast | Kadina | Central | 773 | 12,901 |
| Flinders Ranges Council | Quorn | Central | 4198 | 1,784 |
| Regional Council of Goyder | Burra | Central | 6718.9 | 4,285 |
| Light Regional Council | Kapunda | Central | 1277.6 | 13,658 |
| District Council of Mallala | | Central | 932.1 | 8,385 |
| District Council of Mount Remarkable | Melrose | Central | 3424.5 | 2,951 |
| Northern Areas Council | | Central | | 4,866 |
| District Council of Orroroo Carrieton | | Central | | 938 |
| District Council of Peterborough | Peterborough | Central | | |
| Port Pirie Regional Council | Port Pirie | Central | | 18,076 |
| Wakefield Regional Council | Balaklava | Central | 3469.4 | 6,756 |
| District Council of Yorke Peninsula | Maitland | Central | 5834 | 11,736 |
| Alexandrina Council | Goolwa | Southern and Hills | 1826.8 | 23,160 |
| Kangaroo Island Council | Kingscote | Southern and Hills | 4400.1 | 4,612 |
| District Council of Mount Barker | Mount Barker | Southern and Hills | | 29,864 |
| City of Victor Harbor | Victor Harbor | Southern and Hills | 386.5 | 13,608 |
| District Council of Yankalilla | Yankalilla | Southern and Hills | 750.6 | 4,577 |
| Berri Barmera Council | | Murray Mallee | 508 | 11,240 |
| The Coorong District Council | Meningie | Murray Mallee | 8830.6 | 5,825 |
| Gerard Community Council | Winkie | Murray Mallee | 85.9 | 96 |
| District Council of Karoonda East Murray | Karoonda | Murray Mallee | 4415 | 1,193 |
| District Council of Loxton Waikerie | | Murray Mallee | 7957 | 4,612 |
| Mid Murray Council | | Murray Mallee | 7957 | 8,511 |
| Rural City of Murray Bridge | Murray Bridge | Murray Mallee | | 19,402 |
| Renmark Paringa Council | Renmark | Murray Mallee | 915.5 | 9,882 |
| Southern Mallee District Council | Pinnaroo | Murray Mallee | 6000 | 2,189 |
| District Council of Grant | Mount Gambier | Southeast | 1904 | 8,652 |
| Kingston District Council | Kingston SE | Southeast | 3337.7 | 2,469 |
| City of Mount Gambier | Mount Gambier | Southeast | 308 | 21,256 |
| Naracoorte Lucindale Council | Naracoorte | Southeast | 4516.7 | 8,489 |
| District Council of Robe | Robe | Southeast | 1091.1 | 1,480 |
| Tatiara District Council | Bordertown | Southeast | 6476 | 6,660 |
| Wattle Range Council | Millicent | Southeast | 3923.5 | 12,554 |
| Anangu Pitjantjatjara Yankunytjatjara | Umuwa | Outback | 102650 | 2,230 |
| District Council of Coober Pedy | Coober Pedy | Outback | 77.8 | 1,913 |
| Maralinga Tjarutja | Ceduna | Outback | 102863 | 105 |
| Nepabunna Community Council | Nepabunna | Outback | 76.37 | 53 |
| Outback Areas Community Development Trust | Port Augusta | Outback | 624339 | 3,959 |
| Municipal Council of Roxby Downs | Roxby Downs | Outback | 110 | 4,484 |
| Yalata Community | | Outback | 4563 | 100 |