Australia Business and Economy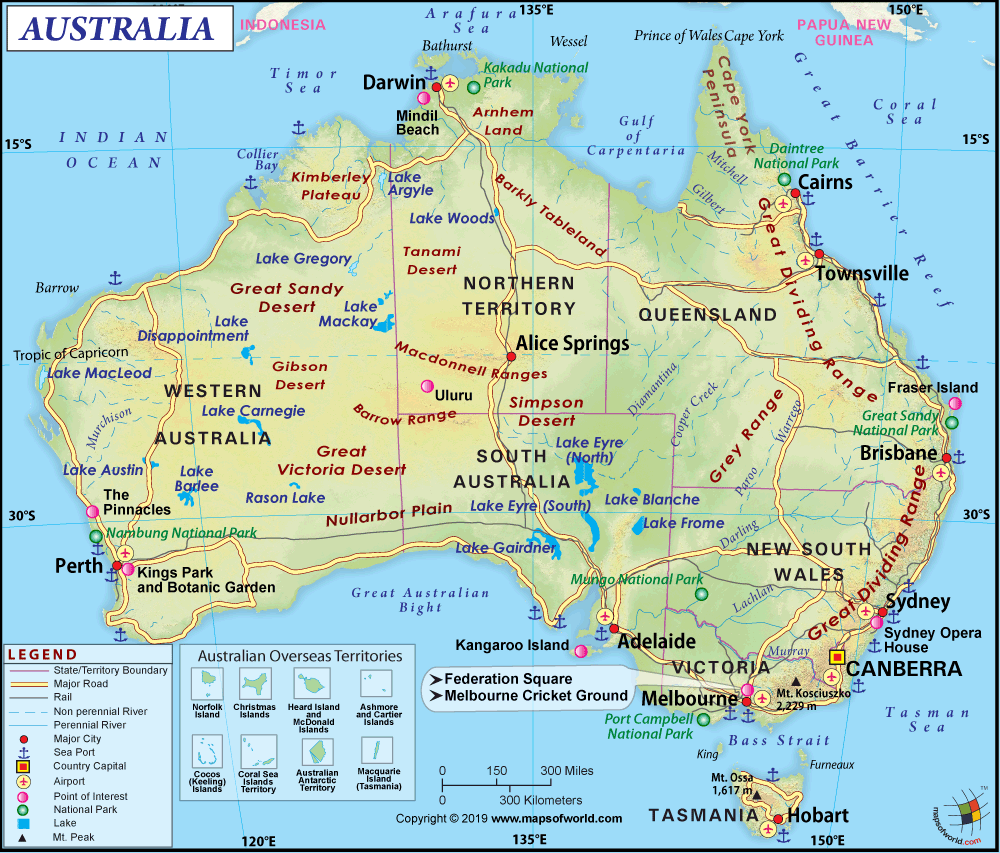 The fiscal year in Australia is from July 1st, to June 30th, of each year.
In 2015, agriculture contributed 3.7%, industry contributed 28.9% and the services sector contributed 67.4% to the gross domestic product (GDP) of the country, which is USD 1.241 trillion.
Per 2009 data, 3.6% of the labor force in Australia was engaged in agriculture; 21.1% in industry, and 75.3% in the services sector. Agricultural products of the country include Wheat, Barley, Sugarcane, Fruits, and Poultry.
Industries in Australia include mining, industrial, and transportation equipment, food processing, chemicals, and steel.
Total imports in Australia were estimated at $203.1 billion in the year 2016, while the total exports were $184.3 billion.
Resources
Natural resources found in the country include; Bauxite, Coal, Iron Ore, Copper, Tin, Gold, Silver, Uranium, Nickel, Tungsten, rare earth elements, mineral sands, Lead, Zinc, Diamond, natural gas and Petroleum.
International Trade
Total exports for Australia were estimated at $184.3 billion in 2016. The country mostly exports Coal, Iron Ore, Gold, Meat, Wool, Alumina, Wheat, machinery and transport equipment. Its main export partners are China, Japan, South Korea, and India.
Total imports into Australia were estimated at $203.1 billion in 2016. The country mostly imports machinery, transport equipment, computers, office machines, telecommunication equipment, crude oil and petroleum products. Its main import partners are China, the US, Japan, Singapore, Germany, Thailand, and South Korea.
Travel and Tourism
The Tourism Industry is worth over $118 billion per year in 2015 estimates, and employs over 543,000 people across the country. Australia has a variety of tourist destinations. Based on the number of travelers the most visited cities in the country are: Sydney, New South Wales; Melbourne, Victoria; Gold Coast, Queensland; Cairns, Queensland; Perth, Western Australia; Brisbane, Queensland; Adelaide, South Australia; Byron Bay, New South Wales; Noosa, Queensland and Darwin, Northern Territory.
The most visited tourist spots in Australia are: The Great Ocean Road and The Grampians National Park in Victoria; Frazer Island, the Great Barrier Reef and Daintree Rainforest in Queensland; Kakadu National Park and the Uluru/ Ayers Rock in the Northern Territory, and the Freycinet National Park in Tasmania.
Other prominent points of attraction are Kangaroo Island, Mungo National Park, Sydney Opera House,Kakadu and exotic beaches.