How many time zones are there in Australia?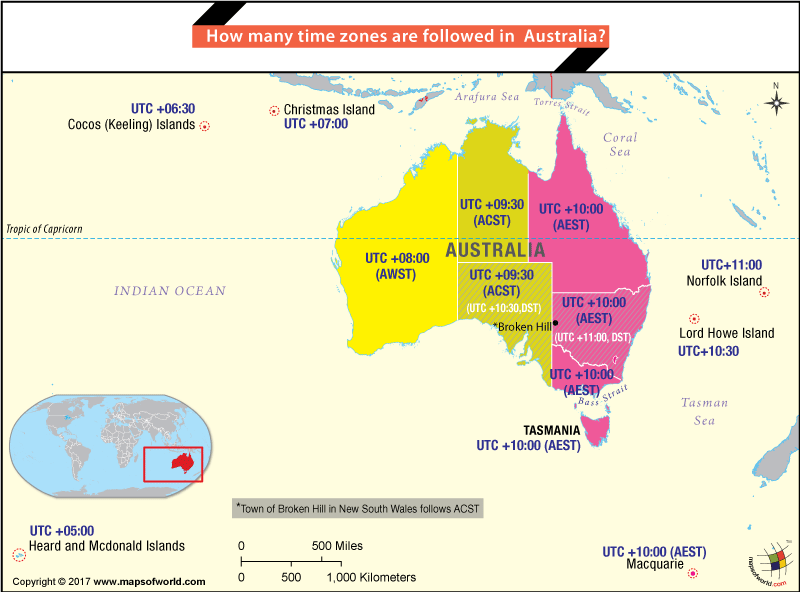 Australia uses three time-zones, while the external territories follow different time zones.
The three main time zones observed in Australia are Australian Eastern Standard Time (AEST; UTC+10:00), Australian Western Standard Time (AWST; UTC+08:00), and the Australian Central Standard Time (ACST; UTC+09:30). These time zones are observed among all the states of Australia; however, some of these states observe Daylight Saving Time. Unlike many other countries, regulation of time in Australia is the prerogative of the Individual state governments.
The history of the time-zones in Australia dates back to the late 19th century. Earlier, every town and local city in the country had its own local time. This was referred to as the mean local time. However, in the 1890s the standard time was introduced and it came to be used by all the states of the country.
The Australian Eastern Standard Time is observed in Queensland, New South Wales (except Broken Hill in Western New South Wales), Victoria, Tasmania, and the Australian Capital Territory. The Australian Western Standard Time is observed in the state of Western Australia, and the Australian Central Standard Time is observed in South Australia along with Northern Territory, and
Broken Hill.
The external territories of Australia which observe different time zones are Heard and McDonald Islands, Cocos (Keeling) Islands, Christmas Islands, Lord Howe Island, and Norfolk Island.
Among the eight states and mainland territories of Australia, Daylight Saving time is observed in the states of New South Wales, Tasmania, South Australia and Victoria, along with the mainland territory of the Australian Capital Territory.
Related Maps: